Partner Arthur Melville, Kenneth Grahame
Queer Places:
9 Argyll Rd, Royal Arsenal, London SE18 6SE, UK
47 Melbury Rd, Kensington, London W14 8AD, UK
Walford Graham Robertson (8 July 1866 – 4 September 1948) was a British painter, illustrator and author. He donated over 20 works of art to the Tate Gallery, London.[1][2][3][4] "In the London of Beardsley and Beerbohm, Shaw and Henry James, Robertson was a promising presence in the art and theater worlds. Today the museums of England owe a debt to his taste and judgment", according to The New York Times. He was an important collector of art, especially William Blake. He wrote plays, novels and a memoir, Time Was. He painted and illustrated books. He designed costumes for Sarah Bernhardt and Ellen Terry. He was twice portrayed by John Singer Sargent. He was sociable, and knew many notable people including Oscar Wilde and artists. He was a source of witty quotes and anecdotes. The New York Times printed a biographical article about him in 2001.[5][6] According to Cardiff University Professor Emeritus Peter Hunt, Robertson shared a house in London with the author Kenneth Grahame, while Grahame's wife and son lived in Berkshire.[7]
In 1894 John Singer Sargent made a full-lenght portrait of the queer London aesthete W. Graham Robertson (author of Pinkie and the Fairies), where Robertson came out as adoringly idealized. He was twenty-eight when he posed for the portrait together with his eleven-year-old poodle, Mouton. Sargent completed this work at the height of summer, but insisted (despite his sitter's obvious discomfort) that Robertson wear a long, thick overcoat throughout each studio session. "Then I can't wear anything else," the younger man answered, stripping off almost every other piece of his clothing, "much to the satisfaction of the artist, who used to pull and drag the unfortunate coat more and more closely" around him "until it might have draping a lamp post." During one lenghty session, when Robertson grew faint from holding his pose for such an extended period, Sargent grabbed him by the collar and rushed him into the street, seeking to revive him with fresher air. "It was a pity that Oscar Wilde opposite was not looking out the window," Robertson later recalled, "the "wonderful possibilities of Tite Street" were yet unexhausted."

Walford Graham Robertson by Frederick Hollyer Platinum print, circa 1890-1893 5 3/4 in. x 4 in. (146 mm x 102 mm) NPG P47

Walford Graham Robertson with his dog Richard Robertson by John Henry Muddle bromide print, 1926 8 in. x 5 7/8 in. (203 mm x 150 mm) overall Given by F.H. Bentley, 1963 Photographs Collection NPG x22063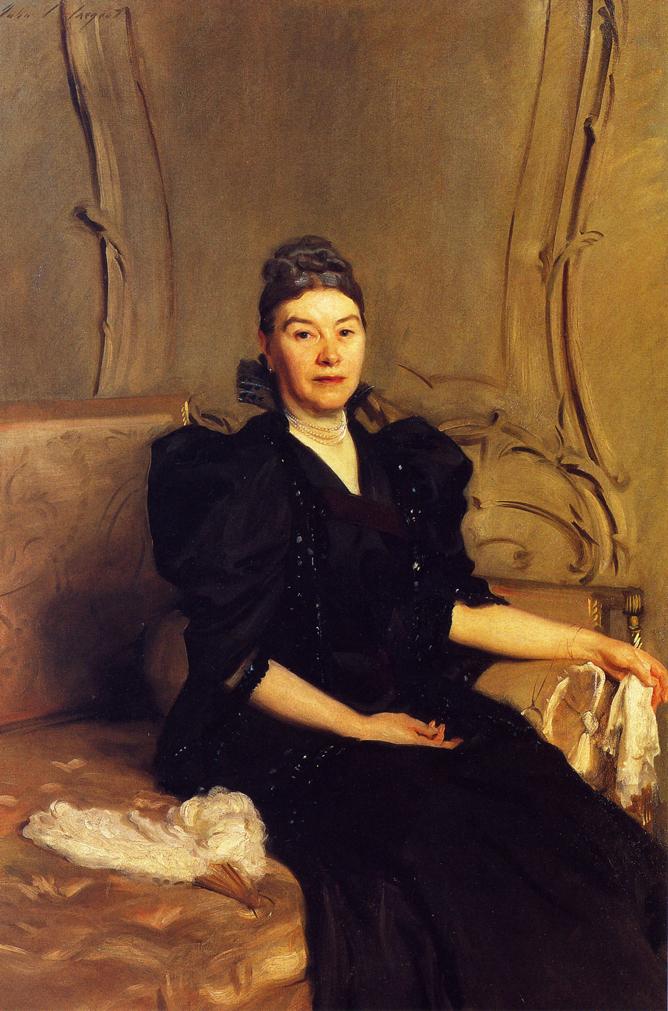 Mrs. Graham Moore Robertson John Singer Sargent -- American painter 1894 Watts Gallery, Compton, Surrey, England Oil on canvas

Ellen Terry by Walford Graham Robertson Oil on canvas, 1923 48 1/4 in. x 30 1/8 in. (1224 mm x 765 mm) overall NPG 3132
Born in London from a wealthy family Walford Graham Robertson eventually dabbled in many forms and styles starting from Pre-Raphaelite oils to illustrations, caricatures, to portraits, later impressionistic landscapes, as well as being a talented writer. He was deeply interested in the theater and by the age of thirty had designed costumes for five major plays of which he received praise. He also painted many portraits of his friends and the leading actresses of the time. Encouraged in artistic pursuits by introductions to Walter Crane, Thomas Armstrong and Edward Burne-Jones; trained with Albert Moore and at National Art Training School, South Kensington; exhibition debut New Gallery 1889; member New English Art Club 1891 and Royal Society of British Artists 1896; solo exhibition Carfax Gallery 1906 followed by election to the Royal Institute of Oil Painters 1910; paintings comprise imaginative Symbolist subjects, landscapes and portraits, including that of Ellen Terry; designed sets and costumes for many stage productions in New York and London 1890–1900s, including Wilde's Salome for Sarah Bernhardt and Undine and Pelleas and Melisande for Mrs Patrick Campbell; his own play Pinkie and the Fairies (1908) was a notable success; close friend and studio companion of painter Arthur Melville, as well as a collector and student of William Blake's works. Although he showed a lot of talent, he apparently never stayed with anything for very long. It seemed the art-form he was best at was the art of Schmoozing. He reveled in moving within social circles, was good friends with Burne-Jones and avidly collected Pre-Raphael art. By the time Sargent paints him as a London dandy -- he pretty much hits the nail on the head. When John asked him why he had never painted a self-portrait, Graham responded, "Because I am not my style." It's my impression that Graham liked to think of himself as the English equivalent of the Comte Robert de Montesquiou, whom he was also friends.
He retreated from the modern world in later life, living without electricity or piped water in Surrey; died 4 September 1948.
---
My published books:

---
Anesko, Michael. Henry James and Queer Filiation . Springer International Publishing. Edizione del Kindle.