Queer Places:
The Tropicana, 3801 S Las Vegas Blvd, Las Vegas, NV 89109
Tom Douglas (September 4, 1896 - May 4, 1978) was a dark-haired silent screen actor, at Fox in the 1920's. He was an actor, known for Guilty or Not Guilty (1932), Broken Lullaby (1932) and Blinkeyes (1926).
Tom Douglas was born on September 4, 1896 in Louisville, Kentucky. In the hearts of many, Tom Douglas would hold a special place. George Cukor would remember "La Belle Epoque" as much for Tom Douglas' ethereal beauty as Edmund Goulding's rowdy revelries. Douglas had actually made his first film in 1922, playing with Dorothy Gish in The Country Flapper for D.W. Griffith. But the Kentucky-born teenager found his niche on the London stage, wowing British audiences as the American boy in "Merton of the Movies." He followed that success with a string of hits in England, among them "Fata Morgana" and "Young Woodley," written expressly for him by the gay playwright John Van Druten, who fell hard for the pretty young actor. In his memoir, Emlyn Williams, too, would admit to being smitten with Douglas: "With his short nose and wide soft mouth that seemed not to know its potency, he cast a spell over his own sex, as often as not in unexpected quarters."
In 1926 Cecil Beaton was invited to a party at British Vogue editors Madge Garland and Dorothy Todd's homse where he met socialites like actor Tom Douglas, Elizabeth Ponsonby and Cynthia Noble (Lady Gladwyn). At the party Freddie Ashton performed campy, "shy-making imitations of various ballet dancers and Queen Alexandra, the sort of thing one is ashamed of and only does in one's bedroom in front of large mirrors when one is rather excited and worked up."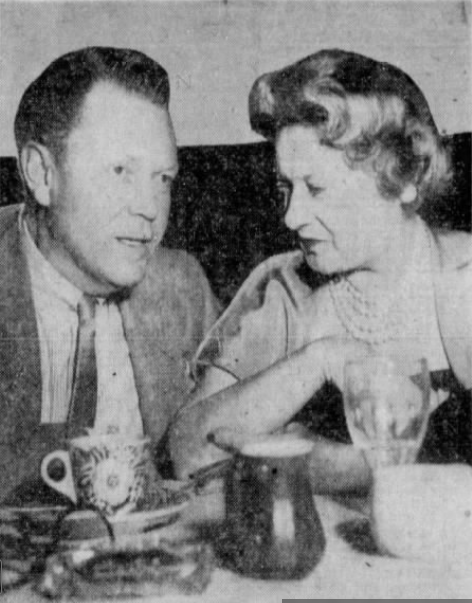 Tom Douglas and Dorothy di Frasso
By the time Douglas returned to Hollywood, playing "The Boy" in the mystery The Phantom of Crestwood in 1932, his fabled beauty had started to fade, partly due to his fast-and-furious high living among the Cukor-Haines-Goulding circle. Stardom demanded not just ambition and talent but eternal youth: Douglas would wisely opt for interior decoration after a Monogram quickie, West of Singapore, in 1933. He'd remain a popular star in the gay subculture, however, frequently popping up in the letters and stories of many.
In 1954, Tom Douglas and Clifton Webb were travelling with Dorothy di Frasso on a train, when the latter died apparently of heath attack.
Douglas died on May 4, 1978 in Cuernavaca, Mexico.
---
My published books:


---
Bachelors of a Different Sort, Queer Aesthetics, Material Culture and the Modern Interior in Britain, by John Potvin
https://www.imdb.com/name/nm0235266/bio?ref_=nm_ov_bio_sm
Behind the Screen: How Gays and Lesbians Shaped Hollywood, 1910-1969, William J. Mann, 2001