Partner Jon Anderson
Queer Places:
National Academy Museum & School, 1083 5th Ave, New York, NY 10128, Stati Uniti
The Art Students League of New York, 215 W 57th St, New York, NY 10019, Stati Uniti
54 Morton St, New York, NY 10014, Stati Uniti
5 St Lukes Pl, New York, NY 10014, Stati Uniti
Hartland, VT, Stati Uniti
Weston, CT 06883, Stati Uniti
Grove Street Cemetery New Haven, New Haven County, Connecticut, USA
Paul Cadmus (December 17, 1904 – December 12, 1999) was an American artist. He is best known for his egg tempera paintings of gritty social interactions in urban settings. He also produced many highly finished drawings of single nude male figures. His paintings combine elements of eroticism and social critique in a style often called magic realism.[1] The work of Broadway's gay and lesbian artistic community went on display in 2007 when the Leslie/Lohman Gay Art Foundation Gallery presents "StageStruck: The Magic of Theatre Design." The exhibit was conceived to highlight the achievements of gay and lesbian designers who work in conjunction with fellow gay and lesbian playwrights, directors, choreographers and composers. Original sketches, props, set pieces and models — some from private collections — represent the work of over 60 designers, including Paul Cadmus.
Paul Cadmus was born on December 17, 1904, on the Upper West Side of Manhattan, the son of artists, Maria Latasa and Egbert Cadmus (1868–1939).[2] His father, who studied with Robert Henri, worked as a commercial artist, and his mother illustrated children's books.[3] His sister, Fidelma Cadmus, married Lincoln Kirstein, a philanthropist, arts patron, and co-founder of the New York City Ballet,[4] in 1941.[5]
At age 15, Cadmus left school to attend the National Academy of Design for 6 years.[6] He then enrolled at the Art Students League of New York in 1928 taking life-drawing lessons while working as a commercial illustrator at a New York advertising agency.[7] He furthered his education while traveling through Europe from 1931 to 1933 with fellow artist Jared French,[6] who became his lover for a time.[8]
After traveling through France and Spain, Cadmus and French settled in a fishing village on the island Majorca. In 1933, they headed back to the United States after running out of money, where Cadmus was one of the first artists to be employed by The New Deal art programs, painting murals at post offices.[7] He maintained a studio at 54 Morton Street.[9]
Cadmus worked in commercial illustration as well, but French, also a tempera artist, convinced him to devote himself completely to fine art.[8][10] In 1979, he was elected into the National Academy of Design as an associate member and became a full member in 1980.

Portrait of Paul Cadmus by Carl Van Vechten. Silver print, the image measuring 238.1x193.7 mm; 9 3/8x7 5/8 inches, with Van Vechten's copyright hand stamp and the title and date, in pencil, in an unknown hand, on verso. 1937.

Paul Cadmus and his sister, Fidelma Cadmus Kirstein, the wife of Lincoln Kirstein, by George Platt Lynes, Circa 1940 silver print Photography 9 1/4 x 7 1/2 in

Paul Cadmus by George Platt Lynes

GEORGE PLATT LYNES (1907-1955) Paul Cadmus by George Platt Lynes. Silver contact print, the image measuring 247.7x193.7 mm; 9 3/4x7 5/8 inches, the sheet slightly larger. Circa 1942.

Paul Cadmus by Isabella Howland

ROSS BENNETT LEWIS (1954 - ) Paul Cadmus. Silver print, the image measuring 266.7x184.2 mm; 10 1/2x7 1/4 inches, the sheet 355.6x279.4 mm; 14x11 inches, with Lewis' embossed copyright blind stamp on recto, and his signature, date, and edition notation 1/8, in pencil and ink, and his copyright hand stamp, on verso. 1992.

Luigi Lucioni (American, born Italy, 1900-1988). Paul Cadmus, 1928. Oil on canvas, 16 x 12 1/8 in. (40.6 x 30.8 cm). Brooklyn Museum, Dick S. Ramsay Fund, 2007.28 (Photo: Brooklyn Museum, 2007.28_PS2.jpg)

PAUL CADMUS (1904-1999) Carabiniere. Color screenprint. 220x150 mm; 8 3/4x5 7/8 inches, full margins. Artist's proof, aside from the edition of 117. Signed and inscribed "I a" in yellow crayon, lower margin. 1955. A superb impression of this very scarce print with strong colors. We have found only 3 other impressions at auction in the past 30 years. The frontispiece for Soldiers with Torches by Donald Windham. Davenport 52.

PAUL CADMUS (1904 - 1999) Seated Male Nude. Conté crayon on tan laid paper. 425x374 mm; 16 3/4x14 3/4 inches. Signed in white crayon and inscribed in ink, lower right recto. Circa 1960. Though Cadmus was known to be very private, his large paintings burst with homoeroticism and celebrate male beauty by drawing attention to genitalia and rippling muscles. His technically brilliant male nude drawings are more tender and less satirical than his paintings. Provenance: Estate of the artist; Estate of Jon Anderson (Cadmus' executor), Weston, Connecticut; private collection, New York.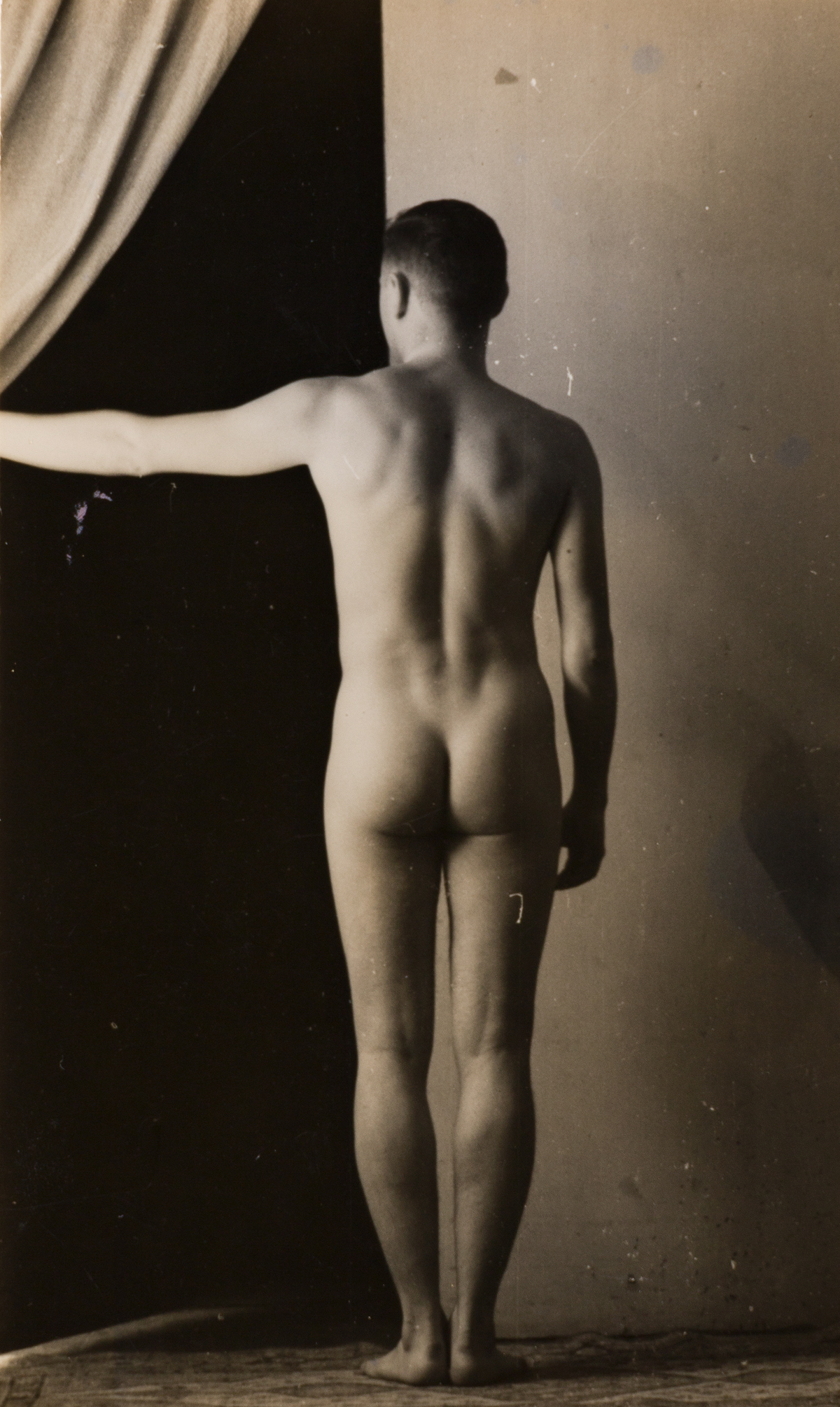 PaJaMa (PAUL CADMUS, JARED FRENCH, AND MARGARET FRENCH) Tennessee Williams. Silver print, the image measuring 149.2x88.9 mm; 5 7/8x3 1/2 inches, with Jared French's initials, title, and date, in pencil, and with a Collection of Paul Cadmus hand stamp and a Collection of Jon Anderson hand stamp, on verso. 1943.

PaJaMa (PAUL CADMUS, JARED FRENCH, AND MARGARET FRENCH) Jared French. Silver print, the image measuring 165.1x114.3 mm; 6 1/2x4 1/2 inches, with the PaJaMa credit, title, and date, in pencil, and with a Collection of Paul Cadmus hand stamp and a Collection of Jon Anderson hand stamp, on verso. 1946.

PaJaMa (PAUL CADMUS, JARED FRENCH, AND MARGARET FRENCH) Todd Bolender, Provincetown. Silver print, the image measuring 171.5x108 mm; 6 3/4x4 1/4 inches, with Jared French's initials, title, date, and inscription "PJM 11004," in pencil, and a Collection of Paul Cadmus hand stamp and a Collection of Jon Anderson hand stamp, on verso. 1947-48.

PaJaMa (PAUL CADMUS, JARED FRENCH, AND MARGARET FRENCH) George Tooker, Nantucket. Silver print, the image measuring 171.5x108 mm; 6 3/4x4 1/4 inches, with Paul Cadmus' credit, title, date, and inscription "PMJ 11076," in pencil, and a Collection of Paul Cadmus hand stamp and a Collection of Jon Anderson hand stamp, on verso. 1946

5 St Lukes Pl

54 Morton St
Cadmus is ranked by Artists Trade Union of Russia amongst the world's best artists of the last four centuries.[11]
In 1934, at the age of 29,[12] he painted The Fleet's In! while working for the Public Works of Art Project of the WPA.[1][13][14] This painting, which featured carousing sailors and women, included a stereotypical homosexual solicitation and erotic exaggeration of clinging pants seats and bulging crotches. It was the subject of a public outcry led by Admiral Hugh Rodman, who protested to Secretary of the Navy Claude A. Swanson, saying, "It represents a most disgraceful, sordid, disreputable, drunken brawl."[4] Secretary Swanson stated that the painting was "right artistic" but "not true to the Navy."[9] The painting was removed from exhibition at the Corcoran Gallery[6] by Henry L. Roosevelt, the Assistant Secretary of the Navy at the time, and kept in his home until Roosevelt's death in 1936.[4] The publicity helped to launch Cadmus's career,[6] and he stated at the time, "I had no intention of offending the Navy. Sailors are no worse than anybody else. In my picture I merely commented on them – I didn't criticize."[9] The painting, which after Roosevelt's death hung over a mantel at the Alibi Club in Washington for more than half a century, was kept from public view until 1981,[4] temporarily displayed at the Wolfsonian Museum in Miami,[15] and eventually found a home at the Naval Historical Center.[4]
In 1938, his painting Pocahantas Saving the Life of John Smith, a mural painted for the Parcel Post Building in Richmond, Virginia, had to be retouched when some observers noticed a fox pelt suggestively hanging between the legs of an Indian depicted in the painting.[4] Cadmus used his then lover, Jared French, as the model for John Smith in the mural.[2][16]
In 1940, two paintings, Sailors and Floozies (1938) and Seeing the New Year In, were removed from public view because the Navy "didn't like it" and there was "too much smell about it."[17] The paintings were being exhibited at the Golden Gate International Exposition and were removed, while a third, Venus and Adonis, remained. The office of Commissioner George Creel was told by the Navy that the painting, Sailors and Floozies, was "unnecessarily dirty."[17]
Cadmus, considered to be a master draftsman, was interested in the Italian Renaissance artists, particularly Signorelli and Mantegna, the so-called "masters of muscle." He was also influenced by Reginald Marsh, an American scene painter. Cadmus combined the elements of Signorelli and Mantegna along with Marsh to depict the street life of New York City.[4]
He was transfixed by the human body, both the ideal and the repulsive. His ideal was a stylized erotic version of the male body. He found the grotesque everywhere from Greenwich Village cafes, subway stations, the beach at Coney Island to American tourists in an Italian piazza. His art is a form of satire and caricature of his subjects that has been compared to fellow artists George Grosz and Otto Dix.[4] Art critics have been divided on Cadmus' art, with Dore Ashton stating that "he's not a historical figure at all, he's an also-ran." Ashton described his paintings as "skewed Saturday Evening Post." In 1990, Michael Kimmelman wrote that Cadmus' art served "as a reminder that, contrary to the standard view, realism was still a vital tradition in American art during the middle of this century, one that drew from many of the same sources that inspired the Abstract Expressionists who were widely thought to have rendered realism obsolete."[18]
From 1937 until 1945, Cadmus, his lover, Jared French, and French's wife, Margaret Hoening, summered on Fire Island and formed a photographic collective called PaJaMa ("Paul, Jared, and Margaret").[19] In between Provincetown, Truro, Fire Island, and New York, they staged various black-and-white photographs of themselves with their friends, both nude and clothed. Most of these friends featured in the photographs were among New York's young artists, dancers and writers, and most were handsome and gay.[19] In 1938, Cadmus and French posed for a series of photographs with the noted photographer George Platt Lynes (1907–1955). These photographs were not published or exhibited while Lynes was living and show the intimacy and relationship of the two.[20] In the photographs, 14 of which survive today, Cadmus and French vacillate between exposure and concealment, with French generally being the more exhibitionist of the two.[20]
Later in the 1940s, Cadmus and his then lover, George Tooker, formed a complicated relationship with French and his wife.[21] When the Frenches bought a home in Hartland, Vermont, they gave Cadmus a house of his own on the property, which French later took back and gave to his Italian lover.[22]
In 1965, Cadmus met and began a relationship with Jon Anderson (1937-2018),[23] a former cabaret star, in Nantucket that lasted until Cadmus' death in 1999.[24] From the beginning of their 35-year relationship,[24] the then 27-year-old Anderson was Cadmus' model and muse in many of his works.[12] Cadmus was also close friends with many illustrious artists, authors, and dancers including: Christopher Isherwood, W. H. Auden, George Balanchine, George Platt Lynes, George Tooker, Lincoln Kirstein (his brother-in-law), and E. M. Forster,[1] who was said to have read his novel Maurice aloud while Cadmus painted his portrait.[15]
In 1999, he died at his home in Weston, Connecticut,[25] due to advanced age, just five days shy of his 95th birthday.[15] Anderson died in 2018. Jon Anderson is buried in Grove Street Cemetery, New Haven, Connecticut, with Paul Cadmus. The location of their graves is 41 Magnolia Ave., East (the cemetery has street addresses for each family lot).
---
My published books:

---
https://en.wikipedia.org/wiki/Paul_Cadmus
Hidden Histories, 20th Century Male Same Sex Lovers in the Visual Arts, by Michael Petry
https://www.playbill.com/article/stagestruck-exhibit-featuring-gay-and-lesbian-broadway-design-talent-begins-nov-14-com-145399