Partner Lehman Engel
Queer Places:
150 E 54th St, New York, NY 10022
217 E 61st St, New York, NY 10065, Stati Uniti
The Hollywood Roosevelt, 7000 Hollywood Blvd, Los Angeles, CA 90028
Friends Quaker Cemetery, Brooklyn, New York 11215, Stati Uniti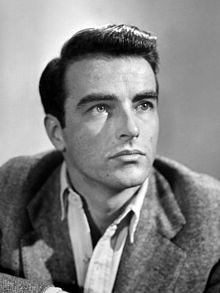 Edward Montgomery "Monty" Clift (October 17, 1920 – July 23, 1966) was an American actor. Jerome Robbins was bisexual; he had a relationship with Montgomery Clift, but he never married. Clift's New York Times obituary noted his portrayal of "moody, sensitive young men".[1][2] He is best remembered for roles in Red River (1948), The Heiress (1949), A Place in the Sun (1951), Alfred Hitchcock's I Confess (1953), From Here to Eternity (1953), The Young Lions (1958), Judgment at Nuremberg (1961), and The Misfits (1961). He received four Academy Award nominations during his career: three for Best Actor and one for Best Supporting Actor.
In 1935 Clift appeared in the Broadway production of Jubilee of Cole Porter and Moss Hart.
In 1939, 19 years old Clift began a short-lived relationship with the conductor Lehman Engel, who was ten years his elder. In the late 1939, Clift encountere the successful husband and wife team, Alfred Lunt and Lynn Fontanne, when he was cast in their production of There Shall Be No Night. The Lunts quickly became a surrogate family for Clift.
In 1942, Clift appeared with Tallulah Bankhead and Frederic March in Thornton Wilder's The Skin of Out Teeth, under the direction of Elia Kazan.
Along with Marlon Brando and James Dean, Clift was one of the original method actors in Hollywood; he was one of the first actors to be invited to study in the Actors Studio with Lee Strasberg and Elia Kazan. He also executed a rare move by not signing a contract after arriving in Hollywood, only doing so after his first two films were a success. This was described as "a power differential that would go on to structure the star-studio relationship for the next 40 years".[3]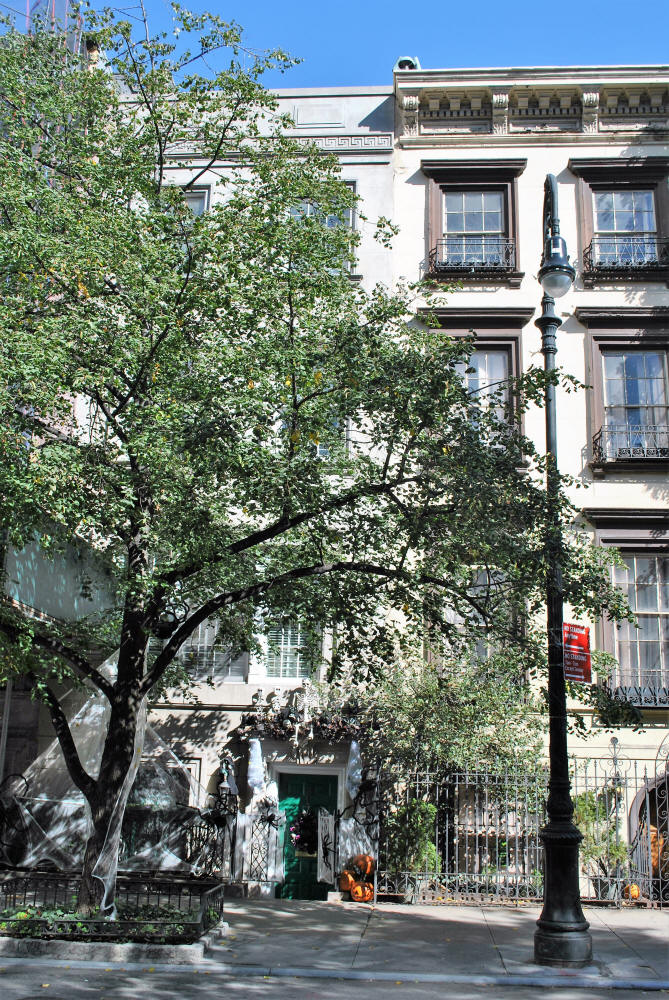 217 E 61st St, New York
Patricia Bosworth, who had access to Clift's family and many people who knew and worked with him, wrote in her book:
Before the accident, Monty had drifted into countless affairs with men and women. (...) After his car accident, and as his drug addiction became more serious, he was often impotent, and sex became less important to him. His deepest commitments were emotional, rather than sexual, anyway, and reserved for old friends; he was unflinchingly loyal to men like William LeMassena and women like Elizabeth Taylor, Libby Holman, and Ann Lincoln.[12]
Elizabeth Taylor was a significant figure in his life. He met her when she was supposed to be his date at the premiere for The Heiress. They appeared together in A Place in the Sun, where, in their romantic scenes, they received considerable acclaim for their naturalness and their appearance. Clift and Taylor appeared together again in Raintree County and Suddenly, Last Summer. Clift and Taylor remained good friends until his death.
Because Clift was considered unemployable in the mid-1960s, Taylor put her salary for the film on the line as insurance, in order to have Clift cast as her co-star in Reflections in a Golden Eye.[12] Still, shooting kept being postponed, until Clift agreed to star in the mediocre The Defector so as to prove himself fit for work. He insisted on performing his stunts himself, including swimming in the river Elbe in March. The schedule for Reflections in a Golden Eye was then set for August 1966, but Clift died before the movie was set to shoot. He was replaced by Marlon Brando.
On July 22, 1966, Clift spent most of the hot summer day in his bedroom in his New York City townhouse, located at 217 East 61st Street. He and his private nurse, Lorenzo James, had not spoken much all day. Shortly before 1:00 a.m., James went up to say goodnight to Clift, who was still awake and sitting up in his bed. James asked Clift if he needed anything, and Clift politely refused and then told James that he would stay up for a while, either to read a book or watch some television. James then noted that The Misfits was on television that night airing as a late-night movie, and he asked Clift if he wanted to watch it with him. "Absolutely not!", was the firm reply. This was the last time Montgomery Clift spoke to anyone. James went to his own bedroom to sleep, without saying another word to Clift. At 6:30 a.m. the next day, James woke up and went to wake Clift, but found the bedroom door closed and locked. James became more concerned when Clift did not respond to his knocking on the door. Unable to break the door down, James ran down to the back garden and climbed up a ladder to enter through the second-floor bedroom window. Inside, he found Clift dead: He was undressed, lying in his bathtub, with glasses on and both fists clenched by his side. Clift was age 45 when he died. James then used the bedroom telephone to call the police and an ambulance.
Clift's body was taken to the city morgue less than two miles away at 520 First Avenue, and autopsied. The autopsy report cited the cause of death as a heart attack brought on by "occlusive coronary artery disease". No evidence was found that suggested foul play or suicide. It is commonly believed that drug addiction was responsible for Clift's many health problems and his death. In addition to lingering effects of dysentery and chronic colitis, an underactive thyroid was later revealed during the autopsy. The condition (among other things) lowers blood pressure; it may have caused Clift to appear drunk or drugged when he was sober,[23] and also raises cholesterol, which may have contributed to his heart disease.
Following a 15-minute funeral at St. James' Church attended by 150 guests, including Lauren Bacall, Frank Sinatra, and Nancy Walker, Clift was buried in the Friends [Quaker] Cemetery, Prospect Park, Brooklyn, New York City.[24] Elizabeth Taylor, who was in Rome, sent flowers, as did Roddy McDowall, Myrna Loy, and Lew Wasserman.
---
My published books:


---
https://en.wikipedia.org/wiki/Montgomery_Clift
Behind the Screen: How Gays and Lesbians Shaped Hollywood, 1910-1969, William J. Mann, 2001
Dictionnaire historique des homosexuel.le.s célèbres – October 19, 2017 French Edition by Michel Larivière