Nick Adams, and James DeanQueer Places:
University of California, Los Angeles, Los Angeles, California 90095, Stati Uniti
Santa Monica College, 1900 Pico Blvd, Santa Monica, CA 90405, Stati Uniti
19 W 68th St, New York, NY 10023, USA
Actors Studios, 432 W 44th St, New York, NY 10036, Stati Uniti
Warwick Hotel, 65 W 54th St, New York, NY 10019, Stati Uniti
Chateau Marmont, 8221 Sunset Blvd, Los Angeles, CA 90046
Park Cemetery, 7843 S 150 E, Fairmount, IN 46928, Stati Uniti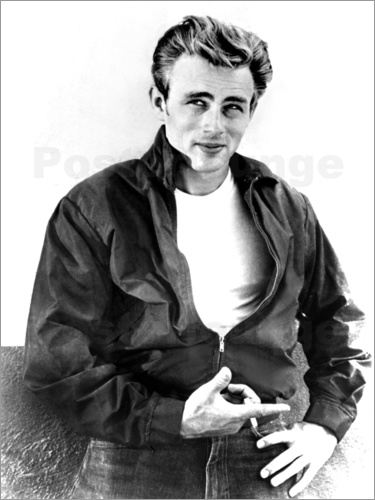 James Byron Dean[1] (February 8, 1931 – September 30, 1955) was an American actor. He is remembered as a cultural icon of teenage disillusionment and social estrangement, as expressed in the title of his most celebrated film, ''Rebel Without a Cause'' (1955), in which he starred as troubled teenager Jim Stark. The other two roles that defined his stardom were loner Cal Trask in ''East of Eden'' (1955) and surly ranch hand Jett Rink in ''Giant'' (1956). Hollywood biographer Lawrence J. Quirk claimed Mike Connolly (a gay gossip columnist for The Hollywood Reporter from 1951 to 1966) "would put the make on the most prominent young actors, including Robert Francis, Guy Madison, Anthony Perkins, Nick Adams, and James Dean."
Tom Drake was a deeply closeted gay guy and he was easily given to despair. He was never known to have had a serious romance, although he bedded both Rock Hudson and James Dean. As an adult he lived with a profound drinking problem and he lived a life of fear with having his gayness found out.
After his death in a car crash,[2] Dean became the first actor to receive a posthumous Academy Award nomination for Best Actor, and remains the only actor to have had two posthumous acting nominations.[3] In 1999, the American Film Institute ranked him the 18th best male movie star of Golden Age Hollywood in AFI's 100 Years...100 Stars list.[4]
Screenwriter William Bast was one of Dean's closest friends, a fact acknowledged by Dean's family.[5] According to Bast, who was also Dean's first biographer, (1956),[6] he was Dean's roommate at UCLA and later in New York, and knew Dean throughout the last five years of his life. Fifty years after Dean's death, he stated that their friendship had included some sexual intimacy.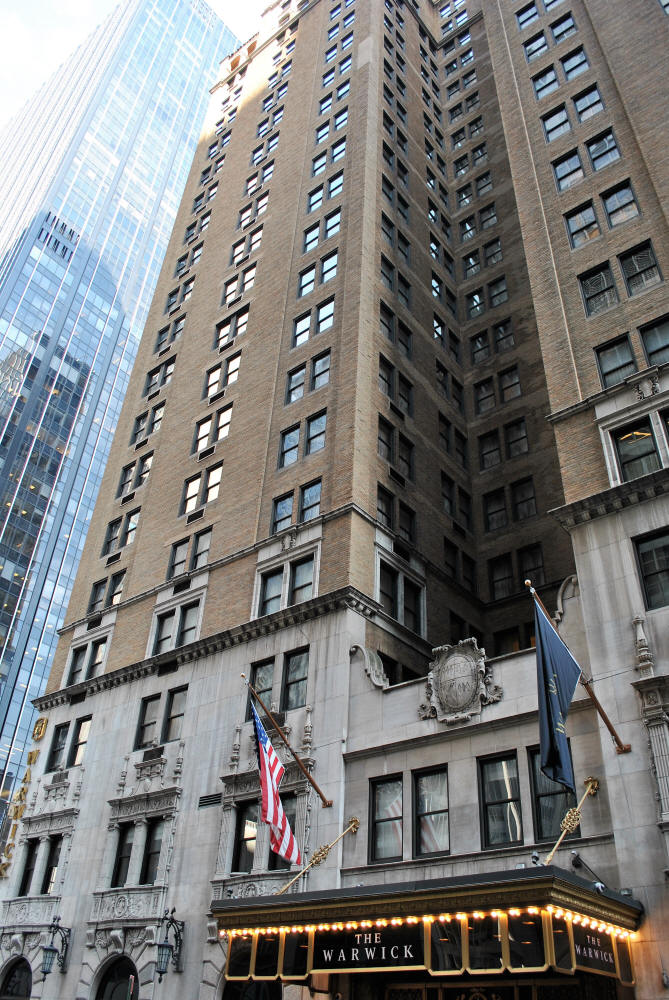 Warwick Hotel, NYC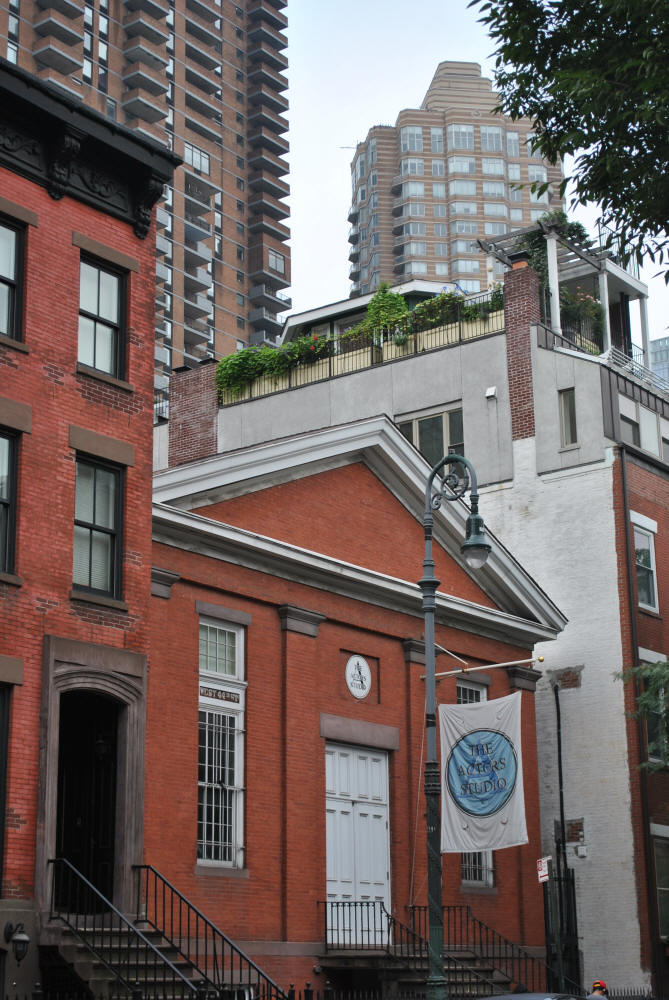 The Actors Studio, NYC
While at UCLA, Dean dated Beverly Wills, an actress with CBS, and Jeanette Lewis, a classmate. Bast and Dean often double-dated with them. Wills began dating Dean alone, later telling Bast, "Bill, there's something we have to tell you. It's Jimmy and me. I mean, we're in love."[7] rp|71 They broke up after Dean "exploded" when another man asked her to dance while they were at a function: "Jimmy saw red. He grabbed the fellow by the collar and threatened to blacken both of his eyes," she said. Dean had also remained in contact with his girlfriend in New York, Barbara Glenn, whom he dated for two years. Their love letters sold at auction in 2011 for $36,000.[8]
Early in Dean's career, after Dean signed his contract with Warner Brothers, the studio's public relations department began generating stories about Dean's liaisons with a variety of young actresses who were mostly drawn from the clientele of Dean's Hollywood agent, Dick Clayton. Studio press releases also grouped Dean together with two other actors, Rock Hudson and Tab Hunter, identifying each of the men as an 'eligible bachelor' who had not yet found the time to commit to a single woman: "They say their film rehearsals are in conflict with their marriage rehearsals."[9]
Dean's best-remembered relationship was with young Italian actress Pier Angeli, whom he met while Angeli was shooting ''The Silver Chalice'' (released in 1955)[10] on an adjoining Warner lot, and with whom he exchanged items of jewelry as love tokens.[11] Angeli, during an interview fourteen years after their relationship ended, described their times together:
We used to go together to the California coast and stay there secretly in a cottage on a beach far away from prying eyes. We'd spend much of our time on the beach, sitting there or fooling around, just like college kids. We would talk about ourselves and our problems, about the movies and acting, about life and life after death. We had a complete understanding of each other. We were like Romeo and Juliet, together and inseparable. Sometimes on the beach we loved each other so much we just wanted to walk together into the sea holding hands because we knew then that we would always be together.
In his autobiography, ''East of Eden,'' director Elia Kazan dismissed the notion that Dean could possibly have had any success with women, although he remembered hearing Dean and Angeli loudly making love in Dean's dressing room. Kazan has been quoted saying about Dean, "He always had uncertain relations with girlfriends."[12]
Those who believed Dean and Angeli were deeply in love claim a number of forces led them apart. Angeli's mother disapproved of Dean's casual dress and what were, for her at least, radical behavior traits: his T-shirt attire, late dates, fast cars, and the fact that he was not a Catholic. Her mother said that such behavior was not acceptable in Italy. In addition, Warner Bros., where he worked, tried to talk him out of marrying and he himself told Angeli that he didn't want to get married. Richard Davalos, Dean's ''East of Eden'' co-star, claimed that Dean wanted to marry Angeli and was willing to allow their children to be brought up Catholic.[13]
After finishing his role for ''East of Eden'', he took a brief trip to New York in October 1954. While he was away, Angeli unexpectedly announced her engagement to Italian-American singer Vic Damone. The press was shocked and Dean expressed his irritation.[14] Angeli married Damone the following month. Gossip columnists reported that Dean watched the wedding from across the road on his motorcycle, even gunning the engine during the ceremony, although Dean later denied doing anything so "dumb."
Some, like William Bast and Paul Alexander, believe the relationship was a mere publicity stunt.[15] [16] Esme Chandlee, the publicist at Angeli's home studio Metro-Goldwyn-Mayer who had kept news of her love affair with Kirk Douglas under wraps, believed that Angeli had been more smitten with Kirk than Jimmy Dean.
Pier Angeli talked only once about the relationship in her later life in an interview, giving vivid descriptions of romantic meetings at the beach. Dean biographer John Howlett said these read like wishful fantasies,[17] as Bast claims them to be. Joe Hyams, in his 1992 biography of Dean, claims that he visited Dean just as Angeli, then married to Damone, was leaving his home. Dean was crying and allegedly told Hyams she was pregnant, with Hyams concluding that Dean believed the child might be his.
Angeli, who divorced Damone and then her second husband, the Italian film composer Armando Trovajoli, was said by friends in the last years of her life to claim that Dean was the love of her life. She died from an overdose of barbiturates in 1971, at the age of 39.[18] In 1997, the television movie ''Race with Destiny'' was produced, a true-story account of the love affair between Dean and Pier Angeli. It was shot on location "where he lived and loved" until his death.[19]
Actress Liz Sheridan details her relationship with Dean in New York in 1952.[20] Speaking of the relationship in 1996, she said that it was "just kind of magical. It was the first love for both of us."[21] Sheridan published her memoir, ''Dizzy & Jimmy: My Life with James Dean; A Love Story'' in 2000.
Dean also dated Swiss actress Ursula Andress.[22] "She was seen riding around Hollywood on the back of James's motorcycle," writes biographer Darwin Porter. She was also seen with Dean in his sports cars, and was with him on the day he bought the car that he died in.[23] At the time, Andress was also dating Marlon Brando.
---
My published books:


---
https://en.wikipedia.org/wiki/James_Dean