Partner Billy Daniel
Queer Places:
807 N Elm Dr, Beverly Hills, CA 90210
8720a Shoreham Dr, West Hollywood, CA 90069
Chapel of the Pines Crematory, 1605 S Catalina St, Los Angeles, CA 90006, Stati Uniti
Mitchell Leisen (October 6, 1898 – October 28, 1972) was an American director, art director, and costume designer. He garnered his sole Academy Award nomination in 1930 for Art Direction for Cecil B. DeMille's Dynamite.[6] he directed Hold Back the Dawn (1941), which was nominated for the Academy Award for Best Picture.
Mitchel Leisen was born with a club foot in Menominee, Michigan, in 1898. His father ran a brewery. It wasn't long before mother Mabel had left her husband in search of a better life for her son. In St. Louis she found both corrective surgery and schooling for young Mitch, who'd go on to graduate from Washington University. Leisen was an architect, part of a top Chicago architectural firm, with whom he designed such gems as the Drake Hotel. To offset his boredom on the job, he'd design costumes for the local Playshop Players.
On a whim, he took a vacation to Hollywood in 1919, thinking maybe he'd like to act. He was a friend (and possible lover) of the famed dancer Ted Shawn, who was then doing choreography on a Gloria Swanson picture. Through Shawn, Leisen met Jeanie MacPherson, scenarist to Cecil B. DeMille, who persuaded the director to offer Leisen a job designing costumes. Leisen gladly accepted, creating Swanson's Babylonian wardrobe for Male and Female, being paid $125 a week. Enchanted with his new work, Leisen wired the firm in Chicago not to expect him back.
He entered the film industry in the 1920s, beginning in the art and costume departments. With his architectural background, Leisen quickly expanded his duties into set design, conceiving and executing the sets for some of DeMille's most lavish spectacles, including The Road to Yesterday and The King of Kings. In 1922, he was loaned to Douglas Fairbanks to do the costumes for Robin Hood. He also took over many duties that should rightfully have fallen to art director Wilfred Buckland. It was Leisen who rigged up the 70-foot slide that served as Fairbanks' getaway from the balcony, covering it with an enormous drape so that when shot, it looked as if Robin Hood were sliding magically down the fabric.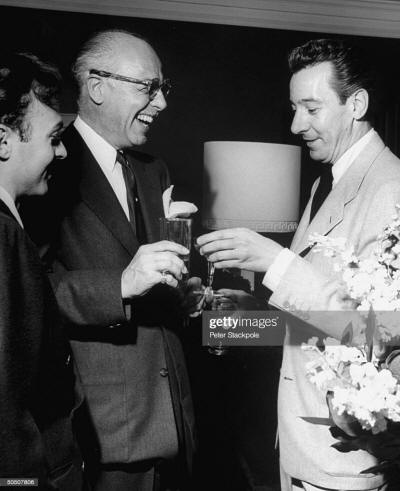 (L to R) Billy Daniel, Mitchell Leisen and Don Loper laughing together at the fashion show. Location: US. Date taken: February 1947.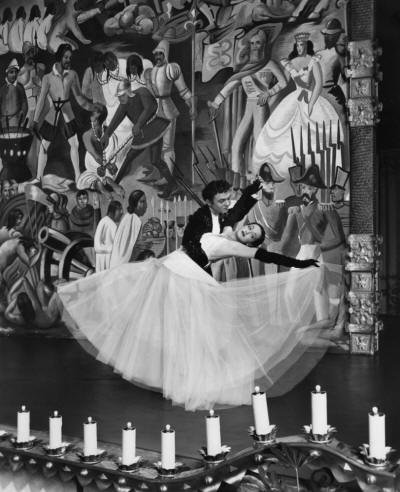 Portrait of Billy Daniel and Dorothy Lamour in Masquerade in Mexico directed by Mitchell Leisen, 1945
Choosing not to go back to New York with Rudolph Valentino after their first pictures were completed, Adrian instead entertained job offers from the studios. Once again, it was a gay man who provided the link: Mitchell Leisen, who seemed as taken with Adrian's looks as he was by his talent. Just five years older, Leisen would nonetheless remember Adian as "just out of high school... I liked his sketches and so did DeMille and he was hired." According to David Chierichetti, "Leisen told me he once traveled from Los Angeles to New York in a stateroom on a train with his costume-designing protege Gilbert Adrian. Adrian woke him up in the middle of the night by tickling his nose with a feather, and Leisen's raised eyebrows conveyed to me the idea that he and Adrian subsequently had sex."
The majority of set designers in the 1920s were not gay. Leisen, with his architecture background, continued for a time, although he shared Harold Grieve's discomfort with the new field and soon moved into direction.
Mitchell Leisen received a level of scorn from George Cukor. Friends say Cukor considered Leisen crass; when David Chierichetti showed Cukor his book on Leisen, the director's only comment was "Very nice pictures." Leisen was known for an outlandish eccentricity, which was probably why the decorum-minded George Cukor didn't like him. "I think Leisen was a bit too outrageous for Cukor," mused David Chierichetti, despite the fact that it was Leisen, not Cukor, who had married (his wife, an opera singer, lived in Paris until WWII) and who actually had genuine affairs with women.
In 1927, Leisen married opera singer Stella Seager, known professionally as Sandra Gahle, in a ceremony at DeMille's ranch. Although they would remain married for fifteen years, their marriage was anything but traditional. The two lived apart frequently. Gahle even lived in France for a few years studying voice. Leisen had numerous dalliances, which Gahle knew about, and did not seem to mind. Some lovers were men. Others were women. And one was Natalie Visart.
Mitchell Leisen was responsible for the lesbian seduction dance in DeMille's The Sign of the Cross (1932), which Father Daniel Lord insised was unquestionably "sex perversion." Leisen was also behing the styling of Charles Laughton, as the depraved homosexual emperor Nero, and the casting of hunky Georges Bruggeman as his sex slave.
To avoid being returned to sets, after The Sign of the Cross (1932), where he filled for DeMille on several scenes, Leisen convinced Paramount to allow him to assist Stuart Walker on Tonigh Is Ours, based on Noel Coward's play "The Queen Was in the Parlor."
Leisen directed his first film in 1933 with Cradle Song and became known for his keen sense of aesthetics in the glossy Hollywood melodramas and screwball comedies he turned out.
In the mid-1930s, too, according to his lesbian secretary Eleanor Broder, Leisen began taking hormone shots in the hopes they might "cure" his homosexuality. He also began living with a woman, Natalie Visart, a costume designer who later miscarried his child. Yet while he and Visart would remain lifelong close friends (with Visart holidaying with Broder in the 1950s), no amount of cohabitation or hormone shots could alter his basic orientation. Soon Eddie Anderson, a pilot who had taught Leisen to fly, had taken Visart's place in Leisen home. Leisen secured Anderson a job on the set of The Big Broadcast of 1938, where the handsome pilot had an affair with the actress Shirley Ross. Brokenhearted by the betrayal, Leisen suffered a nearly fatal heart attack. It was a long recovery, but the Mitchell Leisen who emerged was very different from the one before, as if the brush with death had emboldened him to throw caution to the wind. "He got so audacious in the 1940s that he really seemed not to care," said David Chierichetti. "He'd do very outrageous things, like making passes at his leading men."
Leisen's best known films include the Alberto Casella adaptation Death Takes a Holiday and Murder at the Vanities, a musical mystery story (both 1934), as well as Midnight (1939) and Hold Back the Dawn (1941), both scripted by Billy Wilder. Easy Living (1937), written by Preston Sturges and starring Jean Arthur, was another hit for the director, who also directed Remember the Night (1940), the last film written by Sturges before he started directing his scripts as well. The films Lady in the Dark (1944), To Each His Own (1946), and No Man of Her Own (1950) were later successes. Also Charles Brackett's comedy The Mating Season (1951) starring Gene Tierney, Miriam Hopkins and Thelma Ritter was an updated version of Leisen's earlier screwball comedies of the 1930s, and was also his last big movie success.
In No Time For Love (1943), Leisen constantly offers a back-and-forth comparison between the men of Claudette Colbert's social circle (gay) and the "brawling mudhogs" of Fred MacMurray's world (straight). "You look at Leisen's movies," Gavin Lambert observed, "and Fred MacMurray is very sexy. He's not sexy in anybody else's movies. Obviously Leisen was attracted to him and brought that sexiness out." It was a recurrent theme in Leisen's pictures, with MacMurray often the awkward center of attention: Carole Lombard ogles him in Hands Across the Table; Rosalind Russell hires him as her "trophy secretary" (Dennis Drabelle's words) in Take a Letter, Darling.
According to Carolyn Roos, Leisen's longtime business manager's daughter, at the end of the 1940s, Leisen became involved in a new romance with the dancer Billy Daniel, who moved in with him (Daniel died in 1962). "Part of Leisen's change in personality was to make his relationship with Billy Daniels known to everybody whether they were interested or not," said David Chierichetti. It was a relationship that would last several years: Leisen was instrumental in getting Daniels choreography work at Paramount. Leisen, with Daniel and dancer/actor Mary Parker, formed Hollywood Presents Inc. as a means of promoting both Daniel and Parker off-screen.[4]
Finally, during the making of Bedevilled in 1955, Leisen went too far. "He was coming on to every handsome man who crossed his path," remembered his leading lady, Anne Baxter, "including an actor in the picture we all knew was not interested. The actor complained and Mitch was behind schedule, so MGM took him off the picture."
When his film career ended, Leisen directed episodes of The Twilight Zone, Thriller, Shirley Temple's Storybook and The Girl from U.N.C.L.E.. He also bought a nightclub.[1]
Leisen died of heart disease in 1972, aged 74. His grave is located in Chapel of the Pines Crematory.[5]
---
My published books::/p>


---
https://en.wikipedia.org/wiki/Mitchell_Leisen
Behind the Screen: How Gays and Lesbians Shaped Hollywood, 1910-1969, William J. Mann, 2001