Queer Places:
Chérence Paris, City of Paris, Île-de-France, France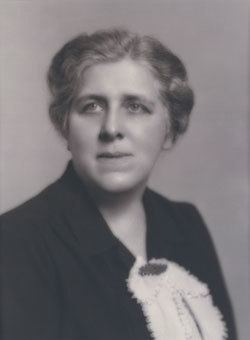 Maria Jolas (January 12, 1893 – March 4, 1987), born Maria McDonald, was an American-born translator who was one of the last survivors of James Joyce's Paris circle. With her husband, Eugene Jolas, she founded a Paris quarterly literary review called transition, which in the 1920's published articles by James Joyce, Gertrude Stein, Samuel Beckett, Dylan Thomas, Franz Kafka, William Carlos Williams, Henry Miller and James Agee.[1] Shari Benstock's Women of the Left Bank: Paris, 1900-1940, is a study devoted principally to thoughtful biographical and literary analyses of some 22 women: Margaret Anderson, Djuna Barnes, Natalie Barney, Kay Boyle, Sylvia Beach, Bryher, Colette, Caresse Crosby, Nancy Cunard, Hilda Doolittle, Janet Flanner, Jane Heap, Maria Jolas, Mina Loy, Adrienne Monnier, Anais Nin, Jean Rhys, Solita Solano, Gertrude Stein, Alice B. Toklas, Renee Vivien, and Edith Wharton, who came to dominate the landscape of the modernist literary experiment in Paris.
Jolas was born Maria Carr McDonald in Louisville, Ky., in January 1893. After her graduation from high school she studied music in Berlin and Paris. Back in the United States she met Eugene Jolas, an American citizen who had been reared in France. They moved to Paris after their marriage in 1926, and remained there until the war. Before the war Mrs. Jolas founded a school in Neuilly, and when the Nazis invaded she evacuated some its students to a chateau in south central France. She and her husband returned to the United States during World War II and worked in the Office of War Information.
Unlike her husband, a critic and poet, Mrs. Jolas chose to manage the business side of the review. She also translated into English about a dozen books by Nathalie Sarraute, whose style -with broken sentences, stream of consciousness effects, characters who remain nameless for many pages and abrupt shifts in perspective - would prove daunting to any translator. Although her translations were widely praised, Mrs. Jolas insisted, in an interview in The New York Times Book Review in 1970, that translating is a lazy person's job. ''Someone else has done the thinking,'' she said, ''and you accompany him like a pianist accompanying the singer, self-effacing if essential.''
Jolas and her husband had two daughters, the composer Betsy Jolas and Tina Jolas, an anthropologist, of Vaucluse, a region of southern France. .[2]
A well-known figure at peace conferences, Maria Jolas was active in Europe in opposing the U.S. war in Vietnam 1965-75.[2] Maria Jolas was the chair/president of the Paris American Committee to Stop-War (PACS, pronounced PACS) with several hundred members, formed in 1965 and banned by the French government in September 1968. She also translated many works, including Gaston Bachelard's The Poetics of Space. She died, aged 94, in Paris, France.[2]
Maria Jolas, Woman of Action - A Memoir and Other Writings was edited and introduced in 2004 by City University of New York professor Mary Ann Caws.
---
My published books:


---
https://en.wikipedia.org/wiki/Maria_Jolas
Reader's Guide to Lesbian and Gay Studies Timothy Murphy Routledge, Oct 18, 2013
MARIA JOLAS, 94, A TRANSLATOR AND PARIS MAGAZINE FOUNDER, By EDWIN McDOWELL, Published: March 7, 1987, The New York Times