Partner Lucien Happersberger, Bernard Hassell
Queer Places:
Mount Holyoke College (Seven Sisters), 50 College St, South Hadley, MA 01075
DeWitt Clinton High School, 100 W Mosholu Pkwy S, Bronx, NY 10468, Stati Uniti
Yaddo, 312 Union Ave, Saratoga Springs, NY 12866, Stati Uniti
The New School, 72 5th Ave, New York, NY 10011, Stati Uniti
San Remo Café, 93 Macdougal St, New York, NY 10012, Stati Uniti
Actors Studios, 432 W 44th St, New York, NY 10036, Stati Uniti
MacDowell Colony, 100 High St, Peterborough, NH 03458
100 Bedford St, New York, NY 10014, Stati Uniti
81 Horatio St, New York, NY 10014, Stati Uniti
137 W 71st St, New York, NY 10023, Stati Uniti
Chemin du Pilon, 06570 Saint-Paul-de-Vence, France
Café de Flore, 172 Boulevard Saint-Germain, 75006 Paris, France
Ferncliff Cemetery, 280 Secor Rd, Hartsdale, NY 10530, Stati Uniti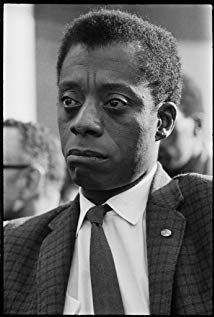 James Arthur "Jimmy" Baldwin (August 2, 1924 – December 1, 1987) was an American novelist and social critic. His essays, as collected in Notes of a Native Son (1955), explore intricacies of racial, sexual, and class distinctions in Western societies, most notably in mid-20th-century America.[1] Some of Baldwin's essays are book-length, including The Fire Next Time (1963), No Name in the Street (1972), and The Devil Finds Work (1976). An unfinished manuscript, Remember This House, was expanded and adapted for cinema as the Academy Award-nominated documentary film I Am Not Your Negro.[2]
Baldwin's novels and plays fictionalize fundamental personal questions and dilemmas amid complex social and psychological pressures thwarting the equitable integration not only of African Americans, but also of gay and bisexual men, while depicting some internalized obstacles to such individuals' quests for acceptance. Such dynamics are prominent in Baldwin's second novel, Giovanni's Room, written in 1956, well before the gay liberation movement.[3]
As a young man, Baldwin's poetry teacher was Countee Cullen.[62]
A great influence on Baldwin was the painter Beauford Delaney. In The Price of the Ticket (1985), Baldwin describes Delaney as
...the first living proof, for me, that a black man could be an artist. In a warmer time, a less blasphemous place, he would have been recognized as my teacher and I as his pupil. He became, for me, an example of courage and integrity, humility and passion. An absolute integrity: I saw him shaken many times and I lived to see him broken but I never saw him bow./p>
Later support came from Richard Wright, whom Baldwin called "the greatest black writer in the world." Wright and Baldwin became friends, and Wright helped Baldwin secure the Eugene F. Saxon Memorial Award. Baldwin's essay "Notes of a Native Son" and his collection Notes of a Native Son allude to Wright's novel Native Son. In Baldwin's 1949 essay "Everybody's Protest Novel", however, he indicated that Native Son,, like Harriet Beecher Stowe's Uncle Tom's Cabin, lacked credible characters and psychological complexity, and the friendship between the two authors ended.[63] Interviewed by Julius Lester,[64] however, Baldwin explained, "I knew Richard and I loved him. I was not attacking him; I was trying to clarify something for myself." In 1965, Baldwin participated in a debate with William F. Buckley, on the topic of whether the American dream has adversely affected African Americans. The debate took place at The Cambridge Union in the UK. The spectating student body voted overwhelmingly in Baldwin's favour.[65]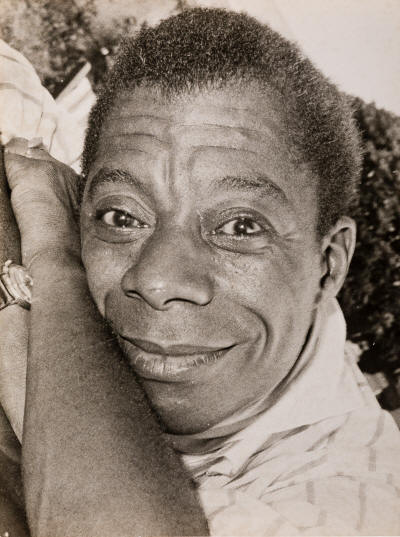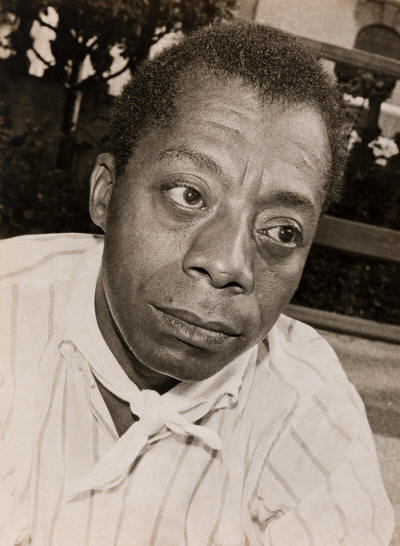 JOHN PAIGNTON (JOHN S. BARRINGTON, 1920-1991) A group of 5 photographs of James Baldwin, author and advocate for the Civil Rights Movement and Gay and Lesbian Rights. Silver prints, the images measuring approximately 232x171 mm; 9 1/8x6 3/4 inches, each with a numerical notation, in ink, on verso. Circa 1965. This group of photographs of James Baldwin was taken by John Paignton (John S. Barrington) in the mid-1960s. An image from the series was used in the cover of the 1968 first edition publication of Fern Marja Eckman's "The Furious Passage of James Baldwin," which explored the life and times of the author. John Paignton, known as the "godfather of British physique photography," began photographing and drawing figural studies of male nudes in the 1930s, and launched the first physique magazine in the UK, "Male Model Monthly," in 1954.

100 Bedford Street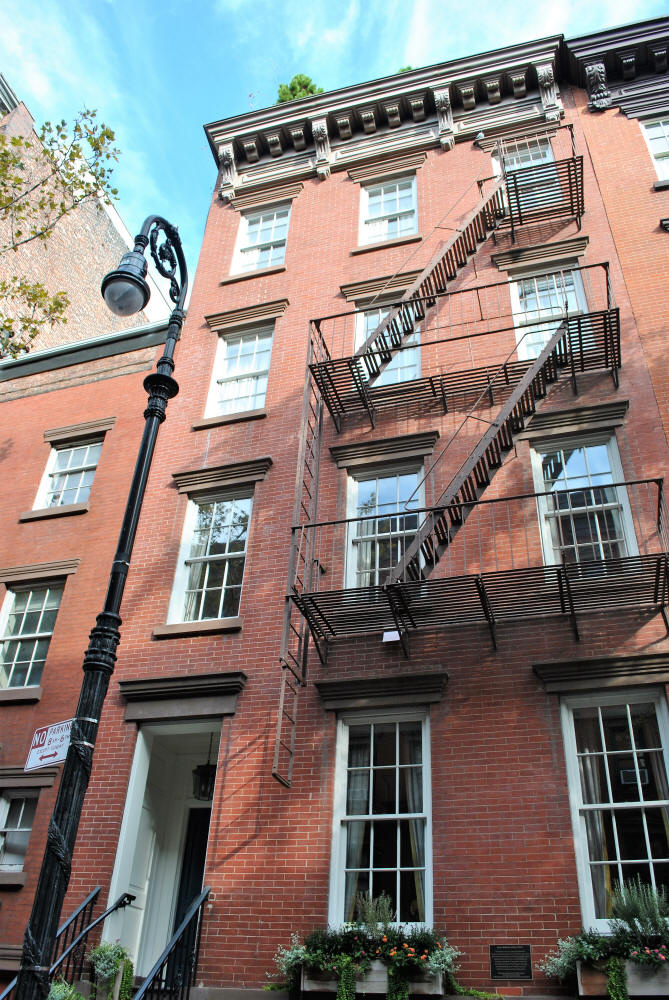 81 Horatio St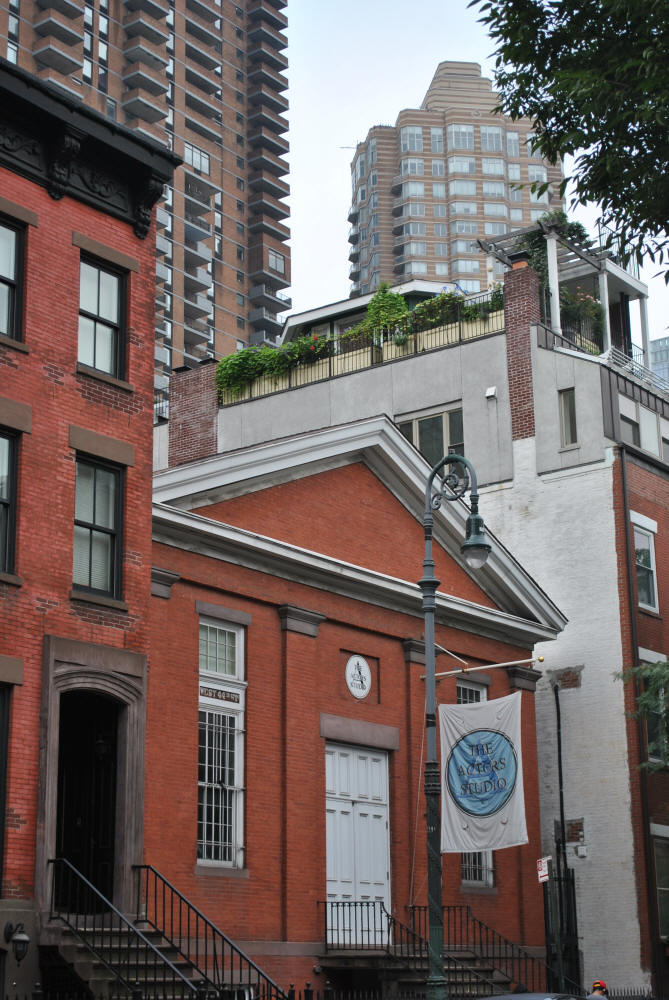 The Actors Studio, NYC
In 1949 Baldwin met and fell in love with Lucien Happersberger, aged 17, though Happersberger's marriage three years later left Baldwin distraught.[66] Happersberger died on August 21, 2010, in Switzerland.
Baldwin was a close friend of the singer, pianist, and civil rights activist Nina Simone. With Langston Hughes and Lorraine Hansberry, Baldwin helped awaken Simone to the civil rights movement then gelling. Baldwin also provided her with literary references influential on her later work. Baldwin and Hansberry met with Robert F. Kennedy, along with Kenneth Clark and Lena Horne and others in an attempt to persuade Kennedy of the importance of civil rights legislation.[67]
George Solomos, also known as Themistocles Hoetis from 1948 to 1958, was an American publisher, poet, filmmaker and novelist. The expatriate Left Bank scene in Paris in which George quickly established himself as a "social lion", in the words of one friend, included his co-editor Asa Benveniste and the American writers Herbert Gold, Richard Wright and James Baldwin. Also present was a young Norwegian woman, Gidske Anderson, who was known among their circle as Baldwin's "fiancee" but eventually tied the knot with George instead, despite the fact that both men were predominantly homosexual.
Baldwin influenced the work of French painter Philippe Derome, whom he met in Paris in the early 1960s. Baldwin also knew Marlon Brando, Charlton Heston, Billy Dee Williams, Huey P. Newton, Nikki Giovanni, Jean-Paul Sartre, Jean Genet (with whom he campaigned on behalf of the Black Panther Party), Lee Strasberg, Elia Kazan, Rip Torn, Alex Haley, Miles Davis, Amiri Baraka, Martin Luther King, Jr., Dorothea Tanning, Leonor Fini, Margaret Mead, Josephine Baker, Allen Ginsberg, Chinua Achebe and Maya Angelou. He wrote at length about his "political relationship" with Malcolm X. He collaborated with childhood friend Richard Avedon on the book Nothing Personal.[68]
I Know Why the Caged Bird Sings. Baldwin was made a Commandeur de la Légion d'Honneur by the French government in 1986.[69]

In 1971, Beauford Delaney suffered serious psychological trauma upon learning of the death of his nephew, Sam (Junior). Biographer Leeming describes him as going into "several weeks of steep decline" as a result. James Baldwin learned of Beauford's condition and had him brought to Baldwin's new home in Saint-Paul-de-Vence, where Baldwin's last partner, Bernard Hassell, had taken up residence in the gatehouse.

Baldwin was also a close friend of Nobel Prize-winning novelist Toni Morrison. Upon his death, Morrison wrote a eulogy for Baldwin that appeared in The New York Times. In the eulogy, entitled "Life in His Language," Morrison credits Baldwin as being her literary inspiration and the person who showed her the true potential of writing. She writes:
You knew, didn't you, how I needed your language and the mind that formed it? How I relied on your fierce courage to tame wildernesses for me? How strengthened I was by the certainty that came from knowing you would never hurt me? You knew, didn't you, how I loved your love? You knew. This then is no calamity. No. This is jubilee. 'Our crown,' you said, 'has already been bought and paid for. All we have to do,' you said, 'is wear it.'[70]
Early on December 1, 1987,[71][72] (some sources say late on November 30[73][74]) Baldwin died from stomach cancer in Saint-Paul-de-Vence, France.[75][76][77] He was buried at the Ferncliff Cemetery in Hartsdale, near New York City.[78]
Nall took care of James Baldwin on his deathbed. Nall had been friends with Baldwin from the early 1970's because Baldwin would buy him drinks at the Café de Flore. Nall recalled talking to Baldwin about racism in Alabama with the author shortly before his death. In one conversation, Nall told Baldwin that "Through your books you liberated me from my guilt about being so bigoted coming from Alabama and because of my homosexuality." Baldwin insisted that "No, you liberated me in revealing this to me."[79]
At the time of Baldwin's death, he had an unfinished manuscript called Remember This House, a memoir of his personal recollections of civil rights leaders Medgar Evers, Malcolm X and Martin Luther King, Jr.[80] Following his death, publishing company McGraw-Hill took the unprecedented step of suing his estate to recover the $200,000 advance they had paid him for the book, although the lawsuit was dropped by 1990.[80] The manuscript forms the basis for Raoul Peck's 2016 documentary film I Am Not Your Negro.[81]
---
My published books:


---
https://en.wikipedia.org/wiki/James_Baldwin
Woods, Gregory. Homintern . Yale University Press. Edizione del Kindle.
Dictionnaire historique des homosexuel.le.s célèbres – October 19, 2017 French Edition by Michel Larivière