Partner Peter Orlovsky, buried together
Queer Places:
163 Quitman St, Newark, NJ 07108, Stati Uniti
155 Haledon Ave, Paterson, NJ 07522
288 Rosa Parks Blvd, Paterson, NJ 07501, USA
Eastside High School, 150 Park Ave, Paterson, NJ 07501, Stati Uniti
Montclair State University, 1 Normal Ave, Montclair, NJ 07043, Stati Uniti
170 E 2nd St, 10009, NYC, NY, USA
704 E 5th St, New York, NY 10009, Stati Uniti
206 E 7th St, New York, NY 10009, Stati Uniti
408 E 10th St, New York, NY 10009, Stati Uniti
419 W 115th St, 10025, NYC, NY, USA
Hotel Chelsea, 222 W 23rd St, New York, NY 10011, Stati Uniti
San Remo Café, 93 Macdougal St, New York, NY 10012, Stati Uniti
Columbia University, 116th St & Broadway, New York, NY 10027, Stati Uniti
Beat Hotel, 9 Rue Gît-le-Cœur, 75006 Paris, Francia
Shambhala Mountain Center, 151 Shambhala Way, Red Feather Lakes, CO 80545, Stati Uniti
Gomel Chesed Cemetery, 245 Mt Olivet Ave, Newark, NJ 07114, Stati Uniti
Irwin Allen Ginsberg (June 3, 1926 – April 5, 1997) was an American poet, philosopher, and writer. He is considered to be one of the leading figures of both the Beat Generation during the 1950s and the counterculture that soon followed. He vigorously opposed militarism, economic materialism and sexual repression and was known as embodying various aspects of this counterculture, such as his views on drugs, hostility to bureaucracy and openness to Eastern religions.[1] He was one of many influential American writers of his time known as the Beat Generation, which included famous writers such as Jack Kerouac and William S. Burroughs.
Ginsberg is best known for his poem "Howl", in which he denounced what he saw as the destructive forces of capitalism and conformity in the United States.[2][3][4] In 1956, "Howl" was seized by San Francisco police and US Customs.[1] In 1957, it attracted widespread publicity when it became the subject of an obscenity trial, as it described heterosexual and homosexual sex[5] at a time when sodomy laws made homosexual acts a crime in every U.S. state. "Howl" reflected Ginsberg's own homosexuality and his relationships with a number of men, including Peter Orlovsky, his lifelong partner.[6] Judge Clayton W. Horn ruled that "Howl" was not obscene, adding, "Would there be any freedom of press or speech if one must reduce his vocabulary to vapid innocuous euphemisms?"[7]
Ginsberg was a practicing Buddhist who studied Eastern religious disciplines extensively. He lived modestly, buying his clothing in second-hand stores and residing in downscale apartments in New York's East Village.[8] One of his most influential teachers was the Tibetan Buddhist the Venerable Chögyam Trungpa, the founder of the Naropa Institute in Boulder, Colorado.[9] At Trungpa's urging, Ginsberg and poet Anne Waldman started The Jack Kerouac School of Disembodied Poetics there in 1974.[10]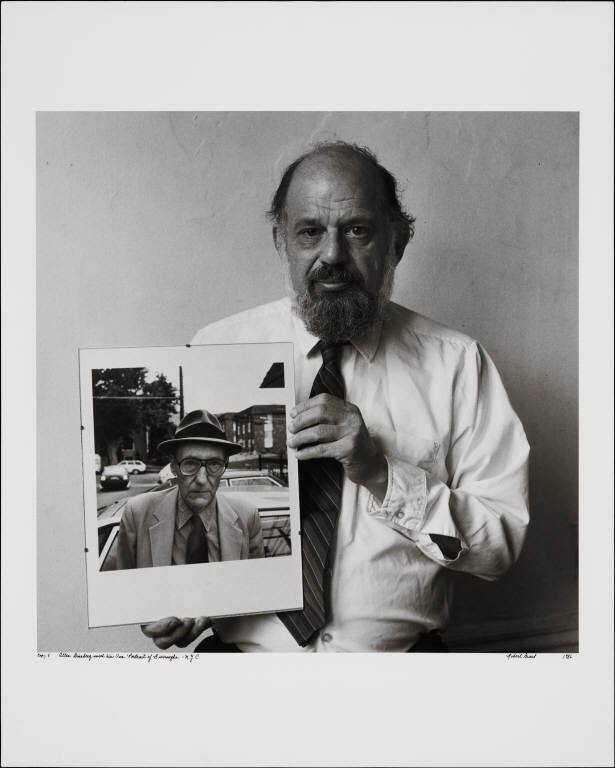 Featured in Particular Voices: Portraits of Gay and Lesbian Writers by Robert Giard [Rights Notice: Copyright Jonathan G. Silin (jsilin@optonline.net)]

Hotel Chelsea, New York City

170 E 2nd St

704 E 5th St

206 E 7th St

408 E 10th St

Shambhala Center, Boulder

Shambhala Mountain Center, Red Feathers Lake
Ginsberg took part in decades of non-violent political protest against everything from the Vietnam War to the War on Drugs.[11] His poem "September on Jessore Road", calling attention to the plight of Bangladeshi refugees, exemplifies what the literary critic Helen Vendler described as Ginsberg's tireless persistence in protesting against "imperial politics, and persecution of the powerless."[12]
His collection The Fall of America shared the annual U.S. National Book Award for Poetry in 1974.[13] In 1979 he received the National Arts Club gold medal and was inducted into the American Academy and Institute of Arts and Letters.[14] Ginsberg was a Pulitzer Prize finalist in 1995 for his book Cosmopolitan Greetings: Poems 1986–1992.[15]
Mexico City attracted international gay visitors between the 1940s and 1960s, with its cultural life, low cost of living, the intelligentsia's leftist orientation, and the city's architectural beauty. Political, cultural and sexual dissidents found the fast-growing city welcoming despite its rapid population growth: from 1.5 to 6 million between 1930 and 1960. Allen Ginsberg – who had regularly visited Mexico City from 1951 – reported its affordability to his friend Gary Snyder as well as his homosexual encountersduring a 1956 visit with Jack Kerouac and Peter Orlovsky. Some international visitors settled permanently. Foreign homosexuals found opportunities in couture and design, including milliner Henri de Châtillon, furniture designer Emmett Morley Webb and restaurateur and designer Jay de Laval. Earl Sennett, an instructor at Mexico City College in the 1940s and 1950s, directed the Mexico City Players, a theatrical troupe that included political dissidents like John T. Herrmann.
One contribution that is often considered his most significant and most controversial was his openness about homosexuality. Ginsberg was an early proponent of freedom for gay people. In 1943, he discovered within himself "mountains of homosexuality." He expressed this desire openly and graphically in his poetry.[95] He also struck a note for gay marriage by listing Peter Orlovsky, his lifelong companion, as his spouse in his Who's Who entry. Subsequent gay writers saw his frank talk about homosexuality as an opening to speak more openly and honestly about something often before only hinted at or spoken of in metaphor.[78]
In writing about sexuality in graphic detail and in his frequent use of language seen as indecent, he challenged — and ultimately changed — obscenity laws. He was a staunch supporter of others whose expression challenged obscenity laws (William S. Burroughs and Lenny Bruce, for example).
He died surrounded by family and friends in his East Village loft in New York City, succumbing to liver cancer via complications of hepatitis. He was 70 years old.[20]
One third of Ginsberg's ashes were buried in his family plot in Gomel Chesed Cemetery in Newark, NJ.[74][75] He was survived by Orlovsky.
When Orlovsky died, as per Ginsberg's wishes, another third of his ashes were buried alongside Orlovsky at Shambhala Mountain Center in Colorado. The remaining third of the ashes are buried at Jewel Heart, Gelek Rimpoche's sangha, in India.
---
My published books:

---
https://en.wikipedia.org/wiki/Allen_Ginsberg
Woods, Gregory. Homintern . Yale University Press. Edizione del Kindle.
Shand-Tucci, Douglass. The Crimson Letter . St. Martin's Publishing Group. Edizione del Kindle.
The Transnational Homophile Movement and the Development of Domesticity in Mexico City's Homosexual Community, 1930–70, by Vıctor M. Macıas-Gonzalez