Queer Places:
Pinckney Elementary School, 810 W 6th St, Lawrence, KS 66044, Stati Uniti
Lincoln University, 820 Chestnut St, Jefferson City, MO 65101, Stati Uniti
Yaddo, 312 Union Ave, Saratoga Springs, NY 12866, Stati Uniti
Columbia University (Ivy League), 116th St and Broadway, New York, NY 10027
Niggerati Manor, 267 W 136th St, New York, NY 10030, Stati Uniti
12 E 127th St, New York, NY 10035, USA
Schomburg Center for Research in Black Culture, 515 Malcolm X Blvd, New York, NY 10037, Stati Uniti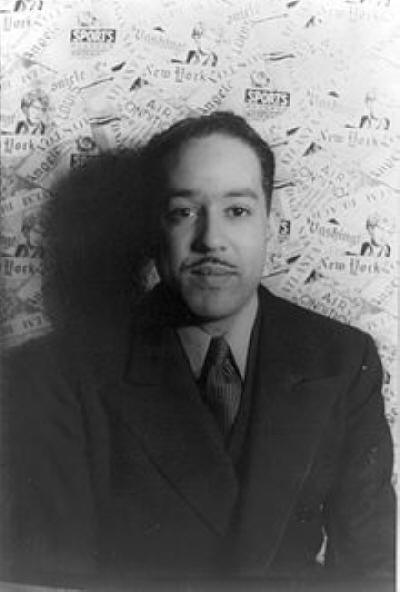 James Mercer Langston Hughes (February 1, 1902 – May 22, 1967) was an American poet, social activist, novelist, playwright, and columnist from Joplin, Missouri. A number of Harlem Renaissance writers, including Wallace Thurman, Claude McKay, Countee Cullen, and possibly Langston Hughes, had relationships with men, and the writing of this genre often included references to homosexual life. McKay's 1928 Home to Harlem included a scene where "the dark dandies were loving up their pansies"; Thurman's The Blacker the Berry (1929) and The Infants of the Spring (1932) also referenced this world.
Hughes was one of the earliest innovators of the then-new literary art form called jazz poetry. Hughes is best known as a leader of the Harlem Renaissance in New York City. He famously wrote about the period that "the negro was in vogue", which was later paraphrased as "when Harlem was in vogue".[1]
Some academics and biographers believe that Hughes was homosexual and included homosexual codes in many of his poems, as did Walt Whitman, whom Hughes said influenced his poetry. Hughes's story "Blessed Assurance" deals with a father's anger over his son's effeminacy and "queerness".[30]:192[30]:161[31][32][33][34][35][36] The biographer Aldrich argues that, in order to retain the respect and support of black churches and organizations and avoid exacerbating his precarious financial situation, Hughes remained closeted.[37]
Arnold Rampersad, the primary biographer of Hughes, determined that Hughes exhibited a preference for African-American men in his work and life.[38] But, in his biography Rampersad denies Hughes's homosexuality,[39] and concludes that Hughes was probably asexual and passive in his sexual relationships. Hughes did, however, show a respect and love for his fellow black man (and woman). Other scholars argue for his homosexuality: his love of black men is evidenced in a number of reported unpublished poems to an alleged black male lover.[40]
On May 22, 1967, Hughes died in New York City at the age of 65 from complications after abdominal surgery related to prostate cancer. His ashes are interred beneath a floor medallion in the middle of the foyer in the Schomburg Center for Research in Black Culture in Harlem.[41] It is the entrance to an auditorium named for him.[42] The design on the floor is an African cosmogram entitled Rivers. The title is taken from his poem "The Negro Speaks of Rivers". Within the center of the cosmogram is the line: "My soul has grown deep like the rivers".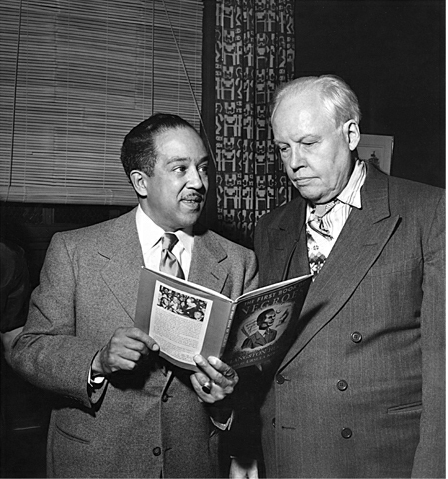 Langston Hughes shows Carl Van Vechten his new book for children, The First Book of Negroes, 1952
---
My published books:


---
https://en.wikipedia.org/wiki/Langston_Hughes
Woods, Gregory. Homintern . Yale University Press. Edizione del Kindle.
Ferentinos, Susan,. Interpreting LGBT History at Museums and Historic Sites (Interpreting History) . Rowman & Littlefield Publishers. Edizione del Kindle.