Queer Places:
Oak Woods Cemetery, 1035 E 67th St, Chicago, IL 60637, Stati Uniti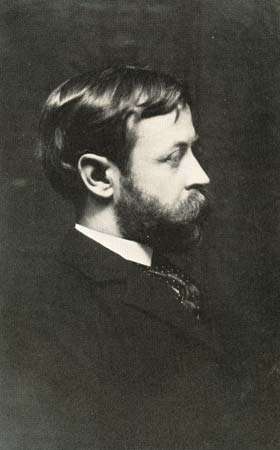 Henry Blake Fuller (January 9, 1857 – July 28, 1929) was a United States novelist and short story writer, born in Chicago, Illinois. Fuller's play At Saint Judas's from his collection, The Puppet-Booth: Twelve Plays (1896), is effectively the first play on a homosexual theme published in America.
Fuller's earliest works were travel romances set in Italy that featured allegorical characters. Both The Chevalier of Pensieri–Vani (1890) and The Châtelaine of La Trinité (1892) bear some thematic resemblance to the works of Henry James, whose primary interest was in the contrast between American and European ways of life. Fuller's first two books appealed to the genteel tastes of cultivated New Englanders such as Charles Eliot Norton and James Russell Lowell,[1] who took Fuller's work as a promising sign of a burgeoning literary culture in what was then still largely the frontier city of Chicago.
Fuller then turned to literary realism, writing The Cliff-Dwellers (1893), what is perhaps the first novel set among the skyscrapers and frenetic business culture of modern-day Chicago. The novel shocked and outraged Chicago readers, who found its unflattering portrait of the city jarring. The novel won the praise of the influential critic and novelist William Dean Howells, whose positive review did much to secure Fuller's position as an important regional realist. Novels like The Cliff-Dwellers and With the Procession (1895) were influenced by the social realism of Howells, who described American institutions being transformed by the economic and demographic changes of the late nineteenth century, although the scenes of violence in The Cliff-Dwellers feature elements of naturalism not to be found in Howells' novels. With the Procession, though realistic, was kindlier in touch, with humor playing over its seriousness, unlike the relentless realism of The Cliff-Dwellers.[1] Fuller's preference for Howells over James is the subject of one of Fuller's important unpublished essays entitled "Howells or James?"
Fuller also wrote twelve one-act plays, collected in The Puppet Booth (1896). He wrote for various journals, including The Dial, and he provided some editorial assistance to Poetry in its early years.[2]
While he is considered one of the important novelists of Chicago's early years, his own relation to the city was often strained. The scion of one of Chicago's early settler families, he found the increasingly industrial and multicultural nature of the city offputting. His ambivalence is expressed in The Cliff-Dwellers and With the Procession, both of which are set in Chicago. The Cliff-Dwellers is one of the first novels to treat at length social life in the new, skyscraper environment that was pioneered in Chicago.
Perhaps his finest achievement is the controversial Bertram Cope's Year (1919), a subtle novel about homosexuals. Fuller self-published the novel in Chicago after unsuccessfully making the rounds of several New York publishing houses. Set on the campus of Northwestern University in Evanston, Illinois, it featured an attractive young English instructor who becomes the elusive object of desire for several young women and at least two men of different ages. Cope's primary emotional attachment is to his effeminate college chum Arthur Lemoyne, who comes to Evanston to live with Cope until Lemoyne is expelled from the campus for making a backstage pass at another male student while dressed as a woman. The novel ends on an ambiguous note concerning the issue of Cope's sexuality. It received less than enthusiastic reviews from critics who did not understand the book's satirical intentions. It puzzled critics and embarrassed his friends. Upon its republication in 1998, it received enthusiastic reviews.[3] Turtle Point Press issued a reprint of the novel in 1998; the publisher had been alerted to the work by Bruce Kellner, a professor of English and executor of the estate of Carl Van Vechten, a novelist, critic and photographer best known for his association with the Harlem Renaissance.
In 1898, Fuller was also one of the founding members of the Eagle's Nest Art Colony in Illinois. He wrote a column of art criticism for the New York Evening Post.[2]
Fuller was born in Chicago on January 9, 1857. He never married.[2] His journals from his teenage days make it clear he was in love with some dormitory roommates at Allison Classical Academy. At the age of nineteen, he wrote in an imaginary personal advertisement: "I would pass by twenty beautiful women to look upon a handsome man".
Fuller was "an old settler," a third-generation Chicagoan and the last male in a family descended from Mayflower Pilgrims. His grandfather was a successful merchant, and his father organized the city's first trolley car system. His grandfather's cousin Margaret Fuller, who published Around the Lakes, a book about her travels in our area in the 1800s, also wrote: "I believe that a man can love a man and a woman can love a woman."
One group of artists occupying the top-floor studios of the Fine Arts Building in Chicago, coveted for their capacious skylights, formed the Little Room, a mixed-gender social club whose founding members included painters, writers and other artists, many of whom were gay, like J. C. Leyendecker and his brother Frank Xavier Leyendecker. Fostered by novelists Hamlin Garland and Henry Blake Fuller, The Little Room met on Friday afternoons and occasional evenings. Among the members were George Ade, H.C. Chatfield-Taylor, Alice Gerstenberg, James T. Hatfield, Franklin Harvey Head, John T. McCutcheon, Anna Morgan, Allen Bartlit Pond, Henry Kitchell Webster, Lorado Taft, Lou Wall Moore, Jane Addams, Harriet Monroe and Edith Wyatt.
Fuller was at the center of Chicago's first "arts" club, The Little Room, and was associated with Maurice Browne and Ellen Van Volkenburg's Little Theatre. He also wrote short stories and poetry, serving for a number of years as editor of Harriet Monroe's legendary Poetry: A Magazine of Verse. He liked to visit the studio of his friend, sculptor Lorado Taft, and meet the new students at the long luncheon table. He would cultivate young men of talent and breeding such as Mark Turbyfill.
At the age of 34 he wrote that he was in love with an adolescent boy who had blue eyes and strawberry blonde hair. Five years later, Fuller wrote and published a short play, At Saint Judas's, about a homosexual who commits suicide at the wedding of his former lover. It is credited with being the first American play dealing explicitly with homosexuality. In 1924 Fuller embarked upon the last of his many European tours with William Emery Shepherd, a 24-year-old college student. Their letters do not indicate their relationship was anything but a friendship. The trip exhausted Fuller, who continued writing literary reviews for a variety of newspapers and magazines upon his return to Chicago, as well as two novels that were published posthumously.
Fuller died in Chicago on July 28, 1929, "at the home of Wakeman T. Ryan, with whom he had lived for the last three years." His death was ascribed to "heart disease, aggravated by the heat."[2] His protégés Turbyfill and Shepherd were among the 70-plus contributors to a memorial volume published by drama pioneer Anna Morgan as a tribute to her friend. Other contributors included Carl Van Vechten, Thornton Wilder, Arthur Meeker, Lorado Taft and Jane Addams.
The most telling contribution to his memorial volume came from his old Poetry magazine friend Harriet Monroe, who wrote: "Henry Fuller found it impossible to tell his whole story. He could not give himself away, and therefore it may be that the greatest book of which his genius was capable was never written."
---
My published books:


---
https://en.wikipedia.org/wiki/Henry_Blake_Fuller
Baim, Tracy. Out and Proud in Chicago: An Overview of the City's Gay Community . Agate Publishing. Edizione del Kindle.