Queer Places:
Hazelden Farms, County Rd 900 S, Brook, IN 47922
Fairlawn Cemetery Kentland, Newton County, Indiana, USA
George Ade (February 9, 1866 – May 16, 1944) was an American writer, syndicated newspaper columnist, and playwright who gained national notoriety at the turn of the 20th century with his "Stories of the Streets and of the Town", a column that used street language and slang to describe daily life in Chicago, and a column of his fables in slang, which were humorous stories that featured vernacular speech and the liberal use of capitalization in his characters' dialog. Ade's fables in slang gained him wealth and fame as an American humorist, as well as earning him the nickname of the "Aesop of Indiana".
One group of artists occupying the top-floor studios of the Fine Arts Building in Chicago, coveted for their capacious skylights, formed the Little Room, a mixed-gender social club whose founding members included painters, writers and other artists, many of whom were gay, like J. C. Leyendecker and his brother Frank Xavier Leyendecker. Fostered by novelists Hamlin Garland and Henry Blake Fuller, The Little Room met on Friday afternoons and occasional evenings. Among the members were George Ade, H.C. Chatfield-Taylor, Alice Gerstenberg, James T. Hatfield, Franklin Harvey Head, John T. McCutcheon, Anna Morgan, Allen Bartlit Pond, Henry Kitchell Webster, Lorado Taft, Lou Wall Moore, Jane Addams, Harriet Monroe and Edith Wyatt.
Ade's notable early books include Artie (1896); Pink Marsh (1897); Fables in Slang (1900), the first in a series of books; and In Babel (1903), a collection of his short stories. His first play produced for the Broadway stage was The Sultan of Sulu, written in 1901. The Sho-Gun and his best-known plays, The County Chairman and The College Widow, were simultaneously appearing on Broadway in 1904. Ade also wrote scripts and had some of his fables and plays adapted into motion pictures. During the first quarter of the 20th century, Ade, along with Booth Tarkington, Meredith Nicholson, and James Whitcomb Riley helped to create a Golden Age of literature in Indiana. The Purdue University graduate from rural Newton County, Indiana, began his career in journalism as a newspaper reporter in Lafayette, Indiana, before moving to Chicago, Illinois, to work for the Chicago Daily News. In addition to writing, Ade enjoyed traveling, golf, and entertaining at Hazelden, his estate home near Brook, Indiana. Ade was also a member of Purdue University's board of trustees from 1909 to 1916, a longtime member of the Purdue Alumni Association, a supporter of Sigma Chi (his college fraternity), and a former president of the Mark Twain Association of America. In addition, he donated funds for construction of Purdue's Memorial Gymnasium, its Memorial Union Building, and with David Edward Ross, contributed land and funding for construction of Purdue's Ross–Ade Stadium, named in their honor in 1924.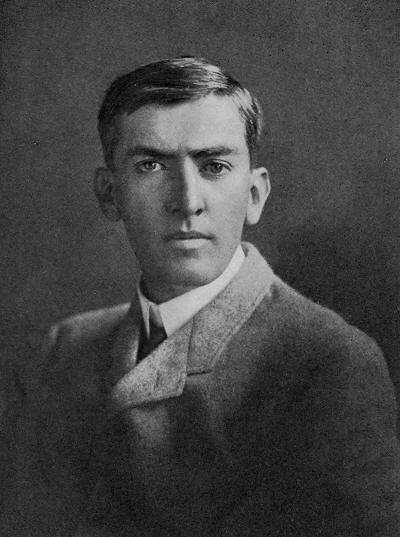 By the early 1900s, after twelve years in Chicago, Ade's writing had brought him financial success and he retired to a leisurely life in the country. Ade invested his earnings in Newton County, Indiana, farmland, eventually owning about 2,400 acres (970 hectares).[12][21] In 1902, George's brother, William Ade, purchased on his behalf a 417-acre (169-hectare) site of wooded land along the Iroquois River near the town of Brook in Newton County, Indiana. George initially intended to build a summer cottage. Instead, Chicago architect Billie Mann, a Sigma Chi fraternity brother, designed for Ade a two-story, fourteen-room country manor, which was constructed at an estimated cost of US$25,000. Ade named the property Hazelden, after his English grandparents' home, and moved from Chicago into the newly built residence in 1904. In addition to the Tudor Revival-style home, the property eventually included landscaped grounds, a swimming pool, greenhouse, barn, and caretaker's cottage, among other outbuildings. Ade also added an adjacent golf course and country club in 1910.[12][21][22] Ade frequently entertained at his Indiana estate. In addition to serving as a summer home (and his permanent residence beginning in 1905), Hazelden was used for political gatherings and community events. Hazelden was the site where Republican William Howard Taft announced his candidacy for president of the United States and launched his campaign in 1908. It was also used as the site for a political rally for Theodore Roosevelt's Bull Moose Party in 1912 and a venue for an address from vice presidential candidate Charles W. Dawes in 1924. (Ade, a political conservative, supported Republican Party candidates.) Ade also hosted a homecoming party for soldiers and sailors on July 4, 1919, as well as parties and gatherings for the community, local children, Purdue University alumni, Sigma Chi fraternity brothers, members of the Indiana Society of Chicago, and golf tournaments.[8][21][23]
Ade spent the summer months at his Hazelden estate in Newton County, Indiana, and vacationed during the winter months at a rented home in Miami, Florida. He was also an avid traveler who made trips around the world, as well as multiple trips to Europe, the West Indies, China, and Japan. In addition to his frequent travels, Ade enjoyed horse racing and golf.[13][8] Ade, who never married, corresponded regularly with a wide circle of friends and was active in literary, civic, and political organizations. In 1905 he was a cofounder with Edward M. Holloway and John T. McCutcheon of the Indiana Society of Chicago, a literary organization. Ade also served as a delegate to the Republican National Convention in Chicago in 1908.[13][8] Ade was a longtime supporter of Purdue University and Sigma Chi, his college fraternity. He served as national president of Sigma Chi in his later years[7][8] and as a member of Purdue's board of trustees from 1909 to 1916. Ade was also a member of the Purdue Alumni Association.[4] Ade donated funds for construction of Purdue's Memorial Gymnasium and its Memorial Union Building. In 1922, Ade and David Edward Ross, another Purdue alumni, bought 65 acres (26 hectares) of land for use as the site of a new football stadium at Purdue's campus in West Lafayette, Indiana. In addition, Ade and Ross provided financial support construction of the facility, which was formally dedicated on November 22, 1924, and named Ross–Ade Stadium in their honor.[13][23] Ade also led a fund-raising campaign to endow the Sigma Chi mother house at Miami University, where the fraternity was originally established. Ade also authored the Sigma Chi Creed in 1929, which is one of the central documents of the fraternity's philosophies.[citation needed] In his later years Ade was a member of National Institute of Arts and Letters (American Academy of Arts and Letters) and an executive committee member of the Authors Guild. Purdue University awarded Ade an honorary degree in the humanities in 1926 and Indiana University awarded him an honorary law degree in 1927. During the early 1940s, he also served as president of the Mark Twain Association of America. Ade's activities slowed after he suffered a stroke in June 1943 that left him partially paralyzed and a series of heart attacks in 1944.[4][24]
Ade fell into a coma after suffering a heart attack and died on May 16, 1944, in Brook, Indiana, at the age of seventy-eight. His remains are interred at Fairlawn Cemetery in Kentland, in Iroquois Township, Newton County, Indiana.[24] Ade is considered a humorist, satirist, and a moralist with keen observational skills, as well as and "one of the greatest writers of his time."[16] Ade's writings reached the height of their popularity in the 1910s and 1920s. Along with the works of other Hoosier writers, such as James Whitcomb Riley, Booth Tarkington, and Meredith Nicholson, among others, Ade's writing was part of the Golden Age of Indiana Literature of the late nineteenth and early twentieth centuries. His fables in slang gained him wealth and fame as an American humorist, in addition to earning him the nickname of the "Aesop of Indiana."[12] In more recent decades, his works have been largely forgotten.[6] The best known of his plays that were produced on Broadway are The County Chairman and The College Widow, which were also adapted into motion pictures.[4] While the presentations of his plays and musical comedies increased his wealth and international renown, Ade's legacy includes numerous newspaper columns, magazine articles, essays, and books that describe his perspective on American life in the late nineteenth and early decades of the twentieth century.[5] Ade bequeathed his library, manuscripts, and papers, as well as most of his art objects to Purdue University.[25] Following Ade's death, ownership of Hazelden, his former home in Newton County, Indiana, was transferred to Purdue University, who relinquished the property to the State of Indiana when it could no longer afford its upkeep. The State of Indiana, unable to maintain the home, turned it over to Newton County, Indiana, officials. Ade's remaining land was distributed among his relatives. In 1962 the George Ade Memorial Association raised funds to acquire, renovate, and restore the home.[21][25] Hazelden (the George Ade House) was listed on the National Register of Historic Places in 1976.[26] The Association disbanded in 2018, and, as of 2019, Newton county officials are assessing the home's condition and plans for restoring it for use as a public historic site and events venue.[12]
---
My published books:


---