Partner Mary Lloyd, buried together
Queer Places:
(1866) 26 Hereford Square, Kensington, London SW7, UK
Newbridge House, Newbridge Demesne, Donabate, Co. Dublin, Irlanda
Miss Poggi's School, 32 Brunswick Terrace, Hove BN3 1HJ, UK
15 Connaught Square, London W2 2HG, UK UK
26 Hereford Square, South Kensington, London SW7 4TS, UK
1 Park Row, Frampton Cotterell, Bristol BS36 2BS, UK
The Red Lodge Museum, Park Row, Bristol BS1 5LJ, UK
Tan Llan, Llanelltyd, Dolgellau LL40 2ST, UK
Tyn-y-Celyn, Llanelltyd, Dolgellau LL40 2TA, UK
St Illtud, Dolgellau LL40 2ST, UK
Kensal Green Cemetery, Harrow Rd, London NW10 5NU, UK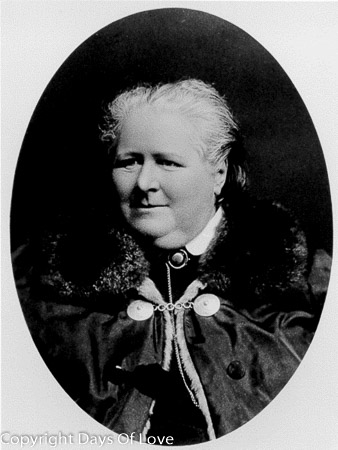 Frances Power Cobbe (4 December 1822 – 5 April 1904) was an Irish writer, social reformer, anti-vivisection activist, and leading women's suffrage campaigner. She founded a number of animal advocacy groups, including the National Anti-Vivisection Society (NAVS) in 1875, and the British Union for the Abolition of Vivisection (BUAV) in 1898, and was a member of the executive council of the London National Society for Women's Suffrage. There was no law in Britain governing adoption until 1926. Her name and picture (and those of 58 other women and men's suffrage supporters) are on the plinth of the statue of Millicent Fawcett in Parliament Square, London, unveiled in 2018.
Well-known single women adopted babies, including Christabel Pankhurst, Emmeline Pankhurst and Elizabeth Robins. Elizabeth Blackwell and Frances Power Cobbe are examples among earlier feminists.
Frances Power Cobbe wrote in her autobiography of how the married Mary Somerville, a good friend but never a lover, "kissed me tenderly [and] gave me her photograph"; Cobbe in turn felt "such tender affection" for Somerville "that sitting beside her on the sofa . . . I could hardly keep myself from caressing her."
When Cobbe published a widely read autobiography in 1894, she included a photograph of the house she lived in with sculptor Mary Lloyd. Throughout the book, references to joint finances and travels, to "our friends," "our garden," and "our beautiful and beloved home" treated Cobbe's conjugal arrangement with Lloyd as a neutral public fact, one Cobbe expressed even more clearly in letters to friends in which she called Lloyd both her "husband" and her "wife."
The social network that embraced the two women included Fanny Kemble, John Stuart Mill, Henry Maine, Charles Darwin, and William Gladstone, many of whom recognized that Cobbe and Lloyd formed a conjugal unit who lived and traveled together and were to be jointly saluted in correspondence and invited as a pair to social gatherings. Renowned actress Kemble, who published several autobiographical works during her lifetime, openly discussed Cobbe and Lloyd as a couple.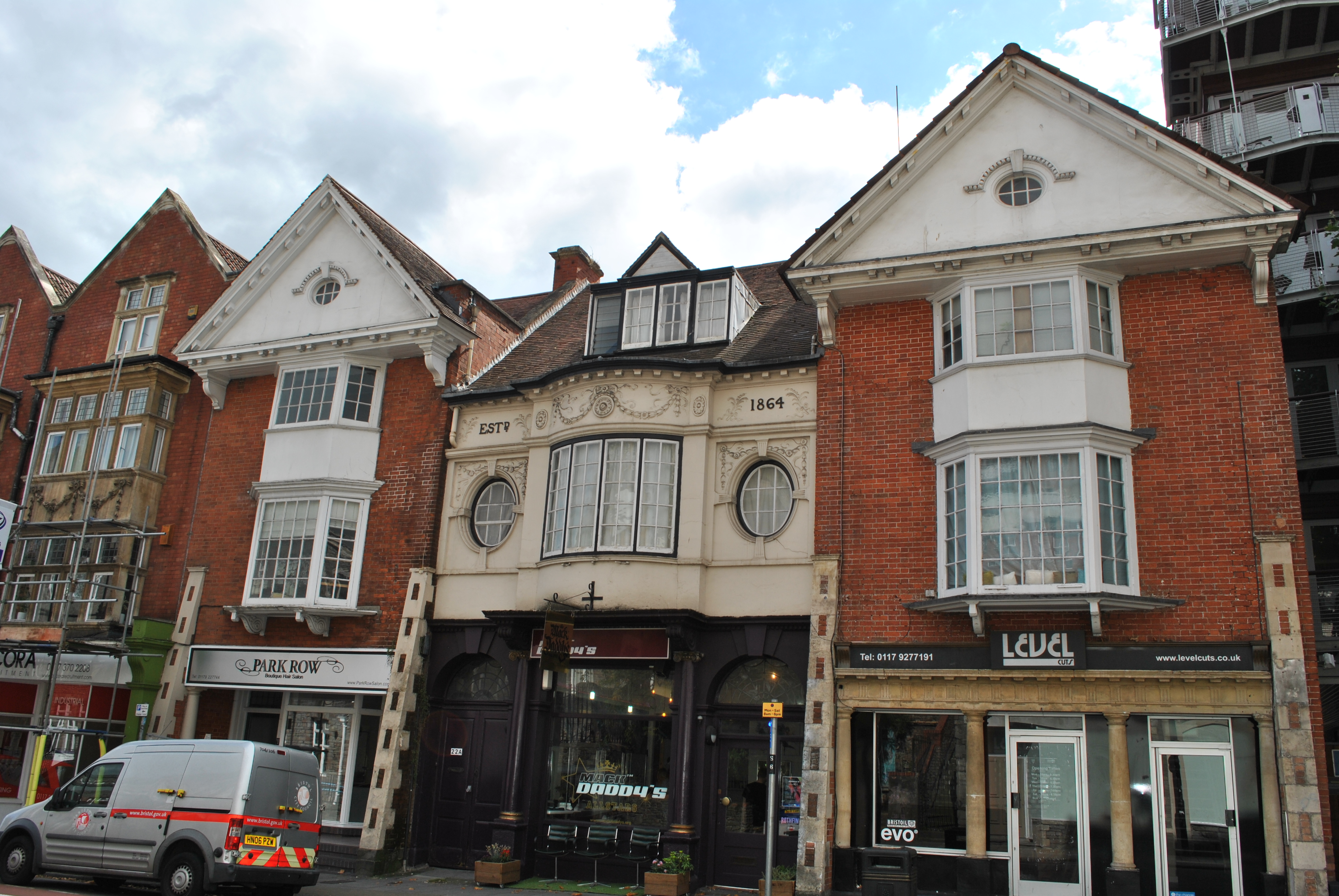 1 Park Row, Frampton Cotterell, Bristol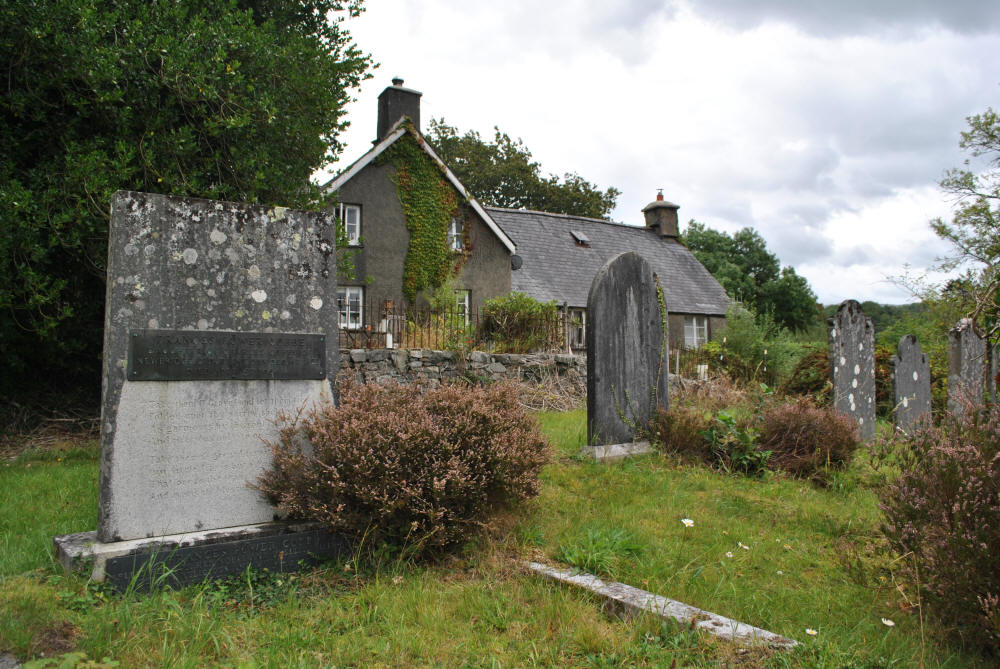 St Illtud, Llanelltyd
Cobbe was the author of a number of books and essays, including The Intuitive Theory of Morals (1855), On the Pursuits of Women (1863), Cities of the Past (1864), Criminals, Idiots, Women and Minors (1869), Darwinism in Morals (1871), and Scientific Spirit of the Age (1888).
Frances was a member of the prominent Cobbe family, descended from Archbishop Charles Cobbe, Primate of Ireland. She was born in Newbridge House in the family estate in what is now Donabate, Co. Dublin.[1]
Frances worked at the Red Lodge Reformatory and lived with the owner, Mary Carpenter, from 1858 to 1859, but a turbulent relationship between the two meant that Frances left the school and moved out.[2]
Frances Power Cobbe made several excursions to Italy between 1857 and 1862. In Rome Cobbe met not only Harriet Hosmer but a Welsh sculptor, Mary Lloyd, who had studied and worked with Rosa Bonheur. When Cobbe, introduced by Lloyd, visited the French artist, she reported: 'Nothing I liked about her, so much, however, as her interest in Hattie Hosmer, and her delight in hearing about her Zenobia (triumphans) in the Exhibition.' Cobbe and Lloyd returned to London in 1862 for what was to become a thirty-year partnership. Hosmer stayed with the couple on her visits to Britain, and joined them in support of women's enfranchisement: Hosmer, Cobbe and Lloyd were members of the London National Society for Women's Suffrage in the late 1860s.
Charlotte Cushman held her first reception in her new home in January of 1859, beginning a tradition that would continue for many years. Mingling at this festive event were the feminist art historian Anna Jameson, Fanny Kemble, Adelaide Sartoris, and the British author and reformer Mary Howitt, to name just a few. When the Irish feminist Frances Power Cobbe came to town, she noted: There was a brightness, freedom and joyousness among these gifted Americans, which was quite delightful to me. Cushman had the gift of drawing out the best from all who came, explained Emma Crow, the youngest daughter of the philanthropist Wayman Crow.
American women sculptors' relationship with the colonialist discourse in Italy was fraught with such contradictions. Nonetheless, Frances Power Cobbe, who lived at the Charlotte Cushman domicile in the early 1860s, promoted the notion of Rome as a utopia. Italy seemed "the favorite land of gifted Americans," she exclaimed. "American women, in particular, seem to find it a congenial sphere for the development of the more marked individuality which characterizes them."
She formed a marriage with the Welsh sculptor Mary Lloyd, whom she met in Rome in 1861 and lived with from 1864 until Lloyd's death. Mary's death in 1896 affected Frances badly. Her friend, the writer Blanche Atkinson, writing, "The sorrow of Miss Lloyd's death changed the whole aspect of existence for Miss Cobbe. The joy of life had gone. It had been such a friendship as is rarely seen – perfect in love, sympathy, and mutual understand." [3] They are buried together at Saint Illtud Church Cemetery, Llanelltyd, Gwynedd, Wales.[4] In letters and published writing, Frances referred to Lloyd alternately as "husband," wife," and "dear friend."[5] Frances founded the Society for the Protection of Animals Liable to Vivisection (SPALV) in 1875, the world's first organisation campaigning against animal experiments, and in 1898 the BUAV, two groups that remain active. Frances was a member of the executive council of the London National Society for Women's Suffrage and writer of editorial columns for London newspapers on suffrage, property rights for women, and opposition to vivisection. Around 1880, with Louise Twining, Frances founded Homes for Workhouse Girls.[6]
Frances met the Darwin family during 1868. Emma Darwin liked her, "Miss Cobbe was very agreeable." Frances persuaded Charles Darwin to read Immanuel Kant's Metaphysics of Ethics.[7] She met him again during 1869 in Wales, and apparently interrupted him when he was quite ill,[8] and tried to persuade him to read John Stuart Mill—and indeed Darwin had read Frances's review of Mill's book, The Subjection of Women.[9] She then lost his trust when without permission she edited and published a letter he'd written to her.[8] Her critique of Darwin's Descent of Man, Darwinism in Morals was published in The Theological Review in April 1871.[10][11]
In the first edition of her autobiography, published in 1894 while Lloyd still lived, Cobbe ended her story on a note of conjugal triumph, explaining that a recent legacy had made it possible for the couple to live in the family home they had previously been forced to rent out: "I have rejoiced that the comfort and repose of our beautiful and beloved home is secured to my friend and myself." Cobbe bid her readers goodbye noting that they left her "in this dear old house, and with my beloved friend for companion."
When Lloyd died in 1896, Cobbe sent Rosa Bonheur a photograph of herself with Lloyd and their dog; Bonheur, who had recently lost Nathalie Micas, responded with a photo of herself with Micas and their dog.
In an article published in Contemporary Review in 1900, Cobbe called Lloyd her "life friend," and her autobiography invoked the marital privilege of privacy to explain why she wrote sparingly about Lloyd: "Of a friendship like this . . . I shall not be expected to say more."
The 1904 edition of her Life, published after both Lloyd and Cobbe were dead, included an introduction that cited Cobbe's account of asking Lloyd's permission to write an autobiography, along with Lloyd's request for "reticence."
Her name is listed on the south face of the Reformers Memorial in Kensal Green Cemetery in London. A portrait of her is included in the mural of heroic women by Walter P. Starmer unveiled in 1921 in the church of St Jude-on-the-Hill in Hampstead Garden Suburb, London.
---
My published books:


---
https://en.wikipedia.org/wiki/Frances_Power_Cobbe
Marcus, Sharon. Between Women (pp.1-2). Princeton University Press. Edizione del Kindle.
Rossini, Gill. Same Sex Love 1700-1957: A History and Research Guide . Pen and Sword. Edizione del Kindle.
Crawford, Elizabeth. The Women's Suffrage Movement (Women's and Gender History) (p.134). Taylor and Francis. Edizione del Kindle.
Dabakis, Melissa. A Sisterhood of Sculptors . Penn State University Press. Edizione del Kindle.
Cherry, Deborah. Beyond the Frame (p.117). Taylor and Francis. Edizione del Kindle.