Partner Anna Hope Hudson
Queer Places:
Clive Lodge, Queen's Gate, South Kensington, London SW7 5JT, UK
St George St, Mayfair, London, UK
40 Portland Pl, Marylebone, London W1B 1NB, UK
42 Lowndes St, Belgravia, London SW1X 9HX, UK
15 The Vale, Chelsea, London SW3 6AG, UK
3 Durham Pl, Chelsea, London SW3 4ET, UK
51 Chelsea Square, Chelsea, London SW3 6LH, UK
18 Chelsea Square, Chelsea, London SW3 6LF, UK
Newington House, Newington OX10 7AG, UK
Château d'Auppegard, 76730 Auppegard, France
Ethel Sands (6 July 1873 – 19 March 1962) was an American-born artist and hostess who lived in England from her early childhood. She studied art in Paris for several years under Eugène Carrière, and it was there that she met Anna Hope Hudson (Nan), her life partner. Her works were influenced by the artist Edouard Vuillard and Walter Sickert, and were generally of still lifes and interior scenes, many of which are of Château d'Auppegard that she shared with Hudson in France. Sands was a Fitzroy Street Group and London Group member. Her works are in the collections of museums, the National Portrait Gallery, London and public collections. During both world wars, she nursed soldiers; she established a hospital in France in World War I. In 1916 she was made a citizen of England.
Due to her family's wealth she collected art and was a patron, but she is best known as a hostess for the cultural elite in her homes in England and Hudson's house in France. Her friends included Henry James, Virginia Woolf, Roger Fry, Augustus John and many other writers and artists of her day. She continued to entertain into the 1950s when she was in her late 70s and 80s.
Ethel Sands was born on 6 July 1873 in Newport, Rhode Island, the first child of Mary Morton Hartpence and Mahlon Sands,[1][nb 1] who married in 1872.[6] [nb 2] Mahlon Sands was secretary of the American Free Trade League, who in 1870 advocated for civil service reform and free trade.[8] He was partner of his deceased father's pharmaceutical importing firm, A.B. Sands and Company.[9] Ethel had two younger brothers, Mahlong Alan and Morton Harcourt Sands, who were respectively 5 and 11 years younger than Ethel.[7]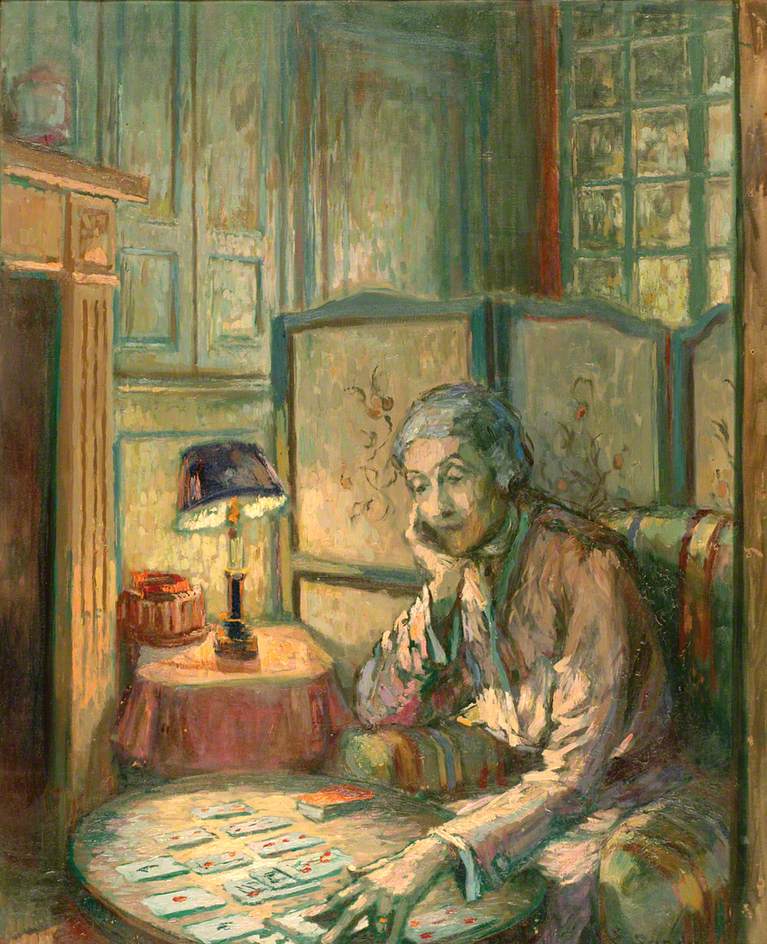 Nan Hudson Playing Patience at Auppegard, France Ethel Sands (1873–1962) City of London Corporation

Chateau d'Auppegard after 1927 Anna Hope Hudson (1869–1957) Tate

A Spare Room, Château d'Auppegard c.1925 Ethel Sands (1873–1962) Government Art Collection

Auppegard Church from the Château, France Ethel Sands (1873–1962) City of London Corporation

Tea with Sickert, by Ethel Sands, c. 1911-1912

(Lloyd) Logan Pearsall Smith 1932 Ethel Sands (1873–1962) National Portrait Gallery, London

Ethel Sands Descending the Staircase at Newington c.1920 Walter Richard Sickert (1860–1942) The Hepworth Wakefield
In 1874 the family left the United States for England,[1] intending to only visit the country.[10] However, Mahlon Sands and his family stayed in England and travelled among European countries. They also visited the United States annually[9] and were there for an extended visit from 1877 to 1879.[1] They kept their house in Newport, Rhode Island throughout this time.[7]
The wealthy Sands circulated amongst London society, including writer and statesman John Morley, politician William Ewart Gladstone, writer Henry James, artist John Singer Sargent, the Rothschild family, and Henry Graham White. Mahlon's sister, Katherine, was married to journalist and newspaper editor Edwin Lawrence Godkin. They were part of Edward VII, then Prince of Wales', social circle.[nb 3] John Singer Sargent painted the portrait of her mother's portrait, who was considered "a famous society beauty of her day."[1][6] Mary Sands was "much admired" by writer Henry James,[12] who called her "that gracious lady" and based his heroic character "Madame de Mauves" on her.[6][nb 4]
Ethel Sands was raised in a respectable upper-class household in which her parents were "happily married".[13] While her father was considered handsome[9] and her mother beautiful, Anthony Powell states that some people wrote in their diaries and letters that she was plain. In her later years, Powell met her and said that "so great was her elegance, charm, capacity to be amusing in a no-nonsense manner, that I could well believed her to be good-looking in her youth.[13]
Her father had ridden horseback through Hyde Park, was thrown from the horse and died an accidental death in 1888.[6] His widow, Mary Sands, raised Ethel and her brothers until her death on 28 July 1896.[1][6]
Like Lady Sibyl Colefax and Lady Ottoline Morrell, Sands entertained artists and writers with the intention to nurture and discuss ideas relevant to their careers.[1][nb 7] Affiliated with the Bloomsbury Group,[29] she was most well known as "one of the leading artist hostesses of her time,"[16] her lavish affairs were financially possible due to the significant wealth she inherited from her parents. She was mainly at the Oxford, Newington house until 1920,[16] but when in England she also entertained at her London Lowndes Street house, and between 1913 and 1937 at 15 Vale, Chelsea, London house,[1] where she lived near her mother's friend, Henry James.[6] Notable artists Augustus John and Walter Sickert. Henry James, Virginia Woolf, Roger Fry and Arnold Bennett were among the writers of the "cultural elite" who visited her.[1] Her friends included artist Jacques-Émile Blanche, writer Edith Wharton, poet William Butler Yeats, essayist and critic Logan Pearsall Smith and novelist Howard Overing Sturgis.[6]
Lytton Strachey (a founder of the Bloomsbury Group} met at Sand's house[16][30] and her uncle, Edwin Lawrence Godkin wrote of his upcoming visit to Sand's house in Oxfordshire, "There one fortnight, and then back to "holy wars," patriotism, and buncombe..."[6][31]
She was a patron and collector of works by other contemporary artists. For instance, she commissioned Boris Anrep, a Russian immigrant, to create mosaics and murals in her Vale, Chelsea house.[1] Sands continued to entertain into the 1950s with her friends, including Duncan Grant and Desmond MacCarthy, until he died in 1952.[11]
She was described as a "plain woman of immense charm, cultivation and perception, and a painter of considerable talent" in the Dictionary of Real People and Places in Fiction. It was suggested there that Henry James modelled the character Nanda in The Awkward Age after Sands.[32]
Sands tended to soldiers who had been injured in France during World War I, having established a hospital for soldiers near Dieppe with Hudson. It was forced to close down, and they continued their nursing efforts in both France and England.[17] Sands was then in Britain working as a forewoman in a factory that made overalls. In 1916 she became a British citizenship. During World War II, Sands served as a nurse.[1][16] The house in Chelsea, London was destroyed during The Blitz by a parachute mine, and the house in France was broken into and its contents were stolen or destroyed. The two war-time events resulted in the loss of most of Sands and Hudson's works.[17]
Sands and Hudson divided their time between England and France to accommodate their lifestyle preferences. Hudson enjoyed living a relatively quiet life in France and Sands liked the London and Oxford social life.[1][17]
Sands entertained people within and outside of the cultural elite throughout her life.[13] When her Hudson's health began to fail, Sands nursed her until she died in 1957. Sand continued to entertain after Hudson's death. Her date of death was 19 March 1962.[1]
Friend Virginia Woolf wrote a sketch based upon her called "The Lady in the Looking Glass," subtitled "A Reflection," about a time that she saw her come "in from the garden and not reading her letters." The mirror symbolised the way in which art is used to take a snapshot in time, but can also cut.[33][34]
Wendy Baron, an author and art historian, wrote a biography about Sands, partly based upon the letters that Sands exchanged with Hudson and others.[1] Tate Archives now holds the correspondence.[35]
She was made Dame Ethel Sands[36][37] in 1920.[38]
Anna Rochester (1880-1966), Ellen Day Hale (1855-1940), Carl van Vechten (1880-1964) and Ethel Sands (1873-1962), all descend from the same Pilgrims, Alice Carpenter and her husband William Bradford (arrived with the Mayflower), Alice's sister, Priscilla Carpenter and her husband George Morton, and George Soule (arrived with the Mayflower)

Tony Scupham-Bilton - Mayflower 400 Queer Bloodlines
---
My published books:

---
https://en.wikipedia.org/wiki/Ethel_Sands