Partner John Maynard Keynes, David Garnett, Vanessa Bell, George Bergen, Patrick Nelson, Paul Roche
Queer Places:
Doune of Rothiemurchus, The Polchar, Aviemore PH22 1QP, Regno Unito
Westminster School, Little Dean's Yard, Great Smith St, Westminster, London SW1P 3PF, Regno Unito
Slade School of Fine Art, University College London, Gower St, Bloomsbury, London WC1E 6BT, Regno Unito
Wissett Lodge, Lodge Ln, Wissett, Halesworth IP19 0JQ, Regno Unito
Charleston Farmhouse, West Firle, Lewes BN8 6LL, Regno Unito
69 Lancaster Gate, London W2, Regno Unito
143 Fellows Rd, London NW3 3JJ, Regno Unito
27 Belgrave Gardens, St John's Wood, London, UK
19 Fitzroy Square, Kings Cross, London W1T 6EQ, Regno Unito
21 Fitzroy Square, Fitzrovia, London W1T 6EL, UK
22 Fitzroy Square, Kings Cross, London W1T, Regno Unito
26 Fitzroy Square, Fitzrovia, London W1T 6BT, Regno Unito
38 Brunswick Square, Bloomsbury, London WC1N 1AE, UK
37 Gordon Square, Kings Cross, London WC1H, Regno Unito
46 Gordon Square, Kings Cross, London WC1H 0PD, UK
18 Fitzroy St, Fitzrovia, London W1T 4BJ, Regno Unito
8 Fitzroy St, Fitzrovia, London W1T 4BJ, Regno Unito
1 Taviton St, Kings Cross, London WC1H 0BT, Regno Unito
26A Canonbury Square, London N1 2AL, Regno Unito
28 Percy St, Fitzrovia, London W1T 2DB, Regno Unito
24 Victoria Square, Westminster, London SW1W 0RB, Regno Unito
3 Park Square W, Marylebone, London NW1 4LJ, Regno Unito
45 Quai de Bourbon, 75004 Paris, Francia
St Peter, The St, West Firle, Lewes BN8 6LP, Regno Unito
Duncan James Corrowr Grant (21 January 1885 – 8 May 1978) was a British painter and designer of textiles, pottery, theatre sets and costumes. He was a member of the Bloomsbury Group. Duncan Forbes in Lady Chatterley's Lover (1928) by D.H. Lawrence is modelled on Duncan Grant - "that dark-skinned taciturn Hamlet of a fellow with straight black hair and a weird Celtic conceit of himself."
Glyn Philpot's Portrait of a Man in Black (1913) depicts Robert Allerton, his then lover, as does Duncan Grant's painting of John Maynard Keynes (1908). These works show remarkable intimacy, and informed interpretations of the works are not possible if a viewer is ignorant of the sexual relations between the men. This is not a concession to prurient interests, but important art historical data similar to that commonly provided when the artist is known to have been heterosexual.
His father was Bartle Grant, a "poverty-stricken" major in the army, and much of his early childhood was spent in India and Burma. He was a grandson of Sir John Peter Grant, 12th Laird of Rothiemurchus, KCB, GCMG, sometime Lieutenant-Governor of Bengal.[1] Grant was also the first cousin twice removed of John Grant, 13th Earl of Dysart (b. 1946).
Grant's early affairs were exclusively homosexual. His lovers included his cousin, the writer Lytton Strachey, the future politician Arthur Hobhouse and the economist John Maynard Keynes, who at one time considered Grant the love of his life because of his good looks and the originality of his mind. Through Strachey, Grant became involved in the Bloomsbury Group, where he made many such great friends including Vanessa Bell. He would eventually live with Vanessa Bell who, though she was a married woman, fell deeply in love with him and, one night, succeeded in seducing him; Bell very much wanted a child by Grant, and she became pregnant in the spring of 1918. Although it is generally assumed that Grant's sexual relations with Bell ended in the months before Angelica was born (Christmas, 1918), they continued to live together for more than 40 years. During that time, their relationship was mainly domestic and creative; they often painted in the same studio together, praising and critiquing each other's work.

Duncan Grant (1885–1978), Artist, Self Portrait Duncan Grant (1885–1978) National Galleries of Scotland, Scottish National Portrait Gallery

Self Portrait Duncan Grant (1885–1978) Charleston

Self Portrait in a Turban Duncan Grant (1885–1978) Charleston

Duncan Grant Duncan Grant (1885–1978) National Portrait Gallery, London

Self Portrait Duncan Grant (1885–1978) Aberdeen Art Gallery & Museums

duncan grant. 'bathing' 1911

John Maynard Keynes by Duncan Grant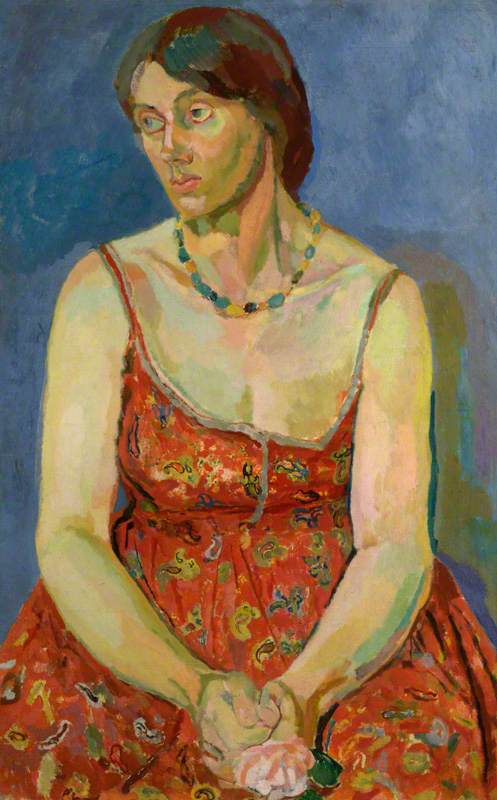 Vanessa Bell, née Stephen Duncan Grant (1885–1978) National Portrait Gallery, London

George Bergen by Duncan Grant

Paul Roche Reclining, by Duncan Grant, c. 1946

Male Nude (Pat Nelson) Duncan Grant (1885–1978) St Peter's College, University of Oxford

The Memoir Club (Duncan Grant; Leonard Woolf; Vanessa Bell; Clive Bell; David Garnett; Baron Keynes; Lydia Lopokova; Sir Desmond MacCarthy; Mary MacCarthy; Quentin Bell; E. M. Forster) Vanessa Bell (1879–1961) National Portrait Gallery, London

DUNCAN GRANT (1885-1978) Two Male Nudes. Ballpoint pen and ink and watercolor on paper. 260x200 mm; 10 1/48 inches. Initialed in pencil, lower right recto. Circa 1969. Provenance: Paul Roche, Sóller, Majorca, poet and artist's model; acquired Bonhams, London, September 20, 2011, sale 18928, lot 5, by the current owner, private collection, New York.

DUNCAN GRANT (1885-1978) Lovers. Oil on canvas. 314x273 mm; 12 1/4x10 3/4 inches. Circa 1969. Provenance: Acquired Bonhams, London, Sale 18928, September 20, 2011; private collection, New York.

Music Room designed by the owners themselves Vanessa Bell and Duncan Grant

Charleston Farmhouse

St. Peter's Church, West Firle, Sussex
Living with Vanessa Bell was no impediment to Grant's relationships with men, either before or after Angelica was born. Angelica grew up believing that Vanessa's husband Clive Bell was her biological father; she bore his surname and his behaviour toward her never indicated otherwise. Duncan Grant and Vanessa Bell had formed an open relationship, although she herself apparently never had any further affairs. Duncan, in contrast, had many physical affairs and several serious relationships with other men, most notably David Garnett, who would one day marry Angelica and have four daughters with her, including Amaryllis Garnett. Grant's love and respect for Bell, however, kept him with her until her death in 1961.
Angelica wrote: "(Grant) was a homosexual with bisexual leanings".[10]
George Bergen was by then entangled artistically and emotionally with the Bloomsbury Group. Russian-born American artist George Bergen met the artist Duncan Grant in late 1929. Their friendship quickly evolved into an intense relationship and they spent a lot of time together at Charleston. His new relationship with George caused tension between Duncan and Vanessa Bell and in a letter to his former lover David Garnett, he confided his complex feelings: 'I know perfectly well that George loves me … But why do I get into a state when he is tired and I am tired and therefore think that he has no feeling for me? And why does Nessa not believe that I love her as much as ever I did? … Why does she not realise that my love for George gives me more power to love her instead of less … The truth is I want them both … Only I know that sometimes Nessa suddenly feels that I give something to George that I don't give to her.' The friendship between Vanessa and Duncan was possibly the most important in both of their lives, and Vanessa was becoming increasingly worried that Duncan would leave and move to America with George. Eventually, their relationship came to an end as George began spending less and less time with Duncan, and more time visiting America. Promptly replying to letters was apparently not one of George's strengths.
In Grant's later years, his lover, the poet Paul Roche, whom he had known since 1946, took care of him and enabled Grant to maintain his accustomed way of life at Charleston for many years. Grant and Roche's relationship was strong and lasted even during Roche's marriage and five children he had by the late 1950s. Roche was made co-heir of Grant's estate.
Duncan visited New York in the 1960s with Roche and he rekindled his friendship with George. A few years later, Duncan and Vanessa's daughter Angelica visited New York and fell in love with George. When she told Duncan how she felt, he wrote back, 'Of course I am deeply interested to hear of your feelings for George. I only hope his complete inability to write letters may not make things difficult for you.' Their relationship lasted a year, and although they lived together for a time, George and Angelica eventually separated.
Grant eventually died in Roche's home in 1978. Duncan Grant's remains are buried beside Vanessa Bell's in the churchyard of St. Peter's Church, West Firle, East Sussex.
---
My published books:

---
https://en.wikipedia.org/wiki/Duncan_Grant
Gender, Sexuality and Museums (p.154). Taylor and Francis. Edizione del Kindle.
Homosexuals in History, A Study of Ambivalence in Society, Literature and the Arts, by A.L. Rowse, 1977
Hidden Histories, 20th Century Male Same Sex Lovers in the Visual Arts, by Michael Petry