Partner Olivia Wyndham
Queer Places:
360 W 22nd St, New York, NY 10011
Kensico Cemetery Valhalla, Westchester County, New York, USA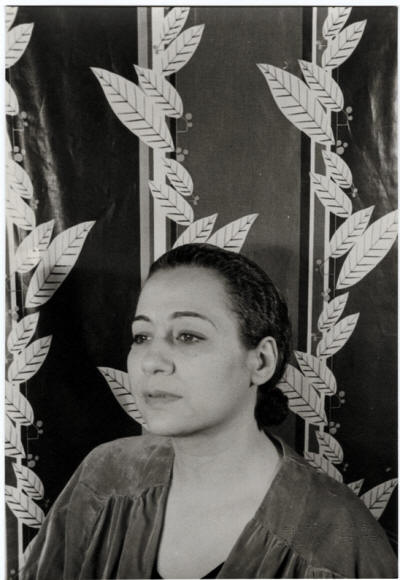 Edna Thomas (November 1, 1885 - July 22, 1974) made her name as part of the Harlem Renaissance. The archives of Edward Burra and Barbara Key-Seymer at the Tate hold a number of beautiful photographs of black actors and performances who worked in London during the 1920s and 1930s, including Jimmie Daniels and Edna Thomas.
Edna Lewis was born on November 1, 1885 in Lawrenceville, Virginia.
She began performing in 1920 with the Lafayette Players, a touring dramatic troupe. She had moved to New York by the early 1920s, joining the resurgence of African-American literature, music, and drama known as the Harlem Renaissance.
She debuted in Turn to the Right (1920). She performed in all-black theaters and vaudeville productions, perhaps most notably in Comedy of Errors in 1923 and Porgy in 1927.
She was married to Lloyd Carter Thomas (died 1968). She lived at at 360 West 22nd Street, NYC.
A'Lelia Walker, a passionate supporter of the arts and thrower of parties, threw the party in which British socialite/photographer Olivia Wyndham met her future roommates, Edna Thomas and her husband Lloyd. Olivia fell "violently" in love with Edna on the spot. Edna at first was "definitely" not interested. She confided to several sources in her immediate vicinity that, "I avoided her because white women are unfaithful." Having married the American Howland Spencer in 1930 (they divorced in 1931),[9] Wyndham lived in a ménage à trois with Thomas and her husband.[6]
Like Langston Hughes and other figures of the Harlem Renaissance, Edna enjoyed the support and friendship of the important white patron Carl Van Vechten, with whom she corresponded regularly.
By the late 1920s Barbara Key-Seymer had become friends with the bisexual Grenadian cabaret entertainer Leslie Hutchinson. From the early 1930s Barbara became good friends with the African American gay entertainer and nightclub host Jimmie Daniels and his boyfriend Kenneth Macpherson, a Scottish modernist filmmaker and critic who earlier in 1930 had directed Borderline, a feature film starring Paul Robeson and Eslanda Robeson. Later in the 1930s Jimmie Daniels and Kenneth Macpherson moved to New York, where they socialized with individuals including Barbara's (by then) ex-girlfriend Olivia Wyndham and Olivia's girlfriend, African American Harlem Renaissance performer Edna Thomas.
Opportunities for black actors fell drastically during the Depression, but Edna's seasoned professionalism and reputation secured her roles in several productions in the early 1930s, including Comedy of Errors , Lulu Belle , and Shuffle Along , and leading roles in Hall Johnson's Run, Little Chillun (1933) and Paul Peters' Stevedore (1934). She also sang and performed in vaudeville.
Edna reached the height of her fame when she played Lady Macbeth in the Works Progress Administration (WPA)'s Federal Theater Project production of Macbeth in 1936-37. Directed by Orson Welles, the all-black cast received rave reviews in the New York press; Edna's performance was hailed as "sensitive and magnificent".
She went on to perform again with the Federal Theater Project in Androcles and the Lion (1938) with Dooley Wilson. The closing of the Project proved a hardship to Edna and hundreds of other African-American actors; her next major role came in 1943 when she was cast in the Broadway play Harriet (1944-45), about abolitionist Harriet Beecher Stowe (portrayed by Helen Hayes). Edna appeared the following year on Broadway in Strange Fruit (1945), an adaptation of Lillian Smith 's controversial novel about interracial relationships.
In 1946, the light-skinned Edna performed in her final Broadway production, playing a Mexican woman in A Streetcar Named Desire (1946); she was also cast in the same role for the 1951 Hollywood film, her only movie credit. Thomas then retired from acting and spent her last years in New York, where she died of heart disease at age 88, on July 22, 1974 in New York City.
---
My published books:


---
https://www.imdb.com/name/nm0858777/bio?ref_=nm_ov_bio_sm
http://andrejkoymasky.com/liv/fam/biot1/thomas02.html