Queer Places:
13 Green St, Princeton, NJ 08542
Somerville High School, 222 Davenport St, Somerville, NJ 08876, Stati Uniti
Rutgers University, 77 Hamilton St, New Brunswick, NJ 08901, Stati Uniti
Columbia University (Ivy League), 116th St and Broadway, New York, NY 10027
The Chestnuts, Branch Hill, London NW3 7NA, Regno Unito
4951 Walnut St, Philadelphia, PA 19139
Ferncliff Cemetery, 280 Secor Rd, Hartsdale, NY 10530, Stati Uniti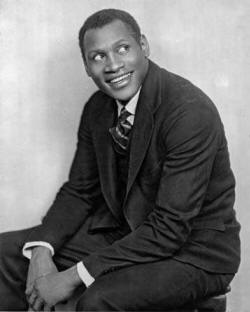 Paul Leroy Robeson ([1][2] April 9, 1898 – January 23, 1976) was an American bass baritone concert artist and stage and film actor who became famous both for his cultural accomplishments and for his political activism. Educated at Rutgers College and Columbia University, he was also a star athlete in his youth. His political activities began with his involvement with unemployed workers and anti-imperialist students whom he met in Britain and continued with support for the Loyalist cause in the Spanish Civil War and his opposition to fascism. In the United States he also became active in the Civil Rights Movement and other social justice campaigns. His sympathies for the Soviet Union and for communism, and his criticism of the United States government and its foreign policies, caused him to be blacklisted during the McCarthy era.
In 1915 Robeson won an academic scholarship to Rutgers College, where he was twice named a consensus All-American and was the class valedictorian. Almost eighty years later, he was inducted into the College Football Hall of Fame. He received his LL.B. from Columbia Law School, while playing in the National Football League (NFL). At Columbia, he sang and acted in off-campus productions. After graduating, he became a figure in the Harlem Renaissance with performances in The Emperor Jones and All God's Chillun Got Wings.
Between 1925 and 1961, Robeson recorded and released some 276 distinct songs, many of which were recorded several times. The first of these were the spirituals "Steal Away" backed with "Were You There" in 1925. Robeson's recorded repertoire spanned many styles, including Americana, popular standards, classical music, European folk songs, political songs, poetry and spoken excerpts from plays.[3] Robeson's politics did not prevent him from singing some songs which would subsequently be considered to have racist language or sentiment, such as "The Little Pickaninny's Gone to Sleep" (1928) and "Old Folks at Home" (1930).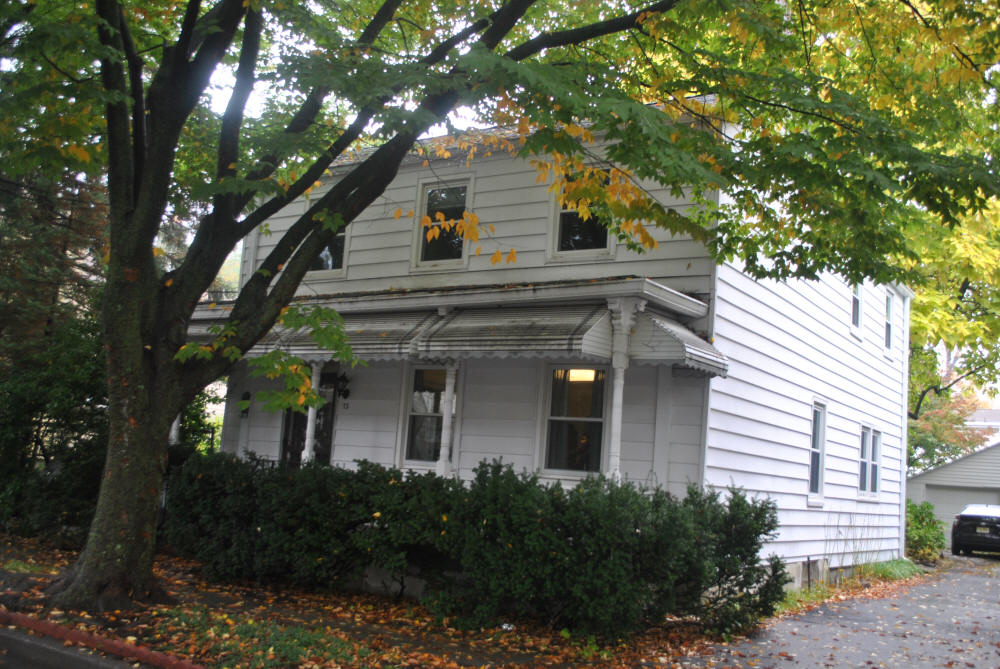 13 Green St, Princeton
Robeson performed in Britain in a touring melodrama, Voodoo, in 1922, and in Emperor Jones in 1925, and scored a major success in the London premiere of Show Boat in 1928, settling in London for several years with his wife Eslanda Goode Robeson. While continuing to establish himself as a concert artist, Robeson also starred in a London production of Othello, the first of three productions of the play over the course of his career. He also gained attention in the film production of Show Boat and other films such as Sanders of the River and The Proud Valley. During this period, Robeson became increasingly attuned to the sufferings of people of other cultures, notably the British working class and the colonized peoples of the British Empire. He advocated for Republican forces during the Spanish Civil War and became active in the Council on African Affairs (CAA).
By the late 1920s Barbara Key-Seymer had become friends with the bisexual Grenadian cabaret entertainer Leslie Hutchinson. From the early 1930s Barbara became good friends with the African American gay entertainer and nightclub host Jimmie Daniels and his boyfriend Kenneth Macpherson, a Scottish modernist filmmaker and critic who earlier in 1930 had directed Borderline, a feature film starring Paul Robeson and Eslanda Robeson. Later in the 1930s Jimmie Daniels and Kenneth Macpherson moved to New York, where they socialized with individuals including Barbara's (by then) ex-girlfriend Olivia Wyndham and Olivia's girlfriend, African American Harlem Renaissance performer Edna Thomas.
In Barbara Key-Seymer's personal photo album from 1936 we also see that during the 1930s she was friends with singer, actress and performer Elizabeth Welch. Born in 1904, Elizabeth Welch was an American of African, Native American, Irish and Scottish heritage. Stephen Bourne's insightful biography of Welch records her experiences in 1930s London. During this time she performed in musicals and cabaret, and starred on radio, on television and in films alongside actors including Paul Robeson. She was good friends with Leslie Hutchinson, socialising with him, as she recalled in "the marvellous late-night dives of Soho which, in those days, attracted all the stars and theatregoers."
Returning to the United States in 1939, during World War II Robeson supported the American and Allied war efforts. However, his history of supporting civil rights causes and pro-Soviet policies brought scrutiny from the FBI. After the war ended, the CAA was placed on the Attorney General's List of Subversive Organizations and Robeson was investigated during the age of McCarthyism. Due to his decision not to recant his public advocacy, he was denied a passport by the U.S. State Department, and his income, consequently, plummeted. He moved to Harlem and published a periodical critical of United States policies. His right to travel was eventually restored as a result of the 1958 United States Supreme Court decision, Kent v. Dulles. In the early 1960s he retired and lived the remaining years of his life privately in Philadelphia.
---
My published books:


---