Wife Virginia Sinclair
Queer Places:
Phillips Academy, 180 Main St, Andover, MA 01810
908 N Bedford Dr, Beverly Hills, CA 90210
9701 W Olympic Blvd, Beverly Hills, CA 90212
Calvary Cemetery Los Angeles, Los Angeles County, California, USA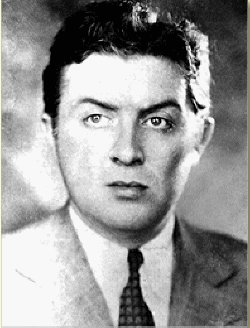 David Zakhari Mdivani (February 14, 1904 – August 5, 1984) was one of the five siblings who became famous as "Marrying Mdivanis" between 1927 and 1935. Within a few years, they had 11 weddings and 7 divorces, with their notoriety and wealth increasing in equal measure. [1]
David Mdivani was the son of Zakhari Mdivani, who served as a general under Tsar Nicholas II. Served. Her mother, Elisabeth Viktorovna Sobolevska, was the daughter of a Polish father and a Georgian mother. He had four siblings: Nina Mdivani (1901-1987) Serge Mdivani (1903-1936), Roussadana Mdivani (1905-1938), Alexis Mdivani (1908-1935). For his military services, Zakhari Mdivani was appointed governor of the city of Batumi in 1914, and the family moved to the Caucasian Black Sea coast, where his paternal grandfather lived in a large family-owned house. [2] Zenas Marshall Crane, a son of the late Senator of Dalton, Massachusetts, visited Zakhari Mdivani there in 1919 while traveling for oil deals in Georgia and the Caucasus. He took the then 16-year-old David and his brother Serge to the United States, where they attended Phillips Academy, an American high school with boarding school in Andover, Massachusetts, near Boston.[3] The other members of the family managed to leave Georgia shortly before the conquest by the Red Army and flee to France via Constantinople.[4] In 1922 the family met in Paris. Since their exile, the siblings have been called princesses and princes, which was not legitimate, but would prove to be enormously prestigious.[5] After the sudden death of the mother, the two older sons returned to the US in 1923, where they kept afloat with odd jobs.[6] Later, David Mdivani took a job as a laborer in the torrance oil fields near Los Angeles.[7] Through contacts with other emigrants, he met the film actress Pola Negri in 1925. She was looking for a bridge partner for her mother who could converse in Polish or Russian. Her choice fell on David Mdivani, who was soon a regular guest in her house[8] and thus came into contact with people from the film industry. The film producer Mack Sennett was very impressed by the handsome "Prince" and hired him in 1926 for the short film "A Small Town Princess", which premiered on March 20, 1927. It starred Billy Bevan and Madeline Hurlock;[9] David Mdivani played the movie star Lionel Lorraine. Because he wanted to remain anonymous when the film was released, he was listed as David Manor in the opening credits. Through Pola Negri, David Mdivani also met actress Mae Murray, who was one of Hollywood's highest-paid movie stars. She took a liking to the man, who was 19 years her junior, and the idea of becoming "Princess Mdivani" by marriage. For this, she was ready to offer her penniless husband a princely life.[10] On June 27, 1926, the wedding took place in Beverly Hills, Pola Negri and Rudolph Valentino were witnesses. On May 14, 1927, Pola Negri married Serge Mdivani in Paris, so the two film divas were not only Princess Mdivani, but also sisters-in-law. In the summer of 1928, reporters in Hollywood discovered that Mae and David had become parents. Their son, whom they called Koran Mdivani, was allegedly born in February 1927. In fact, Mae had already given birth to the child in Paris in January 1926. To this day, it is not clear whether David Mdivani was the biological father.[11] The marriage lasted only a few years, in 1931 Mae Murray filed for divorce. In the press, she announced that the prince had deprived her of her career and her money. He was extremely jealous, had beaten and insulted her several times.[12] In the meantime, she hardly got any film roles and her entire fortune had dissolved into nothing due to waste, court proceedings and the stock market crash. When Koran fell ill and Mae could not pay for the treatment, the family of the attending physician took the boy into care.[13] In December 1940 he was officially adopted by them and given the name Daniel Michael Cunning. David and Serge Mdivani had meanwhile founded their own company, the Pacific Shore Oil Company, and leased six plots in the Venice oil fields, southeast of Santa Monica. Although they came across oil there, the brothers were on trial in 1933. They were accused of embezzling over $30,000, while investors – including their former wives – came away empty-handed. Finally, in October 1934, the charge of theft was dropped. Instead, Mae Murray was accused of conspiracy for the purpose of a criminal act on the weakened charge and sentenced to fines at the end of the trial.[14]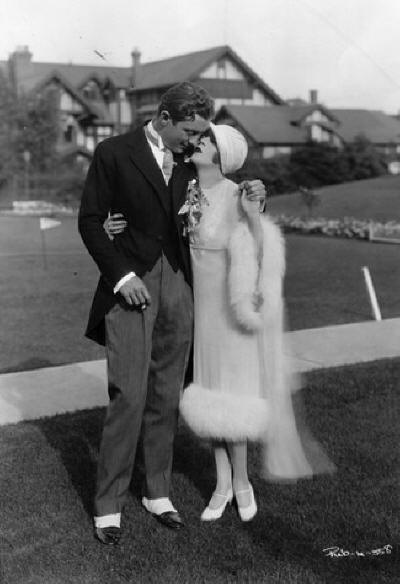 From 1937 to 1939 David Mdivani had a love affair with the French actress Arletty, whom he had met in Venice in 1937. She is said to have become pregnant by him in 1939, but decided not to have the child.[15] After the outbreak of war, he returned to the United States and settled in Palm Beach. There he married Virginia Sinclair, heiress of the oil tycoon Harry Ford Sinclairin 1944. A year later, their son, Michael Sinclair Mdivani, was born. In October 1959, Virginia Sinclair-Mdivani filed for divorce for "cruelty." David Mdivani countered with an attack on Virginia's lesbian friend Virginia Kent Catherwood. It was known that she was a friend of Patricia Highsmith and that he had served as a model for the character of Carol in the 1952 novel Salt and its Prize.[16] David Mdivani sued her for a million dollars in damages on the grounds that she had influenced his wife against him in a vicious and deviant way, thereby destroying a marriage that had existed happily for 14 years. The lawsuit was eventually withdrawn after Virginia Sinclair agreed to return to her husband.[17] In 1963, Virginia Sinclair demanded a divorce for the second time, and a year later the verdict became final. After Virginia's death in 1979, David Mdivani returned to the family estate, where he lived with his son Michael.[18] David Mdivani died on August 5, 1984 at the age of 80. He was buried in Los Angeles, with the inscription Loving Father written on his gravestone. [19]
---
My published books:/p>


---