Wife Barbara Hutton
Queer Places:
University of Cambridge, 4 Mill Ln, Cambridge CB2 1RZ
Palazzo San Gregorio, Calle del Traghetto San Gregorio, Sestiere Dorsoduro, 178, 30123 Venezia VE, Italia
Cimetière de Saint-Saphorin Saint Saphorin, District de Lavaux-Oron, Vaud, Switzerland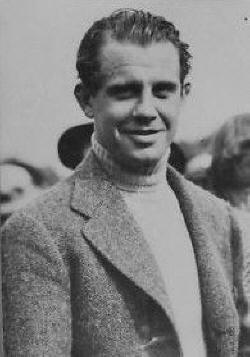 Alexis Mdivani (born February 7, 1908 in Tbilisi, † August 1, 1935 in Palamés, Spain) was the youngest of five siblings known in the press as Marrying Mdivanis and a successful polo player. He rose to fame in 1933 when he married department store heiress Barbara Woolworth Hutton.
Alexis Mdivani was the youngest son of Zakhari Mdivani, a general of Tsar Nicholas II, and his wife Elisabeth Viktorovna Sobolevska. Other family members were: Nina Mdivani (1901-1987) Serge Mdivani (1903-1936) David Mdivani (1904-1984) Roussadana Mdivani (1905-1938). In November 1920, General Mdivani left Georgia to assist Belarusian General Pyotr Nikolayevich Wrangel in the fight against the Red Army. His wife and children managed to escape to Constantinoplea short time later by boat, and together the family emigrated to Paris in 1921. Elisabeth Mdivani and her children took on princely and princess titles, which served them as an entreé in upscale social circles. After their mother died unexpectedly in 1923, the two older brothers, who had attended a school in the United States from November 1920, returned to the United States, where they initially worked in oil fields. David Mdivani married the actress Mae Murrayin 1926 , and Serge Mdivani became husband of the film diva Pola Negri in 1927. After the marriage, both actresses performed the title "Princess Mdivani", which gave them publicity and the Mdivani family media attention. Nina Mdivani had married Charles Henry Huberich, a well-known lawyer, in 1925; Roussadana Mdiwani 1927 the painter Josep Maria Sert.
Alexis Mdivani studied from 1925 at Cambridge, where he was successful in the polo team of his college and met the later tennis champion James Van Alen. In 1930, he began working in the Paris office of New York City Bank and was also appointed secretary of the Georgian Embassy in Paris. His reputation as a princely playboy spread through affairs with well-known beauties, for example with the model Toto Koopman[1] and with the American actress Kay Francis. [2] Through his school friend James Van Alen, Alexis Mdivani had come into contact with his extremely wealthy family from Santa Barbara. In May 1931, he married James' sister, Louise Astor Van Alen.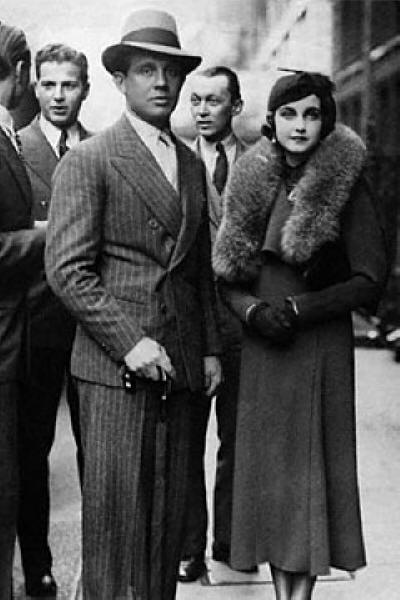 Alexis Mdivani with Barbara Hutton
Before the wedding, however, he had met department store heiress Barbara Hutton, who was considered the richest heiress in the world. It is not entirely clear how and on whose way Louise Van Alen's divorce took place. Barbara Hutton's biographer Clemens David Heymann claims that Alexis' sister Roussadana deliberately arranged an affair between her brother and Barbara Hutton in order to link Alexis with the even richer Barbara Hutton. There is no evidence of this; However, Heymann's version of the story served as a screenplay for the American TV series "Poor Little Rich Girl: The Barbara Hutton Story", which was created in 1987 with Farrah Fawcett in the title role. Alexis Mdivani was played by British actor Nicholas Clay. Against her father's opposition, Alexis Mdivani married Barbara Hutton in Paris in June 1933. The ecclesiastical wedding ceremony on June 22, 1933 in the Alexander Nevsky Cathedral was a worldwide well-known media spectacle with more than 8000 spectators, which was reported in the weekly shows of cinemas in the USA and Europe. During the marriage, Alexis Mdivani received a large sum of money. When Barbara Hutton came of age on November 14, he gained full control over her full fortune of about 42 million dollars. The supposed dream couple soon became disillusioned after the wedding. In March 1935, Mdivani traveled to Reno, Nevada, for divorce. On 13 May 1935, the divorce became final, and immediately afterwards she married the Danish Count Kurt von Haugwitz-Hardenberg-Reventlow. Alexis Mdivani had received money, valuable jewellery[3] and the Palazzo San Gregorio in Venice, which was acquired in 1934 before Barbara Hutton, as well as a gold Rolls-Royce Phantom II Continental, which Barbara had made for him shortly after the wedding. He died in this car on 1 August 1935. He was travelling on a coastal road in Spain, near the town of Palamés, where his sister Roussadana lived with her husband. With him in the vehicle sat his then mistress, the German Baroness Maud Thyssen, wife of the industrialist Heinrich Thyssen. Maud Thyssen survived with serious injuries and Alexis Mdivani was killed instantly in the accident. [4] Roussadana Mdivani, who found her brother's bloodied body on a donkey cart at the scene of the accident, was never to recover from the horrific event. She became depressed and a long-term drug addiction worsened massively. Alexis Mdivani was buried in the Catholic cemetery in Palamés. His brother-in-law Josep Maria Sert planned to renovate a historic chapel and convert it into a family mausoleum. However, this did not happen. Roussadana Sert fell ill with tuberculosis and died in a Swiss sanatorium in 1938. She was buried in the village cemetery in Saint-Saphorin (Lavaux). In 1951, Nina Mdivani had the remains of Alexis exhumed in Spain and transferred to Saint-Saphorin, so that he found his final resting place next to Roussadana. [5]
---
My published books:


---
https://en.wikipedia.org/wiki/Alexis_Rassine