Queer Places:
161 W 75th St, New York, NY 10023
The Museum of Modern Art, 11 W 53rd St, New York, NY 10019
Harvard University (Ivy League), 2 Kirkland St, Cambridge, MA 02138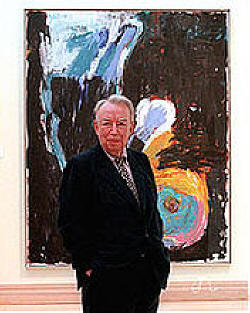 William Slattery Lieberman (February 14, 1923 - May 31, 2005), began his lengthy career at The Museum of Modern Art in 1943 as a volunteer in the Department of Exhibitions and Publications under the direction of Monroe Wheeler. He graduated from Swarthmore College (where his mentor was W.H. Auden) in that same year. He left the Museum for two years of graduate study at Harvard University where he was a pupil in the museum course taught by Paul J. Sachs.
In 1945 he returned to the Museum as assistant to Alfred H. Barr, Jr.; in 1949 he became the first curator in the newly established Department of Prints at the time of the opening of the Abby Aldrich Rockefeller Print Room. When the department expanded to become the Department of Drawings and Prints in 1960, Lieberman became its curator, and in 1966, its director.
In 1967 he was appointed a curator in the Department of Painting and Sculpture, where he achieved one of the great collecting coups for MOMA in 1968: the acquisition of the remains of Gertrude Stein's art collection. After MOMA's curatorial departments were reorganized in 1971, he became the founding director of the Department of Drawings.
In 1969, a Department of Prints and Illustrated Books was formed, while Drawings fell under the auspices of the Department of Painting and Sculpture. In 1971, a separate Department of Drawings was created, and Lieberman concentrated his energies solely on that department serving as its first director (1971-1979). While at the Museum, he directed over forty exhibitions including Modern Masters: Manet to Matisse, Max Ernst, Joan Miró, Modigliani, Etchings by Matisse, and Art of the Twenties. He also served as an advisor to the Junior Council between 1954 and 1964. He left the Museum in November 1979 to become Chairman of the Twentieth Century Art Department at the Metropolitan Museum of Art.
---
My published books:


---