Partner Maude Royden, Edith Eckhard
Queer Places:
(1916) 51 Morpeth Terrace, Westminster, London SW1P 1EP, UK
(1923) 44 Upper Park Road, London NW2
(1974) 3 Elm Tree Ct, Charlton, London SE7 7DP, UK
University of Oxford, Oxford, Oxfordshire OX1 3PA
(1950s) 38A Netherhall Gardens, London NW3 5TP, UK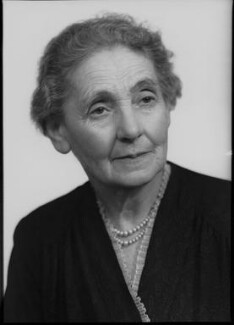 Dame Kathleen D'Olier Courtney, DBE (11 March 1878[1][2] – 7 December 1974) was a leader in the suffragist movement in the United Kingdom.[1][3] Her years studying languages at Oxford had introduced her to a lifelong friendship with Maude Royden, with whom she shared an unwavering conviction that internationalism was the only secure route to peace. Royden's letters to Courtney from the vicarage in South Luffenham were sprinkled with passionate endearments: 'Dear little Kathleen I do so awfully want to see you. Consider yourself kissed!'; 'Oh beloved, rejoice with me! I am so fearfully happy here, but I want you dear, so badly, & don't ever seem to have had as much as I am hungry for'; 'There is a kiss in the envelope. Did you find it?' she asked from a hotel in Bellagio on an Italian holiday. Here is Kathleen Courtney, reflecting on her intense relationship with Maude Royden, formed in their university days: 'We made great and lasting friendships but they were not lesbian (of course we did not know that word in those days). Our friendships were founded on some sort of affinity, a community of mind.'
Edith Eckhard was a close friend of Kathleen Courtney, a suffragist, peace campaigner and internationalist. Eckhard and Courtney lived together in London, some of the time with the pacifist doctor Hilda Clark, and Clark's partner, the midwife and Quaker pacifist Edith Pye. Two women received a copy of the resolution Carr-Saunders read to the LSE Academic Board in the autumn of 1952: Eckhard's sister, Beatrice Paish, and Kathleen Courtney, who shared Eckhard's Hampstead home. They probably met in Manchester, when Courtney worked as secretary of the North of England Society for Women's Suffrage (1908-11). In common with Eckhard, Courtney also became associated with the Friends' War Victims Relief Committee and spent three years in Vienna. In thanking Can-Saunders for his sensitivity, the reputedly unemotional Courtney wrote: "I should like particularly to say how much I appreciated the report of what you said. It describes exactly Miss Eckhard's great qualities and I do indeed realise what a terrible loss she must be to the School of Economics. I need not say what the loss is to me personally."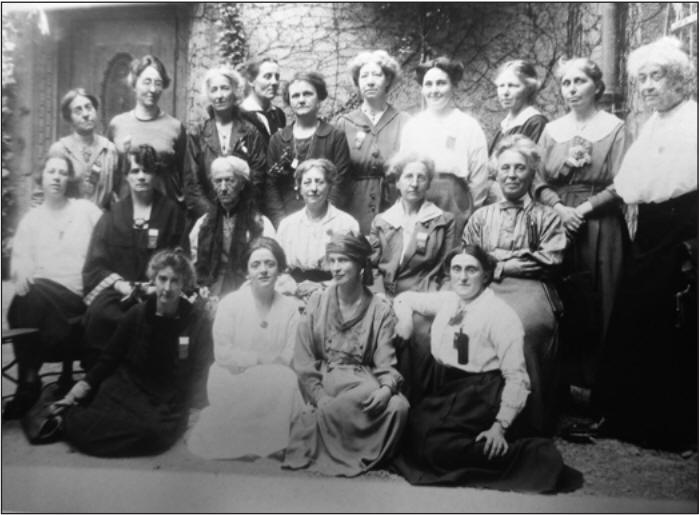 British Delegates to the WIL 1919 held in Zurich May 12 - 17 1919. Left to right:- Top row Miss I.O Ford, Miss M. Sheepshanks, Mrs Salter, Miss Macnaghten, Mrs Annot Robinson, Miss Royde, Miss K.D Courtney, The Hon. Mrs Rollo Russell, Mrs Hy Lloyd Wilson, Miss Gertrude Eaton 2nd Row Mrs Giles, Mrs Crawford, Mrs Despard, Miss Margaret Ashton, Miss Hardcastle, Dr Ethel Williams. Bottom Row Mrs Huth Jackson, Miss Wilkinson, Mrs Anderson Fenn, Mrs Briggs.
Kathleen D'Olier Courtney was born on 11 March 1878 the youngest of five daughters and the fifth of seven children of Lieutenant (later Major) David Charles Courtney (1845-1909) of the Royal Engineers (a native of Milltown, County Dublin, Ireland), and his wife, Alice Margaret Mann at 1 York Terrace, Gillingham.[4] Courtney was educated at the private the Anglo-French College in Kensington and the Manse boarding-school in Malvern before spending seven months in Dresden studying the German language. In January 1897 she went to Lady Margaret Hall to study modern languages. There she formed a lifetime friendship with Maude Royden.[5] The Courtney family were extremely wealthy, allowing Kathleen the freedom to devote her life to good causes. In 1908 she was appointed secretary of the North of England Society for Women's Suffrage. One of its members, Helena Swanwick, later revealed that Courtney arrived in Manchester "with a big reputation"[4] as an outstanding organiser. In 1911 she moved to London where she worked closely with Millicent Fawcett, an English feminist, intellectual, political and union leader. She also became a writer and honorary secretary of the National Union of Women's Suffrage Societies. Upon the outbreak of World War I in 1914, she abandoned her active campaigning for women's suffrage and devoted her life to studying international politics and trying to build bridges towards international cooperation.[3][6] In April 1915, Aletta Jacobs, a suffragist in the Netherlands, invited suffrage members from around the world to an International Congress of Women in The Hague. The attendees included Mary Sheepshanks, Jane Addams, Alice Hamilton, Grace Abbott, Emily Bach, Lida Gustava Heymann, Emmeline Pethick-Lawrence, Emily Hobhouse, Chrystal Macmillan and Rosika Schwimmer. At the conference the women formed the Women's International League for Peace and Freedom (WIL). Kathleen Courtney ultimately was elected as chair of the British section. In 1928, she became a member of the Executive Committee of the British League of Nations Union and in 1939 (the year World War II would begin) was elected Vice-Chairman. From 1949 to 1951 she served as Chairman.[3][6] Courtney continued to be involved in the campaign for women's suffrage. She helped establish the Adult Suffrage Society in 1916 and as joint secretary she lobbied members of the House of Commons to extend the franchise until the Qualification of Women Act was passed in 1918. The following year she became vice-president of the National Union of Societies for Equal Citizenship. As well as advocating the same voting rights as men, the organisation also campaigned for equal pay, fairer divorce laws and an end to the discrimination against women in the professions. In 1945 she became deputy of the United Nations Association rising four years later to be joint president and chair of the UNA's executive committee.[5] Courtney was appointed a CBE in 1946 and in 1972 she was promoted to DBE. In 1968 she had the honour of giving a talk in Westminster to celebrate 50 years of some women having the vote. In 1972 she was awarded the United Nations Peace Medal.[5]
Kathleen Courtney died at her home, unmarried with no children, at 3 Elm Tree Court on 7 December 1974 at age 96. A memorial service was held on 11 April 1975 at St Martin-in-the-Fields.[7]
---
My published books:


---
Oakley, Ann. Women, Peace and Welfare . Policy Press. Edizione del Kindle.
Crawford, Elizabeth. The Women's Suffrage Movement (Women's and Gender History) (p.144). Taylor and Francis. Edizione del Kindle.