Partner Alexis Rassine
Queer Places:
45 Mecklenburgh Square, London WC1N 2AJ, UK
Fieldhead (now Kingfishers Nursing Home), Fieldhead Gardens, Wooburn Green, Bourne End SL8 5RA, UK
Eton College, Windsor SL4 6DW, Regno Unito
University of Cambridge, 4 Mill Ln, Cambridge CB2 1RZ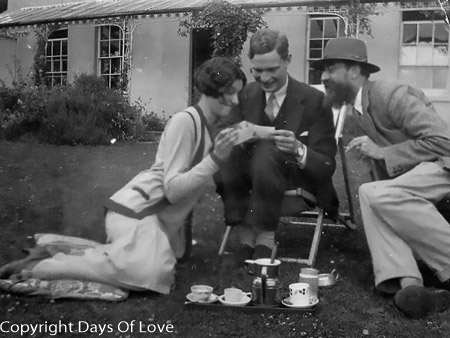 Rudolf John Frederick Lehmann (2 June 1907 – 7 April 1987) was an English poet and man of letters. He founded the periodicals New Writing[1][2] and The London Magazine, and the publishing house of John Lehmann Limited.
Born in Bourne End, Buckinghamshire, the fourth child of journalist Rudolph Lehmann, and brother of Helen Lehmann, novelist Rosamond Lehmann and actress Beatrix Lehmann, he was educated at Eton and read English at Trinity College, Cambridge. He considered his time at both as "lost years".[3]
After a period as a journalist in Vienna, he returned to England to found the popular periodical New Writing (1936–1940) in book format.[4] This literary magazine sought to break down social barriers and published works by working-class authors as well as educated middle-class writers and poets.[5] It proved a great influence on literature of the period and an outlet for writers such as Christopher Isherwood, W. H. Auden,[4] and miner-author B. L. Coombes.[5] Lehmann included many of these authors in his anthology Poems for Spain which he edited with Stephen Spender. With the onset of the Second World War and paper rationing, New Writing's future was uncertain and so Lehmann wrote New Writing in Europe for Pelican Books, one of the first critical summaries of the writers of the 1930s in which he championed the authors who had been the stars of New Writing—Auden and Spender—and also his close friend Tom Wintringham and Wintringham's ally, the emerging George Orwell. Wintringham reintroduced Lehmann to Allen Lane of Penguin Books, who secured paper for The Penguin New Writing a monthly book-magazine, this time in paperback. The first issue featured Orwell's essay "Shooting an Elephant". Occasional hardback editions combined with the magazine Daylight appeared sporadically, but it was as Penguin New Writing that the magazine survived until 1950.
In 1934 the Coldstream guard Fred Turner thus ended his relationship with John Lehmann when he married his pregnant girlfriend. Fred's letter was apologetic and regretful, yet his choice was clear: "I think too much of my wife to play a double game . . . I am going to lead a straight life and play the game with her."
He joined Leonard and Virginia Woolf as managing director of Hogarth Press between 1938 and 1946. He then established his own publishing company, John Lehmann Limited, with his novelist sister Rosamond Lehmann (who had a nine-year affair with one of Lehmann's contributing poets, Cecil Day-Lewis). They published new works by authors such as Sartre and Stendhal, and discovered talents like Thom Gunn and Laurie Lee. He also published the first two books by the cookery writer Elizabeth David, A Book of Mediterranean Food and French Country Cooking. This publishing house ran from 1946–1953.[6]
In 1954 he founded The London Magazine, remaining as editor until 1961, following which he was a frequent lecturer and completed his three-volume autobiography, Whispering Gallery (1955), I Am My Brother (1960) and The Ample Proposition (1966). In The Purely Pagan Sense (1976) is an autobiographical record of his homosexual life in England and pre-war Germany, discreetly written in the form of a novel. He also wrote the biographies Edith Sitwell (1952), Virginia Woolf and her World (1975), Thrown to the Woolfs (1978) and Rupert Brooke (1980).
In 1965 he published Christ the Hunter, a spiritual/autobiographical prose poem which had been broadcast in 1964 on the BBC Third Programme, In 1974 Lehmann published a book of poems, The Reader at Night, hand-printed on handmade paper and hand-bound in an edition of 250 signed copies (Toronto, Basilike, 1974). An essay by Paul Davies about the creation of this book is included in Professor A.T. Tolley's collection, John Lehmann: a Tribute (Ottawa, Carleton University Press, 1987), which also includes pieces by Roy Fuller, Thom Gunn, Charles Osborne, Christopher Levenson, Jeremy Reed, George Woodcock, and others.
In his autobiographical novel In the Purely Pagan Sense (1976), John Lehmann recalls his friend William speaking of a German boy for whom George's poetry appears to have been a necessary adjunct to his sexuality: 'He used to go about reciting the poems of Stefan George all day, believe it or not. He'd even go on reciting while he was doing it [that is, making love] – there's devotion to culture for you!'
His partner was dancer Alexis Rassine who inherited Lehmann's cottage at his death.
---
My published books:


---
https://en.wikipedia.org/wiki/John_Lehmann
Woods, Gregory. Homintern . Yale University Press. Edizione del Kindle.
Houlbrook, Matt. Queer London (Chicago Series on Sexuality, History, and Society) (p.248). University of Chicago Press. Edizione del Kindle.