Partner Siegfried Sassoon, Wife Mary Francis Butts
Queer Places:
20 Broughton Rd, South Shields NE33 2RN, UK
University of Cambridge, 4 Mill Ln, Cambridge CB2 1RZ
122 Cheyne Walk, Chelsea, London SW10 0ES, UK
The UCL Slade School of Fine Art, University College London, Gower St, Kings Cross, London WC1E 6BT
Cairney House, 10 Osborne Ave, Newcastle upon Tyne NE2 1JQ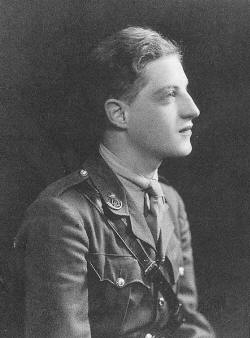 William Park "Gabriel" Atkin (1897 – May 8, 1937) was a landscape architectural and figure painter in oil and watercolor, a draftsman and an illustrator. Details of his affair with Siegfried Sassoon, were removed from Sassoon's diary (as were accounts of his other homosexual affairs) but are given passionate and explicit expression in the letters. Sassoon's love letters to Atkin (and to Stephen Tennant) came to light in the 2000s, as well as a number of passionate love poems, and more or less at the same time it was also discovered an unpublished autobiography of Atkin.
He was born in South Shields, Durham, the son of James Thomas Atkin (1867-1920) and Eleanor Dorothy Park (1870-1949). In the 1901 census he is living at Salisbury House, 20 Broughton Road, South Shields. In the 1911 census he is living at 54 Westoe Parade, South Shields. Atkin grew up in the South Shields area and was completing his education at Durham Art College when army service intervened.
Sassoon met Atkin when this latter was a young army officer. Sassoon had already heard of Atkin from Edward J. Dent, who had befriended the 19 year-old cadet in March 1917 when he came to Cambridge from the Durham Light Infantry on an army training course. And Dent must have mentioned Sassoon to Atkin, who next wrote to Dent from his camp at Margate to tell him how much he wanted to meet a poet he so admired. But when Dent passed this on to Sassoon in November 1917, he had replied rather off-handedly: 'Gabriel Atkin sounds all right. I wish Margate were nearer." Sassoon's posting, first to Ireland, then Palestine in the first half of 1918, had intervened and it was not until October 1918 that the subject was reintroduced. By 30 October Atkin was writing to Dent: 'I am most excited by the possibility of meeting Siegfried Sassoon. I think of him as most attractively Byronic in appearance! Clearly in awe of Sassoon, whose war poetry had made him a household name, he feels it might be 'presumptuous' of him to write or send a photograph as Dent suggests, but does hope for a few lines from the famous poet. So that he is thrilled to receive a `hectic postcard from Sassoon on Armistice Day, though 'devastated' that it is to defer their meeting. The matchmaking is then taken up by Augustus Theodore (Theo) Bartholomew, who has himself been in and out of bed with Atkin for the past year, and it is during Sassoon's stay with Theo in mid-November that another meeting with Atkin is arranged. Sassoon finally met Atkin for the first time at Margate station on 20 November 1918.

Prince Serge of Chernatzki by Gabriel Atkin
Atkin acquired artistic training at Armstrong College (Newcastle University) under the tutelage of Richard George Hatton. He lived in London for many years, painting landscapes in watercolors and illustrating books. While studying at Slade School of Arts, Atkin rented a studio near to Glyn Philpot (whom he had met through Sassoon) at 122 Cheyne Walk. In 1919 Atkin had a showing at the London Salon, and he regularly sent work to the Artists of the Northern Counties exhibits.
The relationship with Sasson ended apparently due to Atkin's promiscuity; he also had an affair with Sassoon's friend, Osbert Sitwell. Atkin would later become part of the wild drug scene surrounding Jean Cocteau in Paris. John Maynard Keynes was known in his Bloomsbury circle as a fairly committed homosexual who even then was, Quentin Bell recalls, "married" to a Cambridge undergraduate, Sebastian Sprott, as well as carrying on with Atkin. Atkin was also friend (and possible lover) of Ronald Firbank.
In 1930 he married bisexual author Mary Francis Butts, and they separated in 1934.
At the time of his death, he was living at 10 Osborne Avenue, Newcastle upon Tyne. His wife died later that same year. The Laing Art Gallery in Newcastle has a large collection of his watercolorist.
---
My published books:


---
http://specialcollections.wichita.edu/Collections/ms/89-02/89-2-A.HTML
Siegfried Sassoon: The Journey from the Trenches : a Biography (1918-1967) Jean Moorcroft Wilson Psychology Press, 2003