Queer Places:
Harvard University, Cambridge, MA 02138
995 5th Ave, New York, NY 10028
Evergreen Cemetery Stonington, New London County, Connecticut, USA
Trinity College Chapel Cambridge, City of Cambridge, Cambridgeshire, England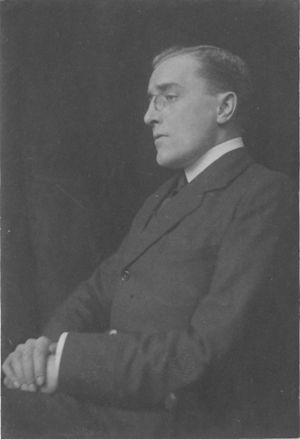 Gaillard Thomas "G.T." Lapsley (November 14, 1871 – August 17, 1949) was the grandson of Emma Willard, who founded the school which bears her name. He was a close friend of Henry James and Edith Wharton, and was appointed Wharton's literary executor in her will. He corresponded with Bernard Berenson and Isabella Stewart Garden. After the death of his mother in 1888 Howard Sturgis moved with his lover, William Haynes-Smith, into a country house named Queen's Acre, near Windsor Great Park. Their home was a familiar retreat for many other bachelors in Henry James' circle, including Arthur Christopher Benson, Percy Lubbock, and Gaillard Lapsley.
Gaillard Thomas Lapsley was the son of Howard Lapsley and Katherine A. Willard. He was graduated from Harvard in 1893 and originally studied law. After teaching there for many years went to England and became an authority on medieval constitutional history. Although 'The County Palatine of Durham', published in 1900, was his only book, a selection of his articles was published posthumously in a volume entitled 'Crown, Community and Parliament in the Later Middle Ages'. He was elected a fellow and lecturer at Trinity College, Cambridge, in 1904. He delivered the introductory lecture at the local lectures summer meeting of the University of Cambridge, 1918. He also edited lectures, with an introduction, in The America of today, Cambridge 1919. From 1919 to 1929 he was a tutor of the college and in 1931 was named a reader in constitutional history. He retired in 1937 but continued to live at Trinity College, spending his summers in New England.
One of the most joyous portraits of the late XIX century LGBTQ life can be found in the letters between Odgen Codman and Arthur Little. Codman, like many of his contemporaries, kept nearly every piece of paper he produced or received, but perhaps uniquely, neither he nor his heirs destroyed even the most incriminating materials. In all, 92 letters eventually entered the archives of Historic New England due to the generosity of his longest surviving sister, Dorothy. Most were written in the early 1890s, usually when Codman or Little was traveling. The letters show no guilt regarding same-sex feelings or relations and some are quite explicit. Little and Codman often referred to men by women's names or put their male names in quotation marks or underlined them. Gaillard Lapsley, for example, was referred to as Aunt Mary.

G.T. Lapsley far behind Edith Wharton

Trinity College, Cambridge
Isabella Stewart Gardner introduced Gaillard Lapsley to Henry James. Lapsley, a close friend of George Santayana at Harvard and perhaps a one-time love interest of Arthur Little, went on to a distinguished career as an Oxford don. Through these men, Lapsley met Edith Wharton and the two became lifelong close friends.
Lapsley died in New York in his apartment at the Stanhope Hotel. He was in the United States when the WWII began and remained there. A memorial brass was located on the north wall of the Trinity College Ante-Chapel. The inscriptions (in latin) reads: This inscription commemorates Gaillard Thomas Lapsley. A Fellow of the College for forty-five years, he served as Lecturer and Tutor, and in his writing and lecturing shed light on the origins of our laws and constitution. An American citizen, he loved the British way of life. At length he returned to his native country, where he died in 1949 at the age of seventy-six.
Lapsley's publications include:
The county palatine of Durham; a study in constitutional history (New York, 1900);
The problem of the north: a study in English border history (New York, 1900);
Cornage and Drengage (New York, 1904);
Religious difficulties and doubts of the present generation: a paper read before the Annual Meeting of Schoolmasters and College Tutors and Lecturers held at Cambridge, January 12th, 1907 (Cambridge, 1907);
The background of King Edward's foundation : a lecture delivered in ... Trinity College, Cambridge, on July 7, 1917, on the occasion of the celebration of the sexcentenary of the establishment of the King's Scholars ... / by Edward II (Cambridge, 1918);
The America of today : being lectures delivered at the local lectures summer meeting of the University of Cambridge, 1918 (Cambridge, 1919);
Selected Essays of Frederic William Maitland (Cambridge, 1936);
Eternal passion in English poetry (New York & London, 1939, with Edith Wharton and Robert Norton);
Crown, community, and Parliament in the later Middle Ages (Oxford, 1951).
---
My published books:

---
The Times Record Troy, New York 18 Aug 1949, Thu • Page 24
Anesko, Michael. Henry James and Queer Filiation . Springer International Publishing. Edizione del Kindle.
Gaillard Lapsley: Cambridge Lectures on America, c.1916-1918, (Cambridge University Library, Department of Manuscripts and University Archives)
The Hub of the Gay Universe, An LGBTQ History of Boston, Provincetown, and Beyond, by Russ Lopez, 2019