Partner Duncan Grant
Queer Places:
Smith College, Northampton, Massachusetts
1 Taviton St, Kings Cross, London WC1H 0BT, UK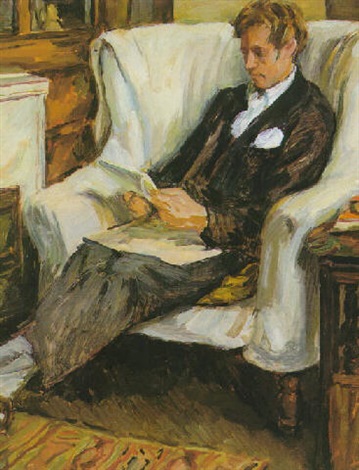 Paul Roche (September 25, 1916 - October 30, 2007) was a poet, novelist and translator. He was born in Mussoorie, India. He married Clarissa Tanner in 1954 and they had one son and three daughters; the marriage dissolved in 1983. He had one son with Mary Blundell. He died in Sóller, Spain.
Paul Roche was a poet, novelist and acclaimed translator of Greek and Latin classics. His literary career began with a charming collection of fables, The Rat and the Convent Dove (1952), which was followed two years later by an allegorical novel, O Pale Galilean. But it was as a poet that Roche first made his reputation, publishing with Gerald Duckworth two collections: All Things Considered (1966) and To Tell the Truth (1967).
He caught the attention of John Lehmann and Stephen Spender, connections and good looks helping to foster his reputation. In 1967 he inaugurated at the Purcell Room, and later continued at the Wigmore Hall, the series "The Poet and Actor" at which Sybil Thorndike and other well-known actresses read his poems and translations. Roche always appeared at these occasions in a velvet dinner jacket, sharply pressed trousers, shiny black shoes and a fur coat. In the 1970s he went on to make a record, Paul Roche – A Poet. A Man. A Mind., which came with a psychedelic cover.
If solid acclaim eluded him, he continued to figure on the poetry-reading circuit, and gained fellowships, residencies, bursaries and awards in America and on the European Continent, while his translation of Oedipus become a standard text in American high schools. But in time, he became equally renowned for his 32-year relationship with the painter Duncan Grant, a role that gives him a particular place within the history of Bloomsbury in its final years.

Paul Roche Reclining Duncan Grant (1885–1978) Charleston
Paul Roche's singularity rested on a mixed inheritance. There was a French great-grandfather, Antonin Roche de la Baume, who, around 1837, had shortened the family name to Roche after moving to England. There was also India, for his father was part of the British Army in India and later worked for the Great Indian Peninsula Railway. Paul's mother, Roberta Arathoon, was the daughter of an Armenian aristocrat.
Born in 1916 at Mussoorie, in the foothills of the Himalayas, Paul had been removed from the sensuous pleasures of his Indian childhood to an English preparatory school before his mother's death in 1927. After this, his father sent him and his brother to Ushaw College, near Durham, an ancient Catholic institution where Paul learnt Latin and Greek and practised stringent self-discipline, rising at five every morning, a habit that he never shed. But he became afflicted with such anxiety that after four years he was moved to a day school near Hanwell, in London, where his father, by then remarried, was living.
The parish priest discerned in Roche material for a priest and he was sent to St Edmund's College, Ware, then to the Jesuit-run English College in Rome, part of the Gregorian University, where he studied philosophy and theology, and relished Italian cooking and siestas, before returning to England and Stonyhurst, where he was ordained in 1943. It was while serving as a curate at St Mary's, Cadogan Gardens, that he met Duncan Grant.
It was July 1946 and both men were crossing the road at Piccadilly Circus. A casual remark led to further exchange and the rest of the evening was spent drinking rum and looking at pictures in a house in Bedford Square, where Grant had a pied-à-terre. Roche, dressed in a sailor suit, had a lithe physique and Grant asked him to pose the following day. He did so, from then on becoming the focus for Grant's intense admiration for male beauty. Grant's ravished emotions were evident in the first oil he painted of the young man, sprawled naked on the carpet in Bedford Square.
Roche initially disguised from the older man his true profession. When, in the autumn, he admitted membership of the priesthood, Grant was astonished, and subsequently wrote a novella, purely for himself and Roche, in which their relationship is played out by Patroclus and Narcissus. Patroclus concludes that Narcissus, "a creature Pagan to the bottom of his soul" yet who "talks to him as a Christian", is in fact "the most thorough-going immoralist that Patroclus had ever met". He sees no faults in the young man he loves, or if he sees them he forgives them, for what he offers Narcissus is a picture of himself that has poetic unity, knowing that the younger man can live it without much effort and will perhaps return some of the love that went into its creation. Remarkably prescient, the novella, despite the interruptions that followed, identified what was to become the core of their relationship.
For the next eight years Roche lived in a flat belonging to Marjorie Strachey, sister of Lytton Strachey, in Taviton Street, in the room which was officially set aside for Grant's use two or three days a week. There the two men enjoyed a domestic life that troubled Grant's relationship with Vanessa Bell, with whom he shared a daughter, a Bohemian existence at the farmhouse Charleston, at Firle in Sussex, and a long-standing creative partnership. Attempts on Grant's part to bring Vanessa Bell and Roche together proved unsuccessful. Unlike some of Grant's previous boyfriends, Roche saw only a grandmother figure and made no attempt to charm her.
Nor did he immediately lose his Catholic faith. For some three years he continued to perform as a priest, troubled though he was by the belief that he was leading a diabolical life. He also began enjoying relationships with women. Eventually obtaining release from his sacred duties, he began writing and every summer explored a new bit of Europe or North Africa. Grant not only discerned the poet in him and encouraged him in this direction, but also remarked, jokingly, that Roche should find himself a good wench and have a beautiful child.
Yet both were taken aback when Mary Blundell, a physicist studying at London University, became pregnant with Roche's child. She gave birth to a son, Tobit, in December 1953, and, having decided that Roche would make a poor husband, finished her training, married a Canadian economist and went on to enjoy a highly successful academic career. Meanwhile, only a couple of months after first setting eyes on his son, Roche discovered that the American Clarissa Tanner, whom he had met in Paris, was also pregnant with his child. Having made the same mistake twice, Roche now thought he should marry. He and Clarissa moved to America, gaining the support of her parents when in October 1954 their daughter Pandora was born.
Roche's first novel, O Pale Galilean (1954), is credited with having gained him a teaching post, between 1956 and 1958 in the English Department at Smith College, Northampton, Massachusetts. There he began the first of his many translations from Greek and Latin texts (Aeschylus, Sophocles, Euripides, Sappho and Plautus) for the New American Library. Sylvia Plath was also a member of faculty at this time and she and Ted Hughes saw much of Paul and Clarissa. Plath's journals contain slightly acid descriptions of Roche:
Paul, with his professional dewy blue-eyed look and his commercially gilded and curled blond hair on his erect, dainty bored aristocratic head looking as if he had been struck on a Greek coin that since had blurred and thinned from too much public barter and fingering.
Plath's remarks may contain an element of professional jealousy, for she noticed his voluminous correspondence and ability to meet people. And he was doing extraordinarily well, winning a Bollingen Foundation Grant for his translation work, publishing The Oedipus Plays of Sophocles (1958), receiving contracts for The Orestes Plays of Aeschylus (1962), while his poems had begun to appear in a swathe of English and American magazines. And twice a week he received letters from Grant.
If Roche had a god it was the sun, for sun-bathing, preferably in the nude, was for him a high priority. His acceptance of the Bollingen Foundation Grant had obliged him to resign from Smith, and he and Clarissa, needing somewhere cheap to live, went in search of the sun. They chose the island of Nevis in the West Indies, and after a few months moved to Taxco in Mexico. They now had three children – Pandora, Martin (Potie) and Vanessa – and Roche was becoming desperately short of money.
He went to New York, to see if he could pick up a contract and some readings and, while there, received a letter from Grant informing him that Vanessa Bell had died. Knowing that no one could distract or console Grant as well as he, Roche offered to return and three months later boarded a Greek ship, working his passage as a student adviser and arriving at Tilbury at five in the morning to find Grant waiting for him, with a taxi.
Eventually, the whole family returned to England and Clarissa gave birth to their last child, Cordelia (Mitey). In time a home was found – The Stables, at Aldermaston, Berkshire. From then on Roche's life was split between his family at Aldermaston and Duncan Grant at Charleston, a split made still more complicated by his frequent returns to America for stints of teaching or residences in colleges and universities. However, Clarissa recognised and accepted Grant's place in her husband's life and there was no longer any need for Roche to remain hidden. And the relationship, though still vital, was no longer so intense, partly because Grant now felt that a continuation of sexual relations would be disloyal to Clarissa.
Roche published a second novel in 1964, Vessel of Dishonour, a love story based on his extracurricular experiences as a priest, which certain members of the Catholic church condemned. Less problematic was the screenplay he wrote in 1967 for the Universal Pictures production of Oedipus the King, filmed on location in Greece, with Orson Welles in the star role. On this occasion Roche was accompanied by Grant, but mostly the older man resisted long plane journeys ("One leaves one's soul behind," was one objection.)
But in 1973, Grant, then aged 88, unable to walk far and easily tired, was persuaded by Roche to take a holiday in Turkey. Like all their expeditions, it was fuelled by a liberal supply of alcohol, for Roche's lethal Bloody Marys took the edge off any disaster. He also kept a journal and afterwards published With Duncan Grant in Southern Turkey (1982), which captures the light-hearted mood of this holiday. But another trip, two years later, to Tangier, proved a fiasco, with Grant almost dying of pneumonia.
Not willing to give up, Roche insisted in 1978 on taking Grant, then aged 93, to Paris, to see the Cézanne exhibition. They stayed with the British ambassador, Sir Nicholas Henderson, who was shocked by Grant's parlous condition, for he seemed not in state to be moved from room to room, let alone taken abroad on a sight-seeing trip. Four months later Grant died of bronchial pneumonia in the Roche household at Aldermaston.
In 1983 Paul and Clarissa divorced, and two years later he bought a house in an ancient landscape, in the small town of Sóller, not far from the north-west coast of Majorca. It was hung throughout with Grant's pictures. Roche's workroom looked on to sun-drenched mountains and there he continued with translations from the Greek. He used an ancient Greek text as his source for The Bible's Greatest Stories, published by Penguin in 1990, also writing, among other things, Cooking with a Poet (1998). Gardening, sun-bathing, simple but good food and chess – his heavily ringed fingers moving the pieces with delicate precision – contributed to the rhythm of his life.
He returned to India in 1994 for the first time since his childhood, embarking on a six-month back-packing trip with his daughter Mitey; the result was A Visit to India (1996). In the penultimate year of his life he was renowned in Sóller for being the only nonagenarian able to zip around on a bicycle.
---
My published books:

---
Paul Roche Poet, novelist and translator known for his relationship with the Bloomsbury Group painter Duncan Grant Thursday 8 November 2007 01:00: https://www.independent.co.uk/news/obituaries/paul-roche-399419.html