Queer Places:
Inglewood Park Cemetery Inglewood, Los Angeles County, California, USA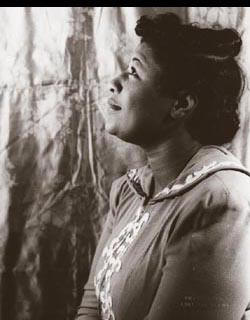 Known to her fans simply as Ella, Ella Fitzgerald (April 25, 1917 – June 15, 1996) was one of the single most influential American singers of the twentieth century. Through the course of her more than sixty-year-long career, Fitzgerald made hundreds of recordings and won no less than fourteen Grammy awards. Her simple and direct singing style was popular with audiences all over the world, and Fitzgerald is often credited with gaining countless new fans for jazz music with her performances and recordings of standards from the 1930s and 1940s.
Though she was born in Newport News, Virginia, Fitzgerald's family moved to New York when she was a child and it was there that she began her career. In 1935, when she was sixteen, Fitzgerald won a talent contest at Harlem's famous Apollo Theater. She gained the attention of New York jazz musicians in the audience, including bandleader Chick Webb. He invited Fitzgerald to audition with his band when they played a show in New Haven, Connecticut. She sang with Webb's band as the featured singer for several years and, when he died in 1939, she took over as bandleader.
After years of performing and recording, Fitzgerald made her famous "songbook" recordings. These albums remain among the most influential popular records in American music. Accompanied by the best orchestras of the period, Fitzgerald sang many of the great compositions of George Gershwin and Ira Gershwin, Cole Porter, Duke Ellington, Richard Rodgers and Lorenzo Hart, Irving Berlin, Johnny Mercer, and others. These records earned Fitzgerald a larger popular audience and, as they are regularly reissued, they continue to win new fans for her music.
When once asked about her favorite singers, Marilyn Monroe answered, "Well, my very favorite person, and I love her as a person as well as a singer, I think she's the greatest, and that's Ella Fitzgerald." Not only was Monroe a Fitzgerald fan, but she was also a friend who used her status as a Hollywood star to boost Fitzgerald's career. Their friendship would last until Monroe's untimely death. And even after Monroe had died, Fitzgerald remained grateful for the support the star had provided during her lifetime. Movie star Monroe had spent hours listening to Fitzgerald's recordings (a music coach had recommended this to improve the star's own singing). In November 1954, she got to see Fitzgerald perform in Los Angeles. The two were soon friends, so when Monroe learned of Fitzgerald's inability to get a gig at the Mocambo, a famous L.A. nightclub, she decided to help. Dorothy Dandridge and Eartha Kitt had already performed at the Mocambo, so Fitzgerald wouldn't have been the first African American to sing there. But the club's owner felt the heavyset Fitzgerald lacked the glamour to draw crowds. So Monroe approached him with a proposition — if he booked Fitzgerald, she promised to sit at the front of the house every night and to bring along other celebrities. Monroe made clear the amount of publicity this would garner, so the club owner agreed to hire Fitzgerald for a couple of weeks in March 1955. During Fitzgerald's run, Monroe kept her word to sit up front, and Frank Sinatra and Judy Garland showed up on opening night. However, such celebrity firepower wasn't that necessary — Fitzgerald's shows sold out, and the owner even added a week to her contract. This successful engagement changed Fitzgerald's career trajectory. She later told Ms. magazine, "After that, I never had to play a small jazz club again."
Following her success at the Mocambo, Fitzgerald got other jobs at big venues and also returned to the Mocambo. Yet not every location treated her equally due to the color of her skin — some expected Fitzgerald to enter through a side door or back entrance rather than the front. When Monroe became aware of this, she again supported her friend. According to Fitzgerald biographer Geoffrey Mark, Monroe had traveled to Colorado to see Fitzgerald perform. Once there, she saw her friend ushered away from the front entrance, so Monroe refused to go inside unless both she and Fitzgerald were allowed through the front doors. The movie star got her way and soon all of Fitzgerald's performance spots were treating the singer with the respect she deserved.
Fitzgerald was known for her clarity of voice and her perfect pitch. According to many, it was perfect pitch that enabled her to successfully perform the "scat" singing—the singing of nonsense words and syllables to embellish a melody—for which she became famous. Fitzgerald was also known as a singer who could convey rhythm as well as meaning through song lyrics. She generally preferred to sing more upbeat songs, and this preference suited her performance style. Her audiences were charmed by her tendency to forget song lyrics and replace them with made up, comic substitutions.
In contrast to the high life of many of her fellow singers, Fitzgerald was deeply shy and she lived a quiet life. She was plagued by self-doubt, and in spite of her great achievements, she never took her success for granted. As she aged, her voice lost some of its former clarity and resonance; nevertheless, Fitzgerald continued to tour until poor health prevented her from performing. A few years before her death in the 1990s, Fitzgerald had both legs amputated below the knee as a result of complications from diabetes.
Often called The First Lady of Song, Ella Fitzgerald performed and recorded with the finest jazz performers of all time, including Benny Goodman, Count Bassie, Dizzy Gillespie, and Teddy Wilson. Many of her most famous recordings, including "Lady Be Good," "How High the Moon," and "A Tisket A Tasket," remain popular today, decades after she first recorded them. She was the recipient of many awards, honorary degrees, and the National Medal of Arts. The Ella Fitzgerald School of the Performing Arts at the University of Maryland was named in honor of her tremendous contribution to American popular music.
---
My published books:


---