Partner Michelle Cliff
Queer Places:
Harvard University, Cambridge, MA 02138, Stati Uniti
Brandeis University, 415 South St, Waltham, MA 02453, Stati Uniti
University of Oxford, Oxford OX1 2JD, Regno Unito
Adrienne Cecile Rich (May 16, 1929 – March 27, 2012) was an American poet, essayist and radical feminist. She was called "one of the most widely read and influential poets of the second half of the 20th century",[1][2] and was credited with bringing "the oppression of women and lesbians to the forefront of poetic discourse."[3] A poet, author, feminist, and teacher (Radcliffe College, B.A., 1951), Rich, who won the Yale Younger Poets Award with the publication of her first book in 1951, has published eleven books of poetry and four of prose. She has received many additional awards, taught writing and women's studies at a number of colleges, and lectured on feminism at conferences and universities in the U.S. and abroad.
Her first collection of poetry, A Change of World, was selected by renowned poet W. H. Auden for the Yale Series of Younger Poets Award. Auden went on to write the introduction to the published volume. She famously declined the National Medal of Arts, protesting the vote by House Speaker Newt Gingrich to end funding for the National Endowment for the Arts.
In 1976, Rich began her partnership with Jamaican-born novelist and editor Michelle Cliff, which lasted until her death. In her controversial work Of Woman Born: Motherhood as Experience and Institution, published the same year, Rich acknowledged that, for her, lesbianism was a political as well as a personal issue, writing, "The suppressed lesbian I had been carrying in me since adolescence began to stretch her limbs."[9] The pamphlet Twenty-One Love Poems (1977), which was incorporated into the following year's Dream of a Common Language (1978), marked the first direct treatment of lesbian desire and sexuality in her writing, themes which run throughout her work afterwards, especially in A Wild Patience Has Taken Me This Far (1981) and some of her late poems in The Fact of a Doorframe (2001).[21] In her analytical work Adrienne Rich: the moment of change, Langdell suggests these works represent a central rite of passage for the poet, as she (Rich) crossed a threshold into a newly constellated life and a "new relationship with the universe".[22] During this period, Rich also wrote a number of key socio-political essays, including "Compulsory Heterosexuality and Lesbian Existence", one of the first to address the theme of lesbian existence.[9] In this essay, she asks "how and why women's choice of women as passionate comrades, life partners, co-workers, lovers, community, has been crushed, invalidated, forced into hiding".[9] Some of the essays were republished in On Lies, Secrets and Silence: Selected Prose, 1966–1978 (1979). In integrating such pieces into her work, Rich claimed her sexuality and took a role in leadership for sexual equality.[9]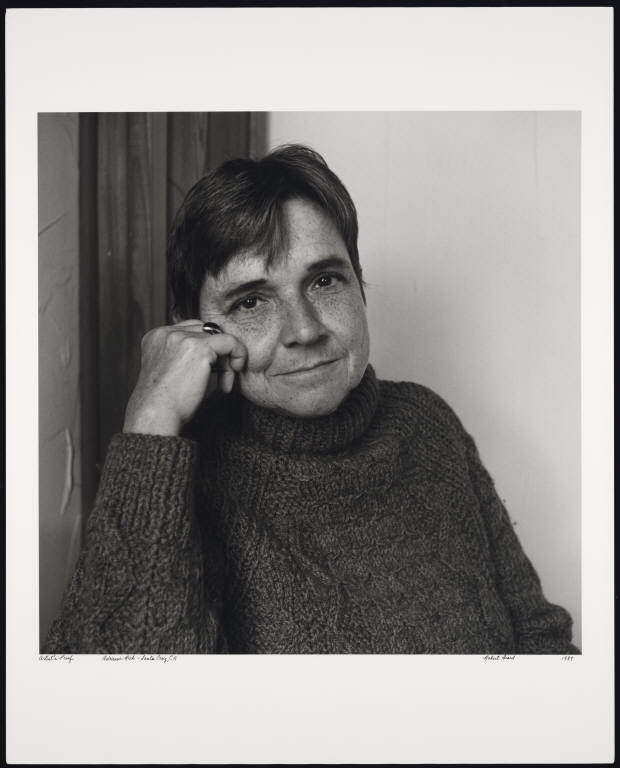 Featured in Particular Voices: Portraits of Gay and Lesbian Writers by Robert Giard [Rights Notice: Copyright Jonathan G. Silin (jsilin@optonline.net)]
From 1976 to 1979, Rich taught at City College as well as Rutgers University as an English Professor. In 1979, she received an honorary doctorate from Smith College and moved with Cliff to Montague, MA. Ultimately, they moved to Santa Cruz, where Rich continued her career as a professor, lecturer, poet, and essayist. Rich and Cliff took over editorship of the lesbian arts journal Sinister Wisdom (1981–1983).[23][24] Rich taught and lectured at UC Santa Cruz, Scripps College, San Jose State University, and Stanford University during the 1980s and 1990s.[24] From 1981 to 1987, Rich served as an A.D. White Professor-At-Large for Cornell University.[25] Rich published several volumes in the next few years: Your Native Land, Your Life (1986), Blood, Bread, and Poetry (1986), and Time's Power: Poems 1985–1988 (1989). She also was awarded the Ruth Paul Lilly Poetry Prize (1986), the Elmer Holmes Bobst Award in Arts and Letters from NYU, and the National Poetry Association Award for Distinguished Service to the Art of Poetry (1989).[10][17]
Rich died on March 27, 2012, at the age of 82 in her Santa Cruz, California home. Her son, Pablo Conrad, reported that her death resulted from long-term rheumatoid arthritis.[38] Her last collection was published the year before her death. Rich was survived by her sons, two grandchildren[39] and her partner Michelle Cliff.[40]
---
My published books:

---
https://en.wikipedia.org/wiki/Adrienne_Rich