Partner Agustín Lazo Adalid
Queer Places:
Yale University (Ivy League), 38 Hillhouse Ave, New Haven, CT 06520
Panteón del Tepeyac, Plaza de las Américas 1, 07050 Ciudad de México, CDMX, Mexico
Xavier Villaurrutia y González (27 March 1903 – 25 December 1950) was a Mexican poet and playwright whose most famous works are the short theatrical dramas called Autos profanos, compiled in the work Poesía y teatro completos, published in 1953. His partner was Agustín Lazo Adalid, a Mexican artist and playwright who is credited with introducing surrealism to Mexico. Some of Villaurrutia's poems are dedicated to known homosexuals ("Nocturno amor" to Manuel Rodriguez Lozano, "Nocturno de los angeles" to Agustin Fink, "Nocturno de la estatua" to longtime companion Agustin Lazo, "Nocturno mar" to Salvador Novo), although there is nothing in them to indicate that these men were his lovers.
Some affluent same-sex-attracted Mexican men during the mid-twentieth century may have idealised long-term affective physical relationships, but these were not the norm. Casual, anonymous sex did not disappear. Indeed, cruising for sexual partners and renting rooms to facilitate these liaisons was common. An entire cycle of Xavier Villaurrutia's poetry, his nocturnos, narrated his escapades with tricks he labelled 'Dick, John, Marvin, or Louis' explaining how they would exchange glances, smile,meet, 'become a couple [while transiting] the rivers of the street' and 'like angels', would alight on elevators to his hotel room. This very dynamic informed why most young gay students and professionals maintained so-called 'studios' alongside the flats or homes that they shared with family members – mothers, siblings and sometimes wives and children – whom they preferred to keep detached from their true selves.
Xavier Villaurrutia was born in Mexico City in 1903. He studied in the Escuela Nacional Preparatoria (National Preparatory School) and in the Escuela de Jurisprudencia (Jurisprudence School). During that time, he felt a certain affinity to writing so he decided to dedicate his life to writing literature.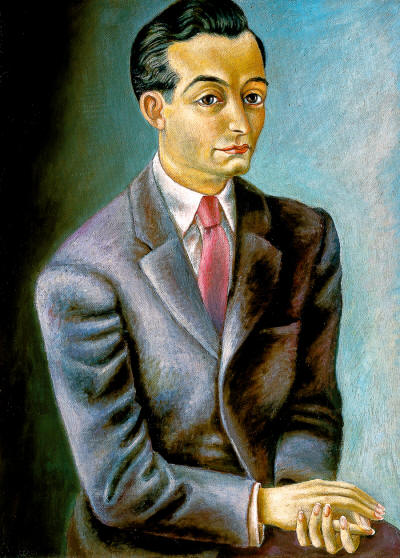 Portrait of Xavier Villaurrutia (1940) Juan Soriano
In 1928, he joined the grupo de los Contemporáneos (Contemporaries). In 1935, he received a scholarship to study theatre at Yale University. Returning to Mexico in 1937, he started working for the local newspaper, Letras de Mexico.
Along with Salvador Novo, they founded the magazine Ulises in 1927.
In the 1930s in Mexico, physicians, teachers, accountants, journalists and other professionals stood to lose more than their clientele if exposed as homosexual in the press, as such exposure would result in banishment to the Islas Marıas Penal colony. Poet Salvador Novo and playwright Xavier Villaurrutia sought to join other Mexican sexiles in the United States or Europe, including artists José Mojica, Ramón Novarro, Roberto Montenegro, Agustın J. Fink and Enrique Asunsolo, or scientists studying abroad, like Elías Nandino and Raoul Fournier. Seeking 'to avoid a fate as a cook, waiter, or dishwasher in New York', Villaurrutia accepted a one-year fellowship at Yale in 1935–36, while a frantic Novo wrote to Federico García Lorca, asking him to procure him lodgings in Madrid.
In contrast to successful professionals such as Elías Nandino, who rented an apartment for himself, gay academics and mid-level bureaucrats from bourgeois families generally stayed alongside their families, negotiating a closeted home life where their fey mannerisms were overlooked; these men, however, remained eternal children denied the maturity of married householders. Men like Salvador Novo, Xavier Villaurrutia and Agustín Lazo Adalid led double lives thanks to their rented studios downtown, where they retreated to write, paint, sculpt or love. Even after setting up house for his mother and himself, Novo maintained a studio from the 1930s until the 1950s, making it his love nest and, while he directed the National Theatre, a convenient place to rest or dress for evening events without travelling to his suburban home in Coyoacan. Such studios – often called leoneros when they were exclusively kept for sexual rendezvous – were a long-standing heterosexual male practice euphemistically known as la casa chica. Termed 'a quasi-marital household on the side', this little house supplemented the main casa or casa grande, where a man's legitimate spouse and children lived.
The Mexico City home of Antonio Adalid Pradel and Antonio Dodero welcomed an extensive homophile network. Together since the early 1900s, and forced into exile by Adalid's gambling, the couple had lived in Alameda, California, between 1907 and 1920. Welcomed back into the family on the condition that he marry a woman, Adalid claimed a small inheritance and taught English at the National Preparatory School. Posing as uncle and nephew, they set up house in a subdivided apartment on 123 Avenida Hidalgo, adjacent to San Fernando Square. The couple decorated and maintained the one-bedroom flat together. In the elegantly furnished living room they entertained guests and dined. The decor echoed their travels together and Adalid's family wealth, portraits of the couple hung on the walls and a collection of antiques instructed visitors in colonial decorative arts. The home was the centre of an important intergenerational homophile social network that included cabinet ministers Luis Montes de Oca, Genaro Estrada and Jaime Torres Bodet, poets Xavier Villaurrutia and Salvador Novo, painters Agustín Lazo Adalid and Roberto Montenegro, retired police inspector Luis Amieva and a bevy of antique dealers. Older networked friends brought acquaintances, made introductions and established connections for younger men like Novo, Villaurrutia and Lazo, that led to sex, patronage, mentorship, gifts and companionship. They passed along sexual knowledge and the names of trusted physicians to treat their venereal diseases. The forms of care and kinship established in private residences such as Adalid and Dodero's taught the younger gays who to trust and how to behave, building a sense of community and belonging. In the 1950s, Salvador Novo fondly evoked the moments he shared in their refined company, noting how Adalid and Dodero fixed trays of snacks, laid the table, washed dishes and served Chinese take-away. These evenings represented a model of domesticity and sociability that young gays reproduced as they became established.
Since 1955, there has been a Xavier Villaurrutia Award for literary works published in Mexico, selected by a jury of writers. This award has been sponsored by the Consejo Nacional para la Cultura y las Artes since 1991.[1]
---
My published books:


---
https://en.wikipedia.org/wiki/Xavier_Villaurrutia
Gender, Imperialism and Global Exchanges, Stephan F. Miescher, Michele Mitchell, Naoko Shibusawa, John Wiley & Sons, Mar 9, 2015
Reading and Writing the Ambiente Queer Sexualities in Latino, Latin American, and Spanish Culture 2000
The Transnational Homophile Movement and the Development of Domesticity in Mexico City's Homosexual Community, 1930–70, by Vıctor M. Macıas-Gonzalez