Queer Places:
4 Brunswick Square, Hove BN3 1EG, UK
Bawdsey Manor, Bawdsey, Woodbridge IP12 3BH, UK
Eton College, Windsor, Windsor and Maidenhead SL4 6DW, UK
27 Welbeck St, Marylebone, London W1G 8EN, UK
7 Montagu Square, Marylebone, London W1H 2LB, UK
1 Marlborough Hill, St John's Wood, London NW8 0NN, UK
1 Melina Pl, London NW8 9SA, UK
23 Acacia Rd, St John's Wood, London NW8 6AN, UK
St. Mary's Churchyard Bawdsey, Suffolk Coastal District, Suffolk, England
Roger Cuthbert Quilter (1 November 1877 – 21 September 1953) was an English composer, known particularly for his songs. In the wake of the posthumous denigration of Pyotr Ilyich Tchaikovsky, more or less contemporaneous with the disgrace of Oscar Wilde in 1895, certain English composers developed a keepsake mentality, frustrated yet potent, that came to characterize a generations music. Three representatives may be considered: Roger Quilter, John Ireland, and George Butterworth. Butterworth was probably homosexual, Ireland and Quitter certainly were. None of the three found a longterm or stable sexual partner. All of them excelled at composing songs, inscribing fulfillment in the perfection of the small-scale and containable while counterbalancing that with the powerful erotic yearning of the English lyric poetry they chose to set to music.
Quilter was born in Hove, Sussex;[1] a commemorative blue plaque is on the house at 4 Brunswick Square.[2] He was a younger son of Sir William Quilter, 1st Baronet, a wealthy noted landowner, politician and art collector.
Roger Quilter was educated first in the preparatory school at Farnborough. He then moved to Eton College and later became a fellow-student of Percy Grainger, Cyril Scott and H. Balfour Gardiner at the Hoch Conservatory in Frankfurt, where he studied for almost five years under the guidance of the German professor of composition Iwan Knorr.[3] Quilter belonged to the Frankfurt Group, a circle of composers who studied at the Hoch Conservatory in the late 1890s.[3]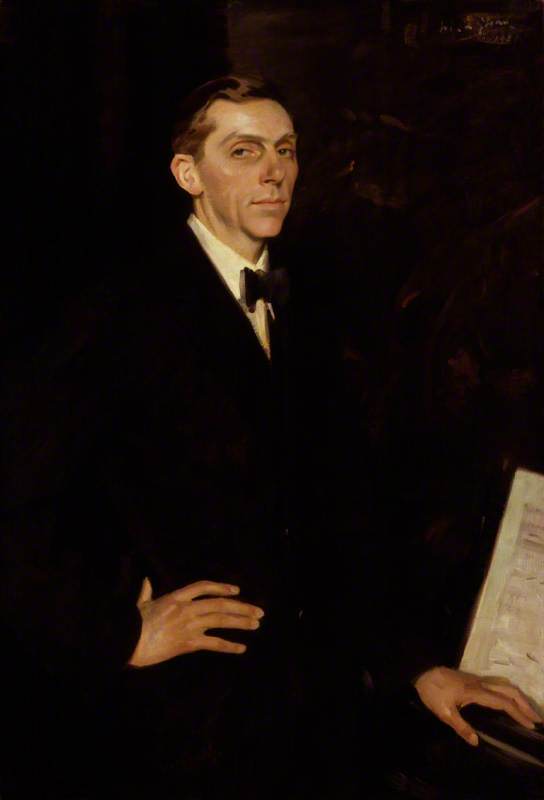 Roger Quilter Wilfrid Gabriel de Glehn (1870–1951) National Portrait Gallery, London
His reputation in England rests largely on his songs and on his light music for orchestra, such as his Children's Overture, with its interwoven nursery rhyme tunes, and a suite of music for the play Where the Rainbow Ends. He is noted as an influence on several English composers, including Peter Warlock.[4]
Robert Allerton began inviting (or attracting) young male artists to stay with him at Monticello, perhaps thinking of his house, The Farms, as a kind of one-man MacDowell colony, where quietude and devoted companionship would prove amenable to the Muse. One of the first intended guests was Roger Quilter, to whom Allerton was introduced at the von Glehns' salon in the winter season of 1910-1911. Their relationship soon intensified - it would be the only homosexual one to which Quilter ever admitted - and Allerton implored his new lover to stay with him at The Farms in the coming summer months. "I want to go very much," Quilter revealed to Percy Grainger (another confidant - and possibly bel ami), "& yet I hate the idea of the journey - & I don't want to be away from you for very long." In the end, Quilter never followed Allerton to Monticello; their affair was short-lived. But it must have left a deep impression, for more than a decade later (in 1928), Quilter dedicated a new composition to Robert Allerton: a complex scoring (for tenor voice and piano) of one of Shelley's most ardent lyrics, "I Arise from Dreams of Thee."
Quilter enjoyed a fruitful collaboration with the tenor Gervase Elwes until the latter's death in 1921. In November 1936, Quilter's opera Julia was presented at Covent Garden by the British Music Drama Opera Company under the direction of Vladimir Rosing.
As a homosexual, he found it difficult to cope with some of the pressures which he felt were imposed upon him, and eventually deteriorated into mental illness after the loss of his nephew Arnold Guy Vivian during the Second World War.[5]
He died at his home in St John's Wood, London, a few months after celebrations to mark his 75th birthday, and was buried in the family vault at St Mary's Church, Bawdsey, Suffolk.[3]
---
My published books:


---
https://en.wikipedia.org/wiki/Roger_Quilter
Anesko, Michael. Henry James and Queer Filiation . Springer International Publishing. Edizione del Kindle.