Partner Paul Trachtenberg
Queer Places:
904 Washington Street, Wausau, Wisconsin
University of Wisconsin-Madison, 716 Langdon St, Madison, WI 53706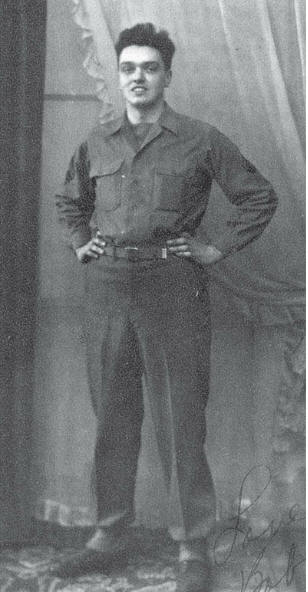 Robert Louis Peters (October 20, 1924 – June 13, 2014) was an American poet, critic, scholar, playwright, editor, and actor. He held a Ph.D in Victorian literature.[1] Born in an impoverished rural area of northern Wisconsin, Eagle River, in Vilas County, in 1924, his poetry career began in 1967 when his young son Richard died unexpectedly of spinal meningitis. The book commemorating this loss, Songs for a Son, was selected by poet Denise Levertov to be published by W. W. Norton in 1967, and it still remains in print. Songs for a Son began a flood of poetry.
After the war, he attended the University of Wisconsin on the GI Bill, majoring in English. He received his B.A. in 1948, his M.A. in 1949 and his doctorate in Victorian literature in 1952 from UW–Madison. His teaching career took him to Wayne State University, Boston University, Ohio Wesleyan University, the University of Idaho, the University of California, Riverside, and then the University of California, Irvine, where he first taught in 1967. His field of study was Victorian literature. In addition to publishing articles and monographs, he edited, with Herbert Schueller, the letters of John Addington Symonds. Peters received a Fulbright Fellowship to Cambridge, England in the 1960s to work on Symonds' letters. In 1965, he published The Crowns of Apollo, a scholarly study on Algernon Charles Swinburne.[2] After Peters' Songs for a Son was published, he devoted more time to the writing and study of contemporary poetry. Fellow poets Charles Wright and James McMichael and novelist Oakley Hall taught poetry at UC Irvine during this time and shared directorship of the university's Master of Fine Arts program.
He married in 1950 and had three children. Shortly after his divorce from his wife Jean, Peters met poet Paul Trachtenberg and established a relationship lasting more than 36 years.[7]
Peters was a prolific poet, having published some 30 books of poems, and he was an important critic of contemporary American poetry. In his controversial books of criticism — The Great American Poetry Bake-Off series, Peters Black and Blue Guides to Current Literary Magazines and Hunting the Snark: A Compendium of New Literary Terminology — he assessed more than 400 contemporary poets and critics. He also wrote poetry reviews for the Los Angeles Times. His Where the Bee Sucks: Workers, Drones & Queens of Contemporary American Poetry includes 35 essays on such major figures as Robert Bly, Charles Bukowski, Allen Ginsberg, John Ashbery, Diane Wakoski, Robert Creeley, Robert Duncan, Tess Gallagher and W. S. Merwin, as well as commentaries on the work of lesser-known poets. In the fall of 2001, the 40th volume of Peters's' Familial Love and Other Misfortunes was published. Peters has served as a contributing editor for The American Book Review, Contact II and Paintbrush.

Photo by Robert Giard, Rights Notice: Copyright Jonathan G. Silin (jsilin@optonline.net)

Robert Peters and Paul Trachtenberg, 1988, by Robert Giard
His poetry covers a wide range of themes and forms, from intensely personal volumes of private celebrations and losses — the death of a son, the break-up of a marriage, and his rural Wisconsin origins — to excursions into the psyches of a vast gallery of historical eccentrics, numbering among them, a Bavarian king, a Hungarian countess (and mass murderer) and a British romantic painter. The root of his interest in personae poetry goes back to his studies of Victorian poet Robert Browning. He adapted both King Ludwig II of Bavaria and Elizabeth Báthory,[5] the Hungarian Countess, for theatrical presentation, performing them around the country. His Poems: Selected & New includes a rich sampling of work written over the past 30 years, while collecting in a single volume many of Peters' best poems. Poet Diane Wakoski best describes his poetry, "The fascination with the dead, with the rotting, with pigs rooting into the earth, a poem about a primal scene in a root cellar, discovering sex and the underground, taboo, death-related experience — this is what all of Peters' poetry is about […] which gives it great originality and power."[3]
His acting career developed after countless poetry readings. Peters wanted to reach a larger audience with his poetry by transforming his personae poetry into theatrical monologues replete with memorized scripts, lighting, settings and sound tracks. He performed at Barnsdall Art Park in Los Angeles, at Carpet Company Theatre in Los Angeles, Fine Art Theatre at UCI, Provincetown's Summer Theatre, St. Matthews Church near Broadway, New York and many college campus venues. He took acting lessons from his colleague, Fine Arts Professor Robert Cohen, at University of California, Irvine. These performances are all well-documented in Peters' journals, video recordings, flyers, playbills, posters and scrapbooks, replete with reviews and photos, which are all housed and catalogued at UCSD Mandeville Special Collections Library.
Peters has written four memoirs of his days during the 1930s in the North Woods of Wisconsin. His last memoir was on the death of his third son, which took place in the 1950s. Thomas Keneally, author of Schindler's List, summarized Peters' second memoir, Nell's Story, by saying, "As a fascinating exercise in obscure lives retrieved, as a joint effort in painful and exultant memory, this rich memoir has the playful seriousness and inventive charm which characterizes the work of Robert Peters ...""[6] Memoirs and letters show that for soldiers from the North Woods of Wisconsin, gay life was vibrant during World War II. Among these resources is the 1995 memoir For You, Lili Marlene: A Memoir of World War II, by Robert Peters. The University of Wisconsin Press has published several of Peters's memoirs. In the same memoir, Peters writes, "The only homosexual I had earlier known well was Roy Kamen, a stocky senior at Wausau High School. . . . Craggily handsome, he wore his black hair swept up in a pompadour. He effused an outrageous humor. His general demeanor, while masculine, had a touch of the drag-queen." Kamen had even dressed in drag to crash the junior prom with Peters, where they did some dances together before watchful chaperones chased them out. Another notable aspect of Peters's experience in the military is that his military status was changed from infantryman to clerk typist by another clerk typist before his unit shipped out. According to Allan Bérubé, clerical positions often provided havens for gay soldiers and enabled them to do administrative favors for other gays. Peters also volunteered as a chaplain's assistant, another role Bérubé claims was commonly held by gay men in the service. Later, as a sergeant, Peters was attracted to a soldier named Danny Jackson, a lanky, "well-proportioned, sandy haired" man who dominated his fantasies. "I dreaded that the CO might order me to investigate Jackson as a 'queer' and 'undesirable,' " Peters recalled. "If that happened, my rational self would follow orders, even if it meant a dishonorable discharge [for Jackson]. What a hypocrite! While I hungered for Jackson, I felt self-hatred and vowed to God that I would never sin again." Despite the danger of discovery, Peters went along with Jackson to a lake near Heidelberg, Germany, where Jackson sunned and acquired a tan. The epilogue of For You, Lili Marlene describes the author's sexual restlessness back in Wisconsin on the family farm and his fantasies over the gay soldiers with whom he served: "Danny Jackson in Germany and Roland Stephan in England. . . . [When] I dreamed of love as tenderness, males were the object."
Peters has judged competitions for fellowships and prizes for small presses and for the Poetry Society of America and PEN International. He has enjoyed Guggenheim and National Endowment for the Arts fellowships, a Fulbright Scholarship, and won the Alice Fay di Castagnola Award of the Poetry Society of America.
Peters' papers from 1950–1990 are on deposit in the Kenneth Spencer Research Library at the University of Kansas. His working library of contemporary poetry, with related papers, is now in the Rare Book Collection at Bowling Green State University. His remaining archives have been obtained by the Geisel Library Special Collections at the University of California San Diego.
Peters received a distinguished alumni award from the UW–Madison Gay, Lesbian, Bisexual, and Transgender Alumni Council at the turn of the twenty-first century.
He died on June 13, 2014 in Irvine, California from natural causes at the age of 89.[8]
---
My published books:


---
Wagner, R. Richard. We've Been Here All Along . Wisconsin Historical Society Press. Edizione del Kindle.