Partner Cary Abbott
Queer Places:
Hotel Bristol, 500 5th Ave, New York, NY 10110
Grand Union Hotel, 29 Broadway, Saratoga Springs, NY 12866
Yale University (Ivy League), 38 Hillhouse Ave, New Haven, CT 06520
Harvard University (Ivy League), 2 Kirkland St, Cambridge, MA 02138
2 N Circular St, Saratoga Springs, NY 12866
Greenridge Cemetery, 17 Green Ridge Pl, Saratoga Springs, NY 12866
Edgar Montilion Woolley[1] (August 17, 1888 – May 6, 1963) was an American stage, film, radio, and television actor.[2] At the age of 50, he achieved a measure of stardom for his best-known role in the stage play and 1942 film The Man Who Came to Dinner. His distinctive white beard was his trademark and he was affectionately known as "The Beard."[3]
Woolley was born in New York in the old Hotel Bristol (Fifth Avenue and 42nd Street), one of several owned or managed by his father, William Edgar Woolley (1845-1927). His mother was Jessie Arms (1857-1927) and he grew up in the highest social circles. When Woolley was three years old, his father leased the legendary Grand Union Hotel in Saratoga Springs, where the likes of Lillian Russell, Diamond Jim Brady, and Victor Herbert spent the racing season. Woolley's stern father and indulgent mother provided him and his only brother, James, with a privileged upbringing. In adolescence, he toured Europe with his parents, prepared for college at the Mackenzie School in Dobbs Ferry, and entered Yale with the class of 1911.
Woolley received a bachelor's degree at Yale University, where Cole Porter was an intimate friend and classmate, and master's degrees from Yale and Harvard Universities.[4] He eventually became an assistant professor of English and drama coach at Yale.[5] Thornton Wilder and Stephen Vincent Benét were among his students. He served in World War I in the United States Army as a first lieutenant assigned to the general staff in Paris.[4][6]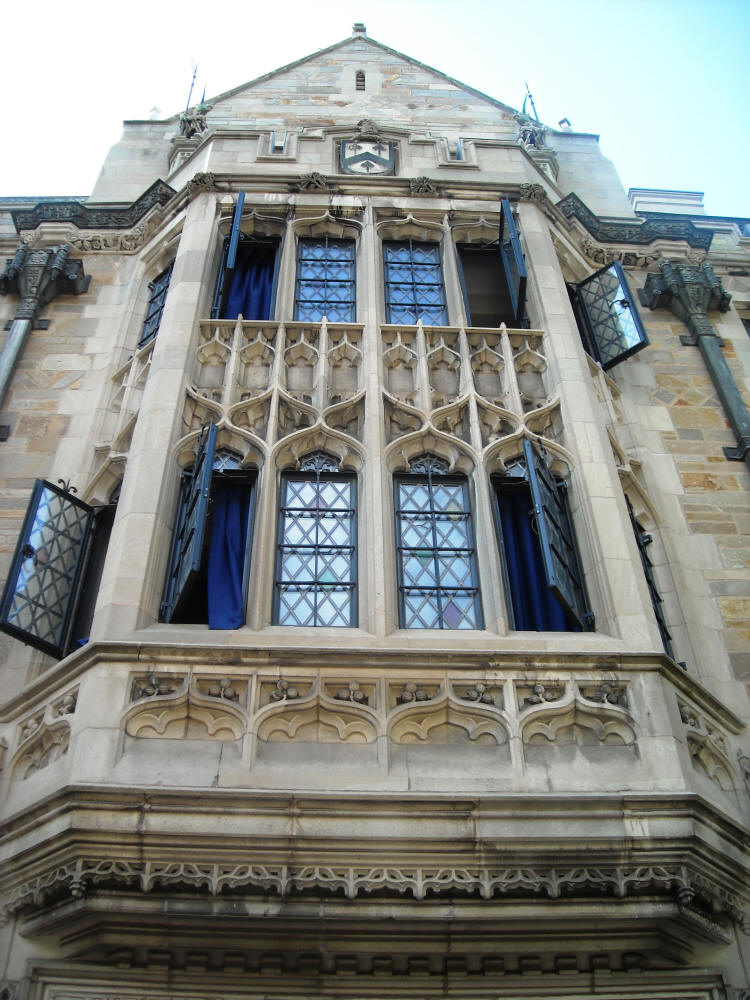 Yale University, New Haven, CT
Woolley and Cole Porter enjoyed many adventures together in New York and on foreign travels, although Porter reportedly disapproved of Woolley taking an African American man as his lover.[22] Woolley has been described in scholarly and other works as gay and closeted.[23][24][25]
Starting in 1939, Woolley was living with a homosexual companion, Cary Abbott, who had also graduated from Yale in 1911. Abbott was discreetly identified publicly as Woolley's "courier-secretary-traveling companion". In 1942, Woolley and Abbott moved in a house in Saratoga Springs, where they lived together until Abbott's death, at age 58, from lung cancer, in 1948.[26]
In 1939 George S. Kaufman and Moss Hart offered Woolley the leading role of Sheridan Whiteside in The Man Who Came to Dinner. During his two season with the production, Woolley lived most of the time at the Astor Hotel in a single room, "which was usually a horrid welter of letters, linen, and empty bottles." His only necessities, he said, were "a bed, a bathroom, and a telephone."
According to Bennett Cerf in his 1944 book Try and Stop Me, Woolley was at a dinner party and suddenly belched. A woman sitting nearby glared at him; he glared back and said, "And what did you expect, my good woman? Chimes?" Cerf wrote, "Woolley was so pleased with this line that he insisted it be written into his next role in Hollywood."[17][27]
In 1943, Alfred Hitchcock wrote a mystery story for Look magazine, "The Murder of Monty Woolley".[28]
On April 6, 1963, Woolley was taken to the Saratoga Springs Hospiral with heart problems, and two days later transferred to the Albany Hospital.[21] He died of complications from kidney and heart ailments on May 6, 1963, in Albany, New York, aged 74.[3] He is interred at the Greenridge Cemetery, Saratoga Springs, Saratoga County, New York.
---
My published books:


---
https://en.wikipedia.org/wiki/Monty_Woolley