Queer Places:
Stanford University, 450 Serra Mall, Stanford, CA 94305, Stati Uniti
University of Iowa, Iowa City, IA 52242, Stati Uniti
Iowa Writers' Workshop, 507 N Clinton St, Iowa City, IA 52245, Stati Uniti
Yale University, New Haven, CT
Michael Cunningham (born November 6, 1952)[1] is an American novelist and screenwriter. He is best known for his 1998 novel The Hours, which won the Pulitzer Prize for Fiction and the PEN/Faulkner Award in 1999. Cunningham is a senior lecturer of creative writing at Yale University.
Cunningham was born in Cincinnati, Ohio, and grew up in Pasadena, California. He studied English literature at Stanford University, where he earned his degree. Later, at the University of Iowa, he received a Michener Fellowship and was awarded a Master of Fine Arts degree from the Iowa Writers' Workshop. While studying at Iowa, he had short stories published in the Atlantic Monthly and the Paris Review. His short story "White Angel" was later used as a chapter in his novel A Home at the End of the World. It was included in "The Best American Short Stories, 1989", published by Houghton Mifflin.
In 1993, Cunningham received a Guggenheim Fellowship and in 1988 a National Endowment for the Arts Fellowship. In 1995 he was awarded a Whiting Award. Cunningham has taught at the Fine Arts Work Center in Provincetown, Massachusetts, and in the creative writing M.F.A. program at Brooklyn College. He is a senior lecturer of creative writing at Yale University.
The Hours established Cunningham as a major force in U.S. writing, and his 2010 novel, By Nightfall, was also well received by U.S. critics.[2] Cunningham edited a book of poetry and prose by Walt Whitman, Laws for Creations, and co-wrote, with Susan Minot, a screenplay adapted from Minot's novel Evening. He was a producer for the 2007 film Evening, starring Glenn Close, Toni Collette, and Meryl Streep.
In November 2010, Cunningham judged one of NPR's "Three Minute Fiction" contests.[3]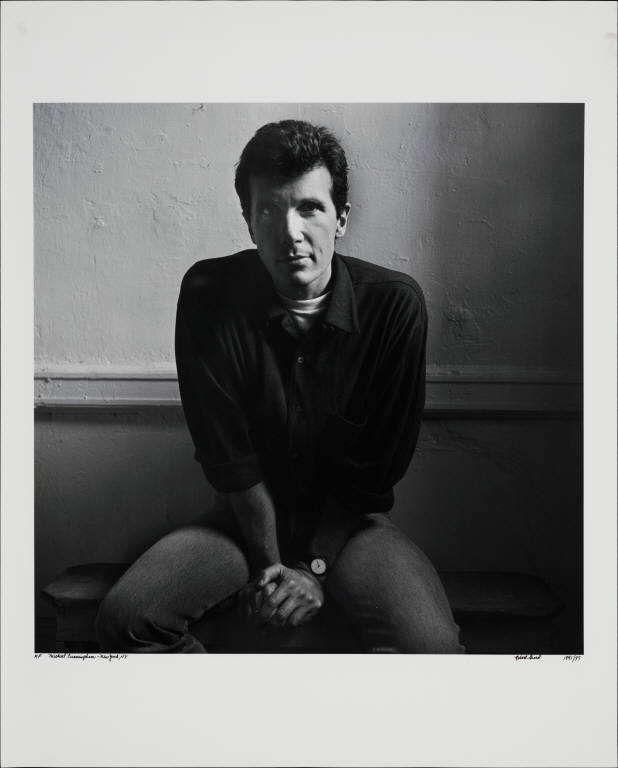 Featured in Particular Voices: Portraits of Gay and Lesbian Writers by Robert Giard [Rights Notice: Copyright Jonathan G. Silin (jsilin@optonline.net)]

Yale University, New Haven, CT

Stanford University, Palo Alto, CA
Although Cunningham is gay and was in a long-term domestic partnership with psychoanalyst Ken Corbett,[4] he dislikes being referred to as a gay writer, according to a PlanetOut article.[5] While he often writes about gay people, he does not "want the gay aspects of [his] books to be perceived as their single, primary characteristic."[6] Several years ago, Cunningham wanted to walk away from his life. 'I just couldn't do it because I love Kenny too much,' he says, referring to psychologist Ken Corbett, his lover since 1986. Plus, says Cunningham, he accepted he was a writer for life, though he acknowledges, 'There's always the possibility that I could become a jeweler.'
---
My published books:

---
https://en.wikipedia.org/wiki/Michael_Cunningham