Queer Places:
Mona View, Main St, Bakewell Rd, Over Haddon, Bakewell DE45 1HY, UK
University of Oxford, Oxford, Oxfordshire OX1 3PA
Marsham Court, London SW1P 4JY, UK
St Anne Churchyard Over Haddon, Derbyshire Dales District, Derbyshire, England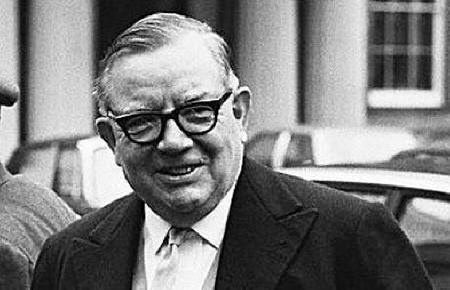 Sir Maurice Oldfield GCMG CBE (16 November 1915 – 11 March 1981) was a British intelligence officer and espionage administrator.[1][2] He served as the seventh director of the Secret Intelligence Service (MI6), from 1973 to 1978. The item on 'Homosexuality' in Norman Polmar and Thomas B. Allen's generally reliable Encyclopedia of Espionage (1998) names just nine homosexual men and one bisexual: Alfred Redl, Guy Burgess, the bisexual Donald Maclean, Anthony Blunt, Alan Turing, James A. Mintkenbaugh, William Martin, Bernon Mitchell, John Vassall and Maurice Oldfield. The last-named had to resign his position as co-ordinator of UK security and intelligence in Northern Ireland after he was found to be homosexual; there was no suggestion that in his previous incarnation as Director General of MI6 he ever spied for anyone but his own Whitehall masters.
Oldfield was born on 16 November 1915 at his grandmother's farm just outside Youlgrave, a village in Derbyshire. He grew up at a house called Mona View in Over Haddon. He was the first of 11 children of Joseph Oldfield, tenant farmer, and his wife, Ada Annie Dicken. He was educated at Lady Manners School at the nearby market town of Bakewell, before winning a scholarship to the Victoria University of Manchester. There, he studied under the historian A. J. P. Taylor[3] and specialised in medieval history. He graduated with a first class degree and was elected to a fellowship.
During the Second World War Oldfield joined the British Army. He was commissioned as a second lieutenant in the Intelligence Corps in July 1943.[4] Most of his wartime service was in Egypt at the headquarters of SIME (Security Intelligence Middle East) in Cairo. This was primarily a counter-intelligence organisation, the role of which was to detect hostile agents in the region and counter their activities.[5] By the end of the war, Oldfield had been promoted to major. In 1946, he was awarded an MBE.[6]
After the war, Oldfield joined the Secret Intelligence Service (SIS), commonly known as MI6. From 1947 to 1949, he was deputy to Brigadier Douglas Roberts, the head of counter-intelligence, with whom he had served in Egypt during the war. After two postings to Singapore (the first as deputy head, the second as head of the SIS regional headquarters) he was appointed a CBE. From 1959, he spent four years as the SIS representative in Washington, D.C. This was a key post, important for the maintenance of good relations between the SIS and the Central Intelligence Agency. On his return, he became director of counter-intelligence and deputy to the Chief of the Secret Intelligence Service Sir Dick White. Oldfield was passed over for promotion when Sir John Rennie succeeded White in 1968. He eventually became director when Rennie resigned in 1973; he held this post until his retirement in 1978. After retiring from the MI6, Oldfield was a Visiting Fellow at All Souls College, Oxford until 1979.[7] Oldfield lived at Marsham Court, an apartment building in Millbank in the City of Westminster from the early 1970s until his death in 1981.[8] A large explosive device was discovered by officers from Special Branch hanging on railings outside Marsham Court on 13 October 1975. The bomb was near Lockett's restaurant which was directly under Oldfield's flat.[9] In 1979 the new prime minister, Margaret Thatcher, asked Oldfield to coordinate security and intelligence in Northern Ireland. Oldfield died in March 1981; he is buried in Over Haddon.[10]
Oldfield was reputedly one of the models for John le Carré's fictional character George Smiley, though Le Carré disputes this.[11] In his memoir The Pigeon Tunnel: Stories from My Life Le Carré describes a lunchtime meeting between Oldfield, himself and Alec Guinness; this was intended to provide the actor with a sense of the manner and appearance of an "old spy in retirement".[12]
After his retirement as Chief of the SIS, it emerged that Oldfield was homosexual, resulting in his security clearance being withdrawn shortly before his death in 1981.[15]
---
My published books:


---
Woods, Gregory. Homintern . Yale University Press. Edizione del Kindle.