Partner Margot Asquith, Verna Aldrich
Queer Places:
Holford House, Avenue Road & Outer Cir, St John's Wood, London NW1 4RT, UK
Valhalla Memorial Park Cemetery, 10621 Victory Blvd, North Hollywood, CA 91606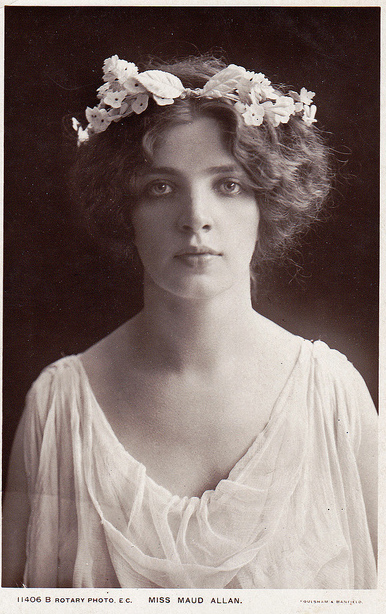 Maud Allan (27 August 1873 – 7 October 1956) was a pianist-turned-actress, dancer and choreographer who is remembered for her "impressionistic mood settings". Maud Allan's reputation was compromised by her intimate friendship with Margot Asquith's wife, who was rumoured to be part of a lesbian clique. Margot Asquith paid for Maud Allan's apartment overlooking Regent Park, for twenty years, from 1910 onwards and Maud Allan continued to live there in the 1930s with her secretary and then lover, Verna Aldrich.
Allan was born as Beulah Maude Durrant in Toronto, Ontario, Canada. Sources give contradictory dates for her year of birth, ranging from 1873 through 1880. She spent her early years in San Francisco, moving to Germany in 1895 to study piano at the Hochschule für Musik in Berlin. She later changed her name, prompted in part by the scandal surrounding the crimes committed by her brother, Theodore Durrant, who was hanged in 1898 for the murder of two women in San Francisco. Allan never recovered from the trauma of this event. The execution was immediately followed by her abandonment of piano-playing and the development of a new means of self-expression in dance.[1]
In 1900, in need of money, Allan is said to have illustrated an encyclopaedia for women titled Illustriertes Konversations-Lexikon der Frau.[2] Shortly thereafter, she began dancing professionally. Although athletic, and having great imagination, she had little formal dance training. She was once compared to professional dancer and legend Isadora Duncan, which greatly enraged her, as she disliked Duncan.[3]
She designed and often sewed her own costumes, which were creative. In 1906 her production Vision of Salomé opened in Vienna. Based loosely on Oscar Wilde's play, Salomé, her version of the Dance of the Seven Veils became famous (and to some notorious) and she was billed as "The Salomé Dancer". Her book My Life and Dancing was published in 1908 and that year she toured England, giving 250 performances in under a year.[3]
In 1910, she left Europe to travel. Over the next five years she visited the United States, Australia, Africa, and Asia. In 1915 she starred as "Demetra" in the silent film, The Rug Maker's Daughter.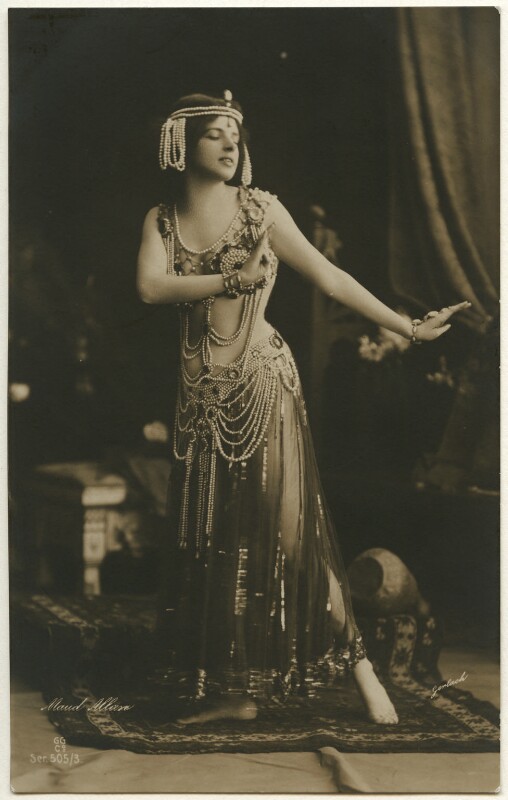 Maud Allan as Salome
In 1918 the British MP Noel Pemberton Billing, in his own journal, Vigilante, published an article, "The Cult of the Clitoris" which implied that Allan, then appearing in her Vision of Salome, was a lesbian associate of German wartime conspirators.
Allan sued Billing for libel, based on the following counts:
The act of publishing a defamatory article about Maud Allan and J. T. Grein, her impresario.
The act, a separate offence, of including obscenities within the article.
This led to a sensational court case, at which Billing represented himself. Lord Alfred Douglas also testified in Billing's favour. Allan lost the case. The trial became entangled in obscenity charges brought forth by the state against the performance given by Allan in her dance. She was accused of practising many of the sexually charged acts depicted (or implied) in Wilde's writings herself, including necrophilia.
At this time, the Lord Chamberlain's ban on public performances of Wilde's play was still in place in England, and thus the Salomé dance was at risk. Her brother's crimes were also cited to suggest there was a background of sexual insanity in her family.
From the 1920s on, Allan taught dance and lived with her secretary and lover, Verna Aldrich. [3] Allan died in Los Angeles in 1956 aged 83.
---
My published books:


---
https://en.wikipedia.org/wiki/Maud_Allan
A Lesbian History of Britain: Love and Sex Between Women Since 1500, Rebecca Jennings, Greenwood World Pub., 2007
Rossini, Gill. Same Sex Love 1700-1957: A History and Research Guide . Pen and Sword. Edizione del Kindle.
Woods, Gregory. Homintern . Yale University Press. Edizione del Kindle.