Wife Violet Gordon-Woodhouse, Partner William Reginald Shute, 10th Viscount Barrington
Queer Places:
Charterhouse School, Charterhouse Rd, Godalming, Surrey GU7 2DX, UK
University of Cambridge, 4 Mill Ln, Cambridge CB2 1RZ
Wootton Manor, Long Man, Wealden, East Sussex, BN26 6RP
6 Upper Brook St, Mayfair, London W1K 6PA, UK
9 Park Pl, St. James's, London SW1A, UK
Southover Grange, Southover High St, Lewes BN7 1TP, UK
37 Ovington Gardens, Chelsea, London SW3 1LZ, UK
Armscote House, Armscote, Stratford-upon-Avon CV37 8DQ
Nether Lypiatt Manor, Lypiatt, Stroud GL6 7LS, UK
St Peter ad Vincula Churchyard Folkington, Wealden District, East Sussex, England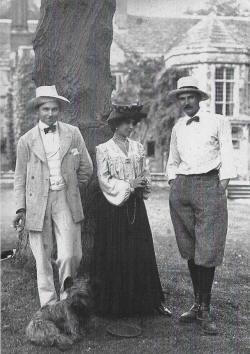 John Gordon-Woodhouse (February 16, 1871 – April 15, 1951) was born in Everton, Metropolitan Borough of Liverpool, Merseyside, and died in Stroud, Stroud District, Gloucestershire.
Gordon-Woodhouse was born into a very wealthy family of wine merchants. His father, John George Woodhouse, of Bronte, Liverpool, and Burghilf Court, Herefordshire, son of Louis Anthony Woodhouse, created the popular fortified wine marsala.[31] John Gordon was educated at Charterhouse School and Pembroke College, Cambridge.
In 1895 at a party hosted by Rupert Gwynne, one of his university friends, he met Violet Gwynne. Gordon and Violet married soon after on the 30th July 1895, at St Andrew's Church, Wells Street in London. It was a mariage blanc. She persuaded him to adopt the hyphenated surname Gordon-Woodhouse.[8] His reasons for entering into the marriage are unclear. In 1899, William Reginald Shute, 10th Viscount Barrington (heir to a viscountcy) moved into the marital house, joined later by Max Labouchere and Dennis Tollemache. This arrangement was referred to in society circles as the "Woodhouse circus".
Soon after the marriage the pair moved to London, at 6 Upper Brook Street, and Violet got Gordon to officially change his name to (John) Gordon Gordon-Woodhouse, so that she could call herself Mrs Violet Gordon-Woodhouse. Around this time they also took on the leasehold for Wootton Manor, East Sussex, from Violet's father, this served as a retreat for Gordon from the hustle and bustle of London.
In 1899 the Hon. William Reginald Shute Barrington fell in love with Violet and moved into the marital home. Bill, as he was known, was very handsome and one of the most eligible bachelors in the country when he fell for Violet. The arrangement started discreetly with Bill visiting Gordon and Violet at Wootton, but it soon became obvious that the trio, especially Bill and Violet, were inseparable. At the turn of the century, Gordon and Violet moved houses, both in the countryside and London; Southover Grange, near Lewes; and 9 Park Place, just of St James'.
Southover Grange in Lewes, Sussex is a house of historical significance and is Grade II* listed on the English Heritage Register.[1] It was built in 1572 by William Newton and owned by this family for the next three hundred years. The house was sold in 1878 to Joseph Thorne (1823–1885) a retired merchant who previously lived in Shanghai.[27] He was born in 1823 in London. In 1856 he married Isabel Jane Pryer (1834–1910). Joseph Thorne died in 1885 and Isabel continued to live at Southover Grange until 1901 when she sold the house to John Gordon-Woodhouse. Gordon-Woodhouse and his wife had a house in London as well as owning Southover Grange where they often entertained large groups. They sold the house in 1907 and it was bought by Emily Stewart-Jones who was a wealthy widow.[32]
By the 1920s, Violet and Gordon acquired Nether Lypiatt Manor in Gloucestershire, where they lived with Barrington (known as "Bill"). Finances improved after Gordon received an inheritance in 1926. After Violet's death in 1948, aged 75, the two men remained at Nether Lypiatt until 1951, when Gordon died.[11]


Violet-with-Gordon-Bill-and-Max-taken-by-Dennis-at-Armscote
In time when Gordon and Bill died their names were added to the headstone of Violet at at St Peter ad Vincula Churchyard, Folkington, but they were cremated and their ashes scattered over the South Downs nearby, originally Bill wanted his name directly below Violet and above Gordon on the headstone, but Violet's nephew John saw that Gordon remained in the top spot under Violet.
---
My published books:


---
https://en.wikipedia.org/wiki/Violet_Gordon-Woodhouse
https://womenofeastbourne.co.uk/wp-content/uploads/2017/08/Violet-Gordon-Woodhouse-the-full-story.pdf