Partner Kenward Elmslie
Queer Places:
Dayton Art Institute, 456 Belmonte Park N, Dayton, OH 45405, Stati Uniti
8 Greene St, New York, NY 10013
Poet's Corner, Calais, VT 05648, Stati Uniti
Joe Brainard (March 11, 1942 – May 25, 1994) was an American artist and writer associated with the New York School. His prodigious and innovative body of work included assemblages, collages, drawing, and painting, as well as designs for book and album covers, theatrical sets and costumes. In particular, Brainard broke new ground in using comics as a poetic medium in his collaborations with other New York School poets. He is best known for his memoir I Remember, of which Paul Auster said: "It is . . . one of the few totally original books I have ever read."[1]
Joe Brainard was born March 11, 1942, in Salem, Arkansas, and spent his childhood in Tulsa, Oklahoma. He is the brother of painter John Brainard.
Brainard became friends with Ron Padgett, Dick Gallup, and Ted Berrigan during high school while working on the literary journal The White Dove Review, which was printed five times during 1959/1960. The 18-year-old Brainard joined the journal as its art editor after fellow Central High classmate Padgett sent Brainard an anonymous Christmas card praising his work.
After high school, the artist re-united with the White Dove boys in New York City shortly after leaving the Dayton Art Institute.[2][3]
By 1964, Brainard had already had his first solo exhibition and was ensconced in a circle of friends that included Frank O'Hara, Kenneth Koch, Alex Katz, Edwin Denby, Larry Rivers, Fairfield Porter, James Schuyler, Jane Freilicher, Virgil Thomson, John Ashbery, among many others. He also began a relationship with Kenward Elmslie which lasted much of his life, despite having other lovers. He found much success as an artist, until he removed himself from the art-world in the early 1980s. He devoted the last years of his life to reading.
Brainard died of AIDS-induced pneumonia May 25, 1994.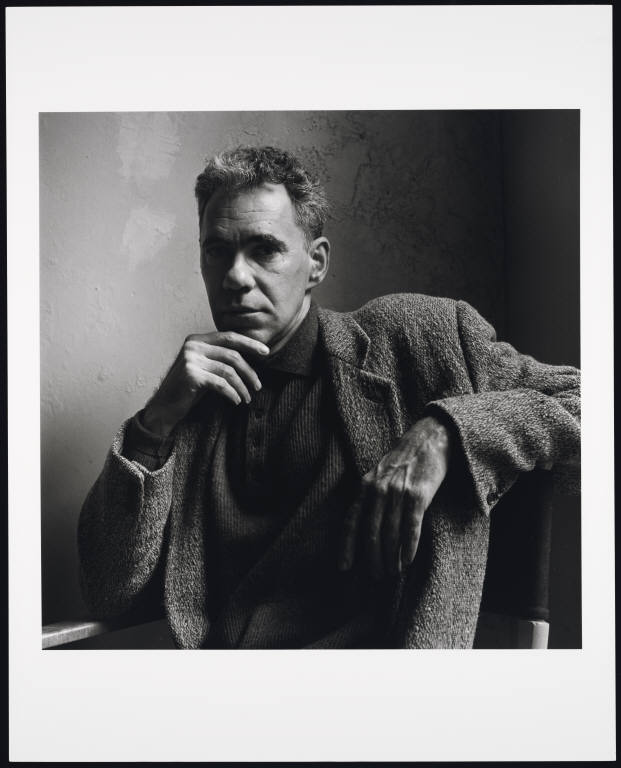 Photo by Robert Giard, Rights Notice: Copyright Jonathan G. Silin (jsilin@optonline.net)

JOE BRAINARD and FRANK O'HARA I"m Not Really Flying, I'm Thinking 1964 collage and ink on paper 10 x 8 inches Collection Bill Berkson and Connie Lewallen, San Francisco

JOE BRAINARD (Untitled (Rain) Illustration for "The Vermont Notebook" by John Ashbery c.1964 ink on paper 9 x 6 inches

JOE BRAINARD and FRANK O'HARA I Grew This Mustache... 1964 collage and ink on paper 12 x 9 3/4 inches Collection Bill Berkson and Connie Lewallen, San Francisco

Poets Dressed and Undressed, two panels portraying Joe Brainard, Frank O'Hara, Joe LeSueur and Frank Lima, by Wynn Chamberlain
---
My published books:

---
Hidden Histories, 20th Century Male Same Sex Lovers in the Visual Arts, by Michael Petry