Partner Nananne Porcher, Marion J. "Mickey" Kinsella
Queer Places:
Yale University (Ivy League), 38 Hillhouse Ave, New Haven, CT 06520
Parsons School of Design, 66 5th Ave, New York, NY 10011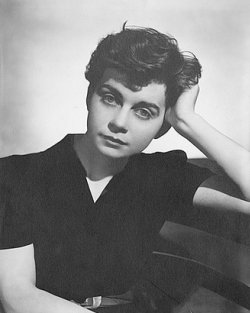 Jean Rosenthal (born Eugenia Rosenthal; March 16, 1912 – May 1, 1969) is considered a pioneer in the field of theatrical lighting design.
She was born in New York City to Romanian-Jewish immigrants, Dr Pauline Rosenthal, a psychiatrist, and Dr Morris Rosenthal, an ear, throat and nose specialist.[1][2] She studied at the Manumit School in Pawling, NY, and at the Friends Seminary in Manhattan. She went to the Yale School of Drama and to the Parsons School of Design to study lighting.
In the early part of the 20th century, the lighting designer was not a formalized position. Rather the set designer or electrician handled the lighting of a production. Rosenthal helped make the lighting designer an integral member of the design team.[1] She also said that lighting "was a career in itself".[3] As well as particular lighting innovations, she created an atmosphere specific to the production, and she was in demand as a Broadway lighting designer.[4]
In 1929, she was introduced to Martha Graham at the Neighborhood Playhouse School of the Theatre. She became Graham's technical assistant, which led to a lifelong collaboration with Graham. She worked with Graham on 36 productions.[5] Rosenthal studied lighting design at the Yale School of Drama from 1931 to 1934 with Stanley McCandless.[2] She returned to New York City, where she joined the Federal Theatre Project in 1935. This led to collaborations with Orson Welles and John Houseman. She would later follow Welles to the Mercury Theatre,[2] where she was credited as a member of the board in addition to production and lighting manager, although not as lighting designer.
When Houseman and Welles were fired from the project following the controversy surrounding the production of Marc Blitzstein's The Cradle Will Rock, Rosenthal (who played a key role in the event) joined them in 1937 as technical director for the Mercury Theatre venture. In 1940 Rosenthal also opened a firm called Theatre Production Service, offering complete design services for shows and theatres. Her partners in this venture were two Yale Drama School friends, Helen Marcy and Eleanor Wise. When Lincoln Kirstein and George Balanchine formed the Ballet Society in 1946, Rosenthal was hired as technical supervisor and lightining designer, positions she retained when the venture was rechristened the New York City Ballet in 1948 and which she heeled until 1957.
Rosenthal was lighting designer for hundreds of productions, including numerous Broadway shows, Martha Graham's dances, the New York City Ballet, and the Metropolitan Opera. On Broadway she lit musicals such as West Side Story (1957), The Sound of Music (1959), Take Me Along (1959), A Funny Thing Happened on the Way to the Forum (1962), Fiddler on the Roof (1964), Hello, Dolly! (1964), Cabaret (1966), and The Happy Time (1968).
Rosenthal shared long-term domestic living arrangements with two women, Nananne Porcher and Marion J. "Mickey" Kinsella. In a 1956 New Yorker profile story, it is mentioned that she was sharing an apartment with Nananne Porcher. Porcher, hired in the early days of the Theatre Production Service (TPS), is described as having become Rosenthal's "invaluable stage manager for ballet and opera" (and later resident lightining designer for the American Ballet Theatre and president of Jean Rosenthal Associates). It is also mentioned that Rosenthal "shared a house with Marion J. "Mickey" Kinsella (an independent artist and sculptor, Rosenthal's on the job lighting assistant, and the artist who illustrated The Magic of Light) on Martha's Vineyard, Rosenthal's favorite retreat from the stresses of work and the city. Kinsella was Rosenthal's primary caregiver following a cancer operation in 1968.
Some of her major contributions were the elimination of shadows by using flood lights from upstage positions and controlling angles and mass of illumination to create contrasts without shadows.[6] "Some of the signature lighting she did for Balanchine and the diagonal shaft of light she created for Graham (lovingly referred to by her as "Martha's Finger of God"), are now in such widespread use by dance companies of every style that they have become standards of the lighting repertoire."[7]
Jean Rosenthal's book, The Magic of Light: The Craft and Career of Jean Rosenthal, Pioneer in Lighting for the Modern Stage, was published posthumously in 1972. Lael Wertenbaker assembled the book, a long-running project between her and Rosenthal, from tape-recorded dictation sessions.[8] The book begins with an autobiography, and goes on to detail the history of illumination, and methods for lighting plays, musicals, operas, and the house. It later details theatrical lighting equipment in use at the time of its publication. The Magic of Light concludes with samples of Rosenthal's paperwork (light plots, hookups, and focus charts), and a list of her lighting credits.[9]
On May 1, 1969, she died of cancer at the age of 57.
---
My published books:


---
The Gay & Lesbian Theatrical Legacy: A Biographical Dictionary of Major Figures in American Stage History in the Pre-Stonewall Era Professor Emeritus Robert A Schanke University of Michigan Press, 2005