Queer Places:
University of Cambridge, 4 Mill Ln, Cambridge CB2 1RZ
29 Devonshire St, Marylebone, London W1G 6PU, UK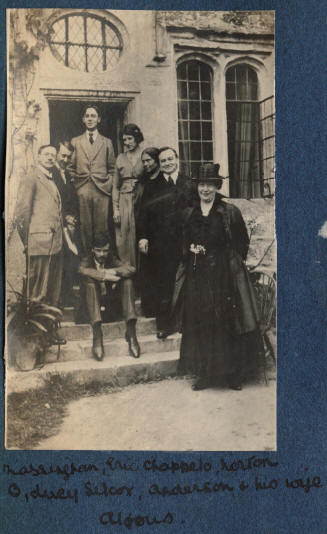 Henry Tertius James "Harry" Norton (November 6, 1886 - June 22, 1937) was a brilliant mathematics fellow at Trinity College, Cambridge, who became a close friend of Lytton Strachey, who made him the dedicatee of Eminent Victorians. Norton fell deeply in love with James Strachey but his feelings were not returned as James was equally passionate about Rupert Brooke, who did not feel the same way about him. In later years they drifted apart, possibly due to medical reasons, as by 1920 he had been diagnosed with hypomania, which turned into severe depression. Virginia Woolf, in Moments of Being, describes Norton as the essence of Cambridge - "so able, so honest, so ugly, so dry". Having never attained the fame of others in the Bloomsbury circle, Norton suffered a nervous collapse in 1920 and welcomed an early retirement.
The Bloomsbury people were as incestuous as most other such groups. S. P. Rosenbaum gets into trouble in his introduction to Lytton Strachey's "Monday, June 26th 1916," his attempt at stream of consciousness. On that day Lytton visiting Wissit, a farmhouse that Duncan Grant's aunt had left him, in which he and Bunny (David Garnett) were avoiding conscription into the army by farming fruit. With Lytton was Harry Norton, a Cambridge friend and former suitor of Vanessa Bell, who had followed Duncan there with her two young boys, Quentin and Julian, (Duncan, who had rejected her in favor of Lytton now preferred Bunny.) Vanessa's daughter Angelica, not yet born, later married or was married to Bunny, a mistake she complains about convincingly in her Deceived with Kindness.
Harry Norton was the son of Henry Turton Norton, a wealthy solicitor who lived at Kentwell Hall in Long Melford. A younger sister was Jane Elizaberth "Lucy" Norton. Before James Strachey died he gave to Lucy Norton her brother Harry's letters to himself and Lytton Strachey. Leonard Woolf advised her against publishing them. "My main reason is that they are so much about intimate psychological small beer that except for the interest in buggery I cannot imagine their being of interest to or even understandable by the general reader." He found them hard to read himself, even though he knew everyone involved intimately. They were all dominated by the "semi-real, semi-unreal personal drama which at that time largely owing to Lytton was imposed upon Cambridge personal relations."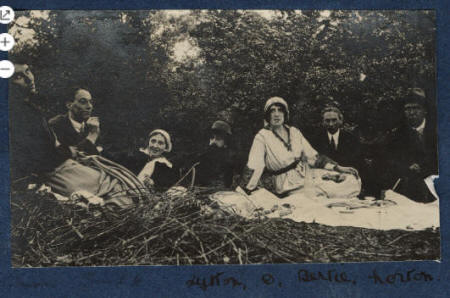 'Picnic in the woods' (Faith Marion Jane Henderson (nee Bagenal) (born 1889), Wife of Sir Hubert Douglas Henderson; Sir Hubert Douglas Henderson (1890-1952), Economist; Lady Ottoline Morrell (1873-1938), Patron of the arts; half-sister of 6th Duke of Portland; wife of Philip Edward Morrell; Henry Tertius James Norton (1886-1937), Mathematician; Bertrand Arthur William Russell, 3rd Earl Russell (1872-1970), Philosopher and social reformer; (Giles) Lytton Strachey (1880-1932), Critic and biographer; son of Sir Richard Strachey) by Unknown photographer vintage snapshot print, September 1915 2 1/4 in. x 3 7/8 in. (58 mm x 100 mm) image size Purchased with help from the Friends of the National Libraries and the Dame Helen Gardner Bequest, 2003 Photographs Collection NPG Ax140441
---
My published books:

---
LOT:301 | Brooke (Rupert).- Mallory (George Herbert Leigh).- Norton (Henry Tertius James) 35 Autograph Letters signed, some initials, and 3 cards from Norton to James Strachey, 6 printed invitation cards to Cambridge Conversazione Society dinners (The Apostles), 1905 -1914, with numerous references to Rupert Brooke, nicknamed the Rajah and George Mallory (c. 48 pieces). (forumauctions.co.uk)
Friends and Apostles: The Correspondence of Rupert Brooke and James Strachey, 1905-1914 Rupert Brooke, James Strachey Yale University Press, Jan 1, 1998