Partner Helena Born
Helen Tufts Bailie (January 9, 1874 – May, 1962) was a social reformer and activist. Tufts is known as outing the Daughters of the Revolution for having a blacklist about individuals and organizations, in 1928. This controversy led Tufts to be banned from the organization and to become an advocate for women's, labor, and social rights. In 1890 Helena Born, Miriam Daniell and Robert Nicol moved from Bristol, England, to Cambridge, Massachusetts, partly driven by local horror at Miriam's unmarried pregnancy and frustrated by opposition to labour organisation. They encountered the very different character of American radicalism, which was more individualistic and anarchistic than British collectivist socialism. Robert was attracted to anarchism and Edward Carpenter's ideas of alternative rural living. They moved to the wilds of California, until Miriam died. Helena returned to Massachusetts, enmeshing herself once more in industrial action and other causes. Lonely after Miriam's death, she met Helen Tufts. Helen's father was a Unitarian minister, her mother a suffragist who disapproved of socialism and ideas of free love which Helen, initially doubtful, had learned from Helena. She remained shocked by homosexuality and dubious about 'darkies', but they stayed close. Helena formed another relationship, with William Bailie, originally from Belfast, where he was apprenticed in basket-making. Among Unitarians in Manchester, England, he discovered secularism, socialism and anarchism. He had migrated with his family to Boston, Massachusetts, joining individualist, anarchist circles. After his marriage failed, he and Helena became lovers. William, and increasingly Helena, became pessimistic that their ideals would be fulfilled and committed to practical social reform, which included campaigning successfully to persuade Boston city council to improve social conditions. Helena also focused on suffrage. William later married Helen and they continued campaigning for reforms on birth control, for peace and against extreme anti-socialism.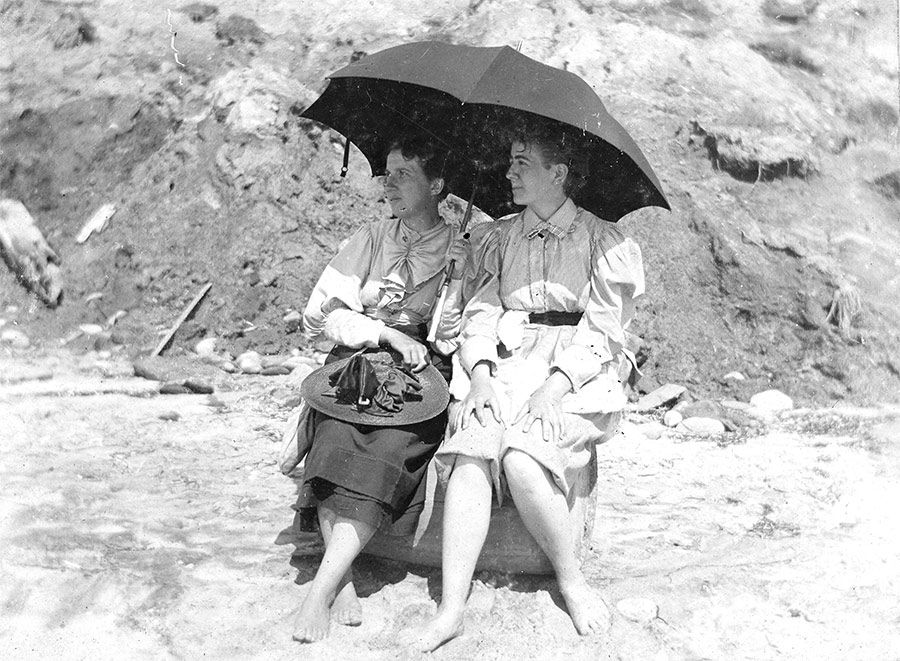 Helena Born and Helen Tufts
Helen Matilda Tufts was born in Newark, New Jersey in 1874. Her father was a Unitarian minister and her mother was a suffragist.[1] In 1875, the family moved to Massachusetts, where Helen would graduate from Cotting High School in Lexington in 1892.[2] After graduation, she worked as a proofreader and typesetter at Riverside Press. She then moved on to be a secretary at Houghton Mifflin in Boston. In April 1895 she met Helena Born, a writer, anarchist, and labor organizer. Born became a major influence on Tufts' lifestyle and activities; Tufts became vegetarian, acquired an interest in the writing of Walt Whitman, and became active in dress reform, anarchism, communism, and socialism.[2]
In 1915 Tufts would join the Anne Adams Tufts chapter of the Daughters of the American Revolution (DAR). In 1927 she discovered that the DAR maintained lists of "doubtful speakers." These lists included the organizations such as the National Federation of Women's Clubs, the American Peace Society, and individuals like Jane Addams, William Allen White and Mary Wooley. After investigating, she made the lists public in February 1928.[2] In March 1928 she wrote a pamphlet called "Our Threatened Heritage" to protest the blacklists. Fifteen DAR members, called the Committee on Protest and headed by Bailie, signed the pamphlet and helped to distribute it throughout the United States. Both members and officers of three greater Boston area chapters were involved in the group.[3] At the annual DAR Congress in Washington, D.C., Tufts was accused of "disturbing the harmony" of the DAR organization and harming its reputation, after the pamphlet distributions and her persistence pushing for an explanation about the blacklists. One year later she failed to appeal for reinstatement in DAR.[2]
Through Born, Tufts met William Bailie, originally from Belfast, who lived in and owned a vegetarian restaurant co-op.[2][1] Born and Bailie were romantically involved.[4] In January 1901 Born was diagnosed with uterine cancer and died later that month. Bailie and Tufts lived together starting in the fall of 1901, and in October 1908 the two married. Bailie started a basket weaving business, which he ran until his retirement in 1946. The couple would have two children: daughter Helena Isabel, born in 1914, and son Terrill (nicknamed Sonny), born in 1916. The latter would die of spinal meningitis at age 3.[2]
After Tufts struggles with DAR and the blacklisting controversy, she continued to be active in the early women's movement and social movements. She formed a letter writing campaign to legalize birth control and in 1935, Tufts organized a campaign against legislation requiring Massachusetts teachers to take an oath affirming the United States and state constitutions.[2] In 1947, Tufts and Bailie moved to Nantucket. The couple would move again in 1954 due to Tufts deteriorating eyesight and Bailie's Alzheimer-like symptoms, moving to Yellow Springs, Ohio to live with their daughter and her husband, Water Jolly. In 1956 Tufts book, Darling Daughter, a satire about the DAR blacklists and the red scare, was published.
In May 1957 William Bailie would die in a nursing home. Tufts moved to Miami, Florida in 1958 and later to Ft. Lauderdale. She would die in 1962.[2]
Sheila Rowbotham's Rebel Crossings: New Women, Free Lovers, and Radicals in Britain and the United States is an account of the activist life of Tufts, along with William Bailie (her husband), Helena Born, Miriam Daniell, Gertrude Dix, and Robert Nicol.[5]
---
My published books:

---
https://www.historytoday.com/reviews/more-free-love-and-sandals