Partner Miriam Daniell, Helen Tufts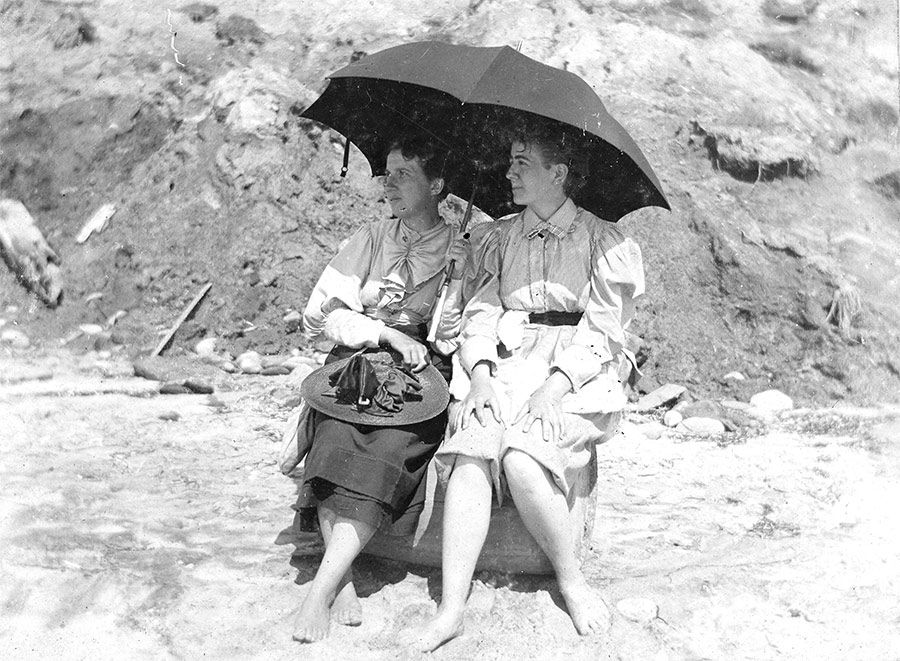 Helena Born (May 11, 1860 – February 27, 1901) was a labor organizer, anarchist, (Walt) Whitmanite, and writer. Born grew up in a middle-class family, well-educated and aspiring to go to college, but this did not happen. In 1876, aged 16, she moved with her family to Bristol, then a centre of radical ferment. Her passions already aroused by the Romantic poets, she was inspired by women campaigning against the Contagious Diseases Acts and joined the largely working-class Bristol Socialist Society. Here she met one of the society's favoured speakers, Edward Carpenter. Influenced by ideas of natural selection, Helena abandoned Christianity. She became a skilled public speaker and joined the Bristol Women's Liberal Federation, campaigning for women's suffrage, gender equality and multiple other causes. She settled in the slums of Bristol to organise reform. She became close friends with another 'rebel', Miriam Daniell. From a prosperous family, Miriam was unhappily married to a respectable solicitor. She joined the socialists and women Liberals in Bristol. Later she met Robert Allen Nicol, son of a shopkeeper, radicalised at Edinburgh University. She brought him to Bristol, where he became secretary of the militant new Gas Workers and General Labourers' Union. She left her husband and they shared Helena's 'slum' house. In 1890 all three moved to Cambridge, Massachusetts, partly driven by local horror at Miriam's unmarried pregnancy and frustrated by opposition to labour organisation. They encountered the very different character of American radicalism, which was more individualistic and anarchistic than British collectivist socialism. Robert was attracted to anarchism and Carpenter's ideas of alternative rural living. They moved to the wilds of California, until Miriam died. Helena returned to Massachusetts, enmeshing herself once more in industrial action and other causes. Lonely after Miriam's death, she met Helen Tufts. Helen's father was a Unitarian minister, her mother a suffragist who disapproved of socialism and ideas of free love which Helen, initially doubtful, had learned from Helena. She remained shocked by homosexuality and dubious about 'darkies', but they stayed close. Helena formed another relationship, with William Bailie, originally from Belfast, where he was apprenticed in basket-making. Among Unitarians in Manchester, he discovered secularism, socialism and anarchism. He had migrated with his family to Boston, Massachusetts, joining individualist, anarchist circles. After his marriage failed, he and Helena became lovers. William, and increasingly Helena, became pessimistic that their ideals would be fulfilled and committed to practical social reform, which included campaigning successfully to persuade Boston city council to improve social conditions. Helena also focused on suffrage. After Helena's death, William married Helen and they continued campaigning for reforms on birth control, for peace and against extreme anti-socialism.
Born was born May 11, 1860 in Devonshire, England. She became actively involved in the workers movement beginning with the London Dock Strike in 1889. In 1890 she emmigrated to the United States, settling in Cambridge, Massachusetts. She learned typesetting and proofreading which became her life work. She wrote Walt Whitman's Ideal Democracy (1902), and other writings. Born was an apostle of simplicity and social regeneration. She appreciated the harmony and joys of nature and possessed the idealism of Thoreau.
She was an only child who received a good education at a school in Taunton and musical training in Bristol, where she became acquainted with the liberal thought of the day, reading Browning, Shelley, Morris, Thoreau, Carpenter, and Whitman. She joined the Bristol Women's Liberal Association, becoming interested in the subject of women's equality through suffrage, political education, and civic reform.
ThoThough Born came from a well to do family, she came to sympathize with the laboring classes. Along with her friend Miriam Daniell, an ardent socialist, the two took up residence in the laborer's district of Hull and joined the local socialist society. In 1889 the London Dock Strike drew Born and Daniell into the English workers movement. They formed a branch of a labor union that was organized for unskilled workers throughout the country, and Born became its secretary. Born next decided to try and organize the seamstresses in Bristol. Even though she worked closely with the socialists, she came to lose faith in their theory, and after reading Herbert Spencer grew to accept the principles of "philosophical anarchism."
In the fall of 1890, Born accompanied Daniell to America, where the two settled in Cambidge, Massachuttes and it was here that Born learned type setting and proofreading which would soon provide her life's work. Because of an unhappy marriage Miriam Daniell decided to live in California, and Born want with her. Shortly thereafter Daniell died and Born returned to Cambridge. She spent her summers in Epsom, New Hampshire, where she was able to get close to and directly experience nature, was a vegetarian and the food she ate came from her own farming.
While living in Boston, Helena Born joined the local Walt Whitman Fellowship and before its membership she read many of the papers which her editor (Everett Press) published in a small volume entitled Whitman's Ideal Democracy, and Other Writings (1902). The book contained essays by Born on Thoreau, Whitman, Shelley, and William Carpenter. On February 27, 1901 she died of cancer in Boston.
Born was one of the early members of the Boston Branch of the Walt Whitman Fellowship, where she and Helen Tufts, her close friend and loyal admirer, actively joined with others to support Whitman's poetry and prose. After Born's death in 1901, Tufts saw to it that Born's writings were collected and published in a book titled Whitman's Ideal Democracy. This book, whose title essay was originally published in Poet-Lore in 1899, contains articles on writers other than Whitman, though the majority of them focus on him.
Born found Whitman's concept of democracy to be at one with her own. Though her communal side responded to Whitman's call for national unity through a strong public structural grounding, Whitman's call for the strong individual—for self-knowledge and pride—touched her own experience deeply. She felt such a message had special appeal to women. Born is one of a long list of women in the nineteenth and early twentieth centuries who felt Whitman to be a valid spokesperson for women's rights.
---
My published books:

---
https://www.historytoday.com/reviews/more-free-love-and-sandals