Queer Places:
Priest Hill, Limpsfield, Oxted RH8 0DT, UK
Margaret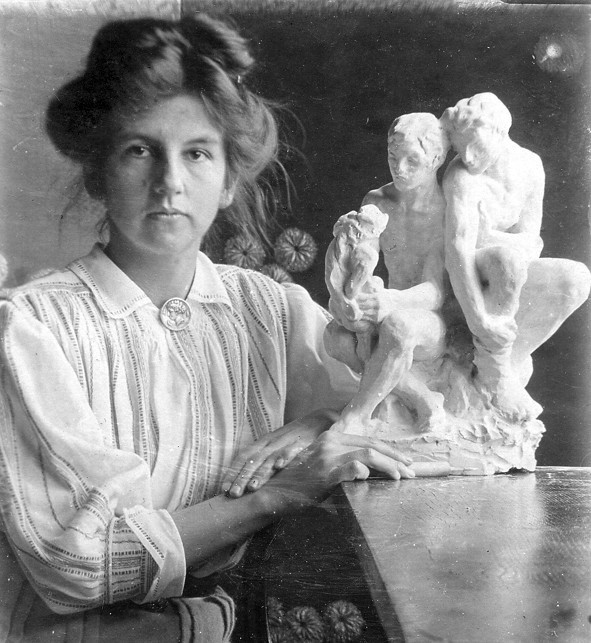 Ethel Pye (1882–1955) was a draughtsman and sculptor. Sister of the bookbinder Sybil Pye and nurse Edith Pye.
Rupert Brooke was closer to a group of friends, who Virginia Woolf called the 'neo-pagans', possibly due to their love of the outdoors. This group included Rupert Brooke, Ethel Pye, Katherine Cox, the Olivier sisters (Brynhild Olivier, Noël Oliveri, Margery Oliver and Daphne Oliver), Jacques and Gwen Raverat, Frances Cornford and Justin Brooke. Despite sharing the same surname, Justin Brooke was not a relative of Rupert's.
Ethel Pye was one of seven children (four brothers and two sisters) born to Margaret Thompson Kidston, daughter of James Burns Kidston of Glasgow and William Arthur Pye JP, a successful wine merchant and collector of oriental and contemporary art.[1] She was the sister of the bookbinder Sybil Pye, nurse Edith Pye, and engineer David Randall Pye.[2][3] Ethel Pye was educated at the Slade School and worked in bronze and wood.[1] Both Sybil and Ethel Pye attended the classes of Thomas Sturge Moore. Later Ethel Pye told Sturge Moore's wife, Marie Appia, that her sculptures "did not exist" until Sturge Moore had seen them; she also created costumes and masks based on Sturge Moore's designs for staging of his verse - plays.[4] The family lived at Priest Hill, near the Olivier sisters (with whom Ethel and Sybil Pye became friends) in Limpsfield.[5]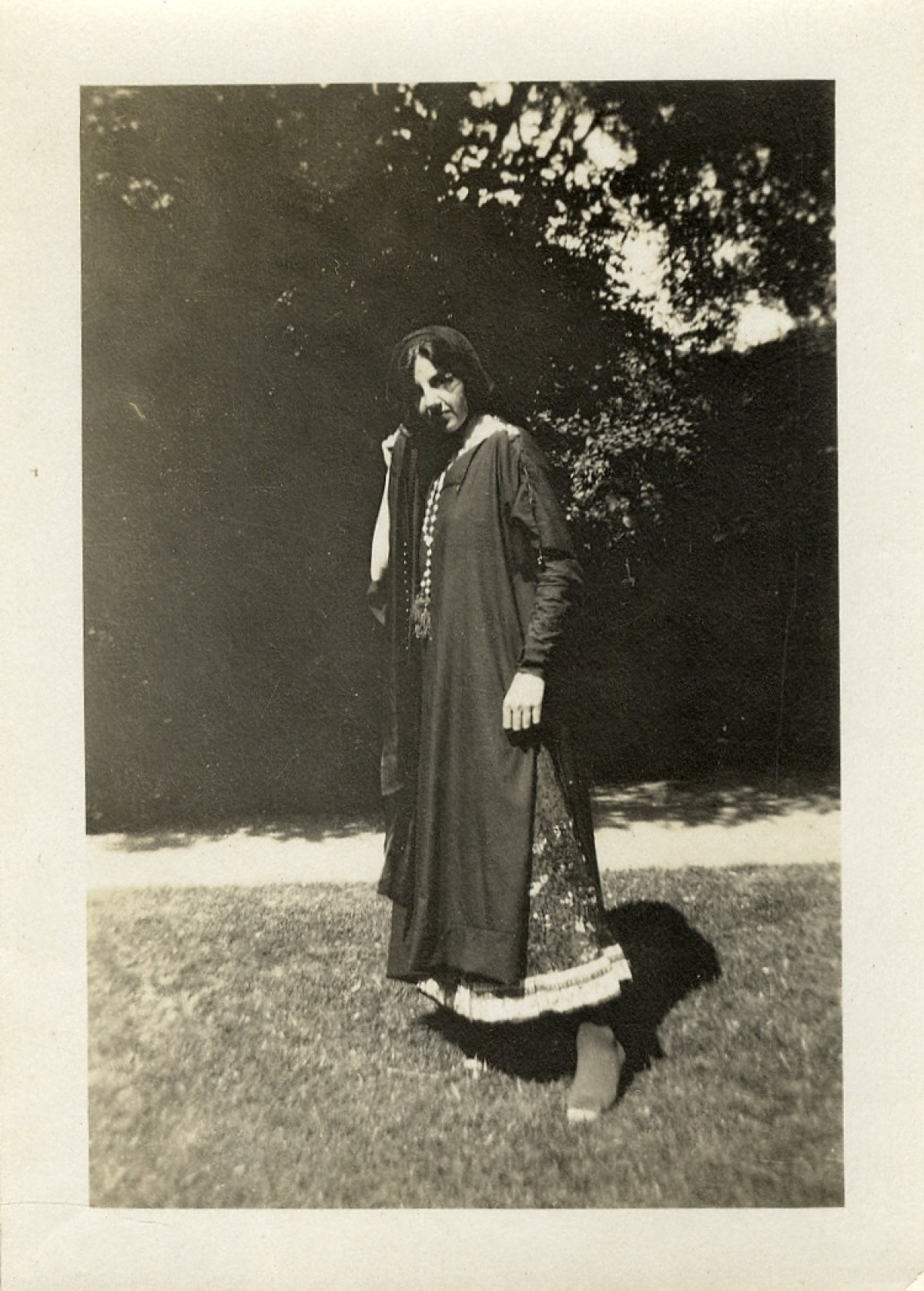 Ethel Pye as Lechery in Doctor Faustus
Together with Rupert Brooke, who corresponded with her for many years,[5] she was part of a group who Virginia Woolf nicknamed the 'neo-pagans'.[6] In August 1910 she was part of a camping expedition near Buckler's Hard on the Beaulieu River; other people included were Rupert Brooke, Noël Olivier and Brynhild Olivier, Jacques Raverat, Katherine Laird Cox, Helton Godwin Baynes, Harold Hobson, Arthur E. Popham, Francis William Hubback and Eva Spielman, Sybil Pye, David Pye and David "Bunny" Garnett. Ethel Pye wrote to Noël Olivier, "I have been gazing at June, July, and August, wondering if I shall be able to put down something really epoch-making like [...] this year."[7] Ethel Pye created a painting of this event, which A. E. Popham described: On the extreme left the boat comes to her muddy mornings and I am seen unshipping the rudder, then Harold (Hobson) is seen grumbling on his way to fetch wood, then the big tent and Ka and you cooking, then Dudley (Ward) and the Financial Times and Rupert and all.[8] In 1910, Rupert Brooke gave a notorious breakfast (appearing in various diaries of who attended) at his home, The Orchard;[9] the 12 partecipants included: Dudley Ward; Geoffrey Keynes; Bill Hubback, Archie Campbell, Jacques Raverat, Bryn Olivier, Ethel Pye and Dorothy Osmaston.[10] On Monday, February 8, 1926, Virginia Woolf wrote in her diary that she received "a card, showing me her character in an unfavourable light from Miss Ethel Pye, who once met me in an omnibus and wishes to take a mask of my head."[11] When their father died in 1933, Ethel and Sybil Pye moved to Newick, Sussex to be close to one of their brothers. Neither of them married and both lived and worked together all their lives.[1] Together with her sister Sybil, Ethel Pye was part of the Literary Theatre Club, whose participants were mainly young women like Isabel Fry, Eleanor Calhoun, Gwendolyn Bishop, and Mona Wilson.[12] Her nephew, design and handcraft academic and practitioner David Pye, donated some of her drawings to the British Museum.[2]
---
My published books:


---