Partner Barbara Macdonald
Queer Places:
Harvard University, Cambridge, MA 02138
Wellesley College, 106 Central St, Wellesley, MA 02481
Cynthia Rich (born March 12, 1933) is a teacher, lesbian feminist activist, and author. Rich and Barbara Macdonald were writers, activists in lesbian feminist politics, and partners for 26 years. Rich met Macdonald, a retired social worker, at the Goddard Cambridge Graduate School. A graduate of Radcliffe College (A.B. 1956, A.M. 1958), Rich taught writing at Harvard for ten years beginning in the late 1960s, her courses focusing on sexism, homophobia, and racism. She was active in the peace and social justice movements as president of Voice of Women--New England. An internationally recognized speaker, Macdonald lectured widely on ageism and feminism, including at the U.N. Fourth World Conference on Women. Rich and Macdonald co-authored Look Me in the Eye: Old Women, Aging and Ageism in 1983, a groundbreaking examination of ageism from a feminist perspective. Moving west in the 1980s, they helped organize protests of the Miss California pageants, worked to end apartheid in South Africa, and worked in support of the United Farm Workers' 1989 grape boycott. In 1987 they served on the planning committee of the First West Coast Conference of Old Lesbians.
She was born in Baltimore, Maryland, on March 12, 1933, the daughter of Helen (Jones) and Arnold Rice Rich. Her sister was Adrienne Rich. In 1952 she graduated from the Roland Park Country School in Baltimore, and then received her A.B. in English summa cum laude from Radcliffe College in 1956. During her junior year, she made Phi Beta Kappa, and in 1956 won first prize in the Mademoiselle fiction contest for her story, "My Sister's Marriage." She also received the Augustus Anson Whitney Fellowship from Harvard University (1957-1958). Rich received her A.M. in English (1958), and completed residence requirements and oral examinations for a Ph.D. in English from Harvard in 1960. Rich married Roy Glauber, a member of the physics department at Harvard in 1960. They had two children: Jeffrey (1963- ) and Valerie (1970- ). The couple separated in 1971; they divorced in 1975.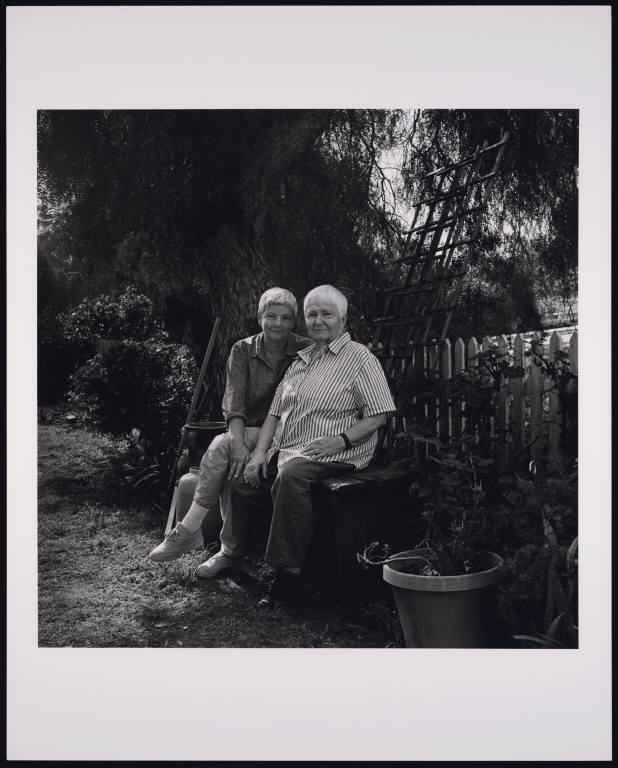 Photo by Robert Giard, Rights Notice: Copyright Jonathan G. Silin (jsilin@optonline.net)
Rich taught expository writing, fiction, and poetry writing at Wellesley College (1962-1963), Cooper Community College (1965-1969), and Harvard University (1958-1961, 1969-1981). She held the Briggs Copeland Lecturership in English and General Education at Harvard (1969-1970). In 1974 she taught a feminist writing workshop at Goddard Cambridge College, where she met Barbara Macdonald, who later became her domestic partner of 26 years. Rich helped establish the Harvard Writing Center in 1978 in which she remained involved for two years. In 1980, she covered the UN Mid-Decade Conference on Women in Copenhagen for Equal Times. From 1980 until 1981 she directed independent studies in writing for M.A. candidates at Goddard and consulted for the New York City Office of Educational Evaluation before joining Digital Equipment Company in Nashua, N.H., as a software editor. In 1983 Rich co-authored with Macdonald Look Me in the Eye: Old Women, Aging and Ageism, a ground-breaking examination of ageism from a feminist perspective. In 1989 she wrote Desert Years: Undreaming the American Dream, an eco-feminist account of living for six years in a trailer at Agua Caliente County Park on the Anza Borrego Desert. Desert Years was nominated for a Lambda Literary Award in 1990. From 1992 to 1994 Rich taught ESL at Mira Mesa Continuing Education. She wrote regularly for feminist publications such as Equal Times, New Women's Times, Sinister Wisdom, and Sojourner, and was a frequent contributing editor in the lesbian and feminist press.
Rich was a lifelong progressive political activist. She worked with Voice of Women--New England, (1961-1965); San Diego United Farm Workers Grape Boycott Committee (1982-1989); "Myth" California (1986-1992); Desert Waves affinity group at the Nevada Test Site and in San Diego (1987-1993); Women's Alliance for Peace in the Middle East (1988-1991); Martin Luther King Tribute Coalition (1989-1996); Support Committee for Maquiladora Workers (1989-1999); and Old Women's Project (founded in 2001 with Mannie Garza and Janice Keaffaber).[1]
---
My published books:

---
^http://oasis.lib.harvard.edu/oasis/deliver/~sch00340