Partner Charles Hazelwood Shannon
Queer Places:
City and Guilds of London Art School, 124 Kennington Park Rd, London SE11 4DJ, UK
164 Kennington Park Rd, London SE11 4BT, UK
The Vale, Chelsea, London SW3 6AG, UK
31 Beaufort St, Chelsea, London SW3, UK
Chalon House, 8 Paradise Rd, Richmond TW9 1RX, UK
Lansdowne House, 80 Lansdowne Rd, London W11 2LS, UK
Townshend House, Albert St, London NW1 7LX, UK
Chilham Castle, Chilham, Canterbury CT4 8DB, UK
12A Edith Terrace, Chelsea, London SW10 0TH, UK
The Sign of the Dial, 52 Regent St, Soho, London W1B 5DX, UK
Richmond Park, Richmond, UK
Arolo, 21038 Leggiuno VA, Italy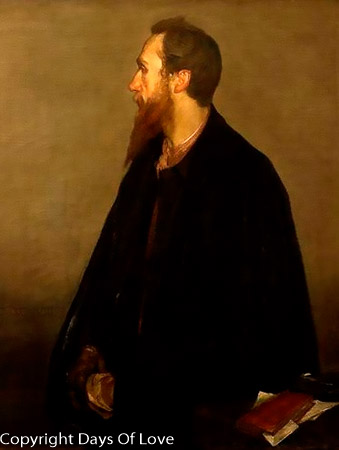 Charles de Sousy Ricketts RA (2 October 1866 – 7 October 1931) was a versatile English artist, illustrator, author and printer, and is best known for his work as book designer and typographer from 1896 to 1904 with the Vale Press, and his work in the theatre as a set and costume designer. In 2003 Canadian playwright Michael Lewis MacLennan wrote, published and staged Last Romantics, a play devoted to the lives of the aesthetes Charles de Sousy Ricketts and Charles Hazelwood Shannon. To this day, the persona and character of Ricketts, with his pale and delicate features, fair hair and pointed gold-red beard... quick mind and... rapid speech, both eloquent and entertaining, overshadow Shannon. With his ruddy boysh face, like a countryman's, with blue eyes and fair lashes, Shannon was quiet, recessive and inarticulate.
Ricketts was born in Geneva to a French mother and an English father. He grew up mainly in France and Italy. He began his studies in art at the City and Guilds Technical Art School in Lambeth, in 1882, after both his parents had died.
According to William Rothenstein, "Ricketts, with his pale, delicate features, fair hair and pointed red-gold beard, looked like a Clouet drawing. Half French, he had the quick mind and the rapid speech of a southerner."
At the Art School he met Charles Shannon (1863–1937), painter and lithographer, who would be his lifelong partner in both his artistic and personal life.[1] On the advice of Pierre Puvis de Chavannes, they settled in England rather than abroad.
Artist, critic and director of the National Portrait Gallery, London, Sir Charles John Holmes became a regular at Charles Ricketts and Charles Shannon's Friday night evenings. He recalled how: Ricketts and Shannon during the first few evenings at The Vale told me almost all about themselves which I was ever to know. Shannon, fresh, plump and curly-haired, was actually the senior of the two. At St. John's Leatherhead, he had some repute as a footballer; then he became a teacher at the Croydon Art School, with heaps of friends until Ricketts quarrelled with them... Of his early days, Ricketts said little, except that he had disappointed his father by not proving an athlete and a lover of field sports, and that much of his boyhood had been spent in France, his spiritual home. He and Shannon had become friends at Croydon, had started a life together in the Kennington Road, and were now settling down to an agreed programme, which had in it something of heroic.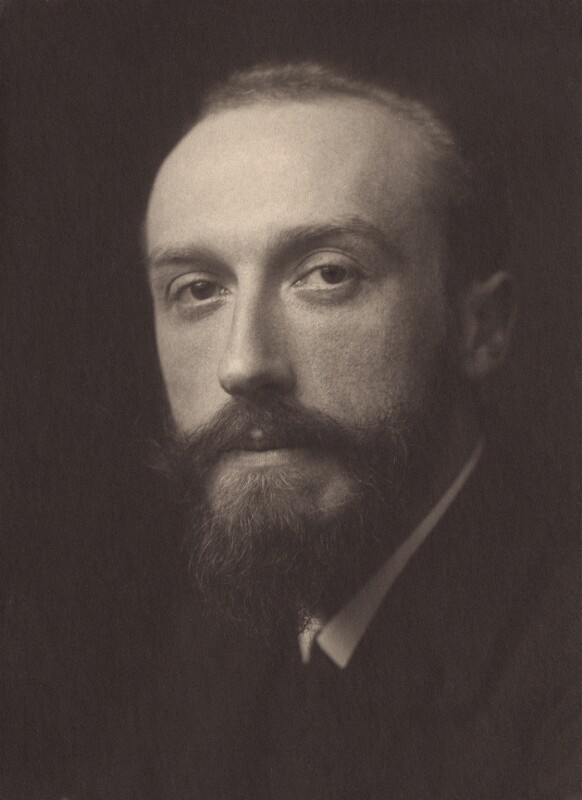 Charles de Sousy Ricketts, 1903, by George Charles Beresford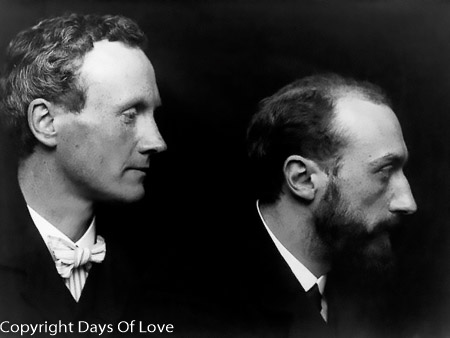 Charles Haslewood Shannon; Charles de Sousy Ricketts, 1903, by George Charles Beresford, National Portrait Gallery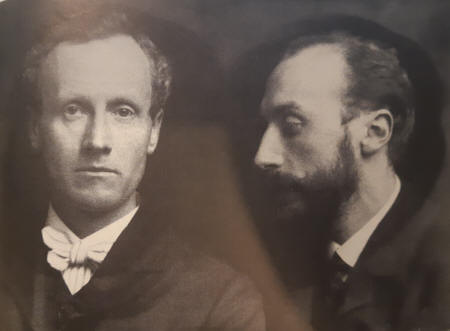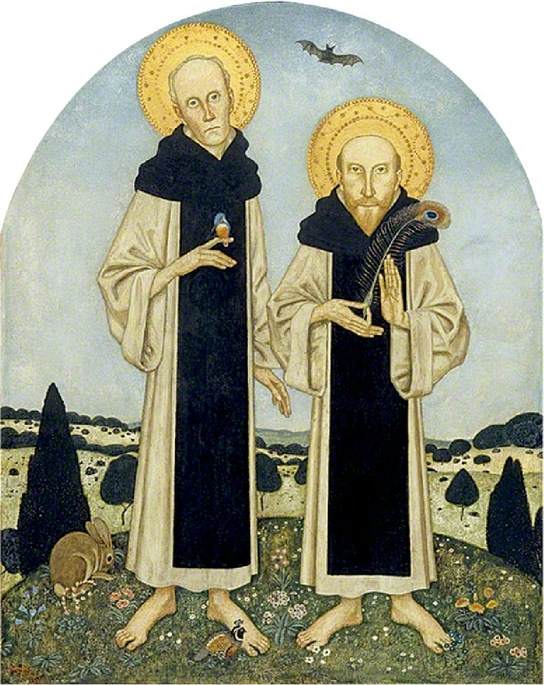 Charles Ricketts (1866–1931), and Charles Shannon (1863–1937), as Medieval Saints, by Edmund Dulac (1882–1953)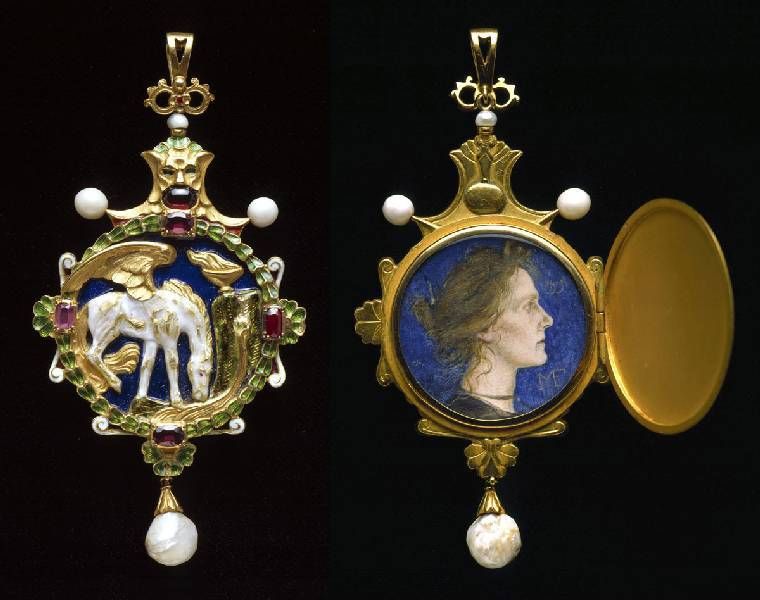 Charles de Sousy Ricketts (1866-1931), Pegasus Drinking from the Fountain of Hippocrene (1901), Locket designed for Edith Cooper (aka Michael Field)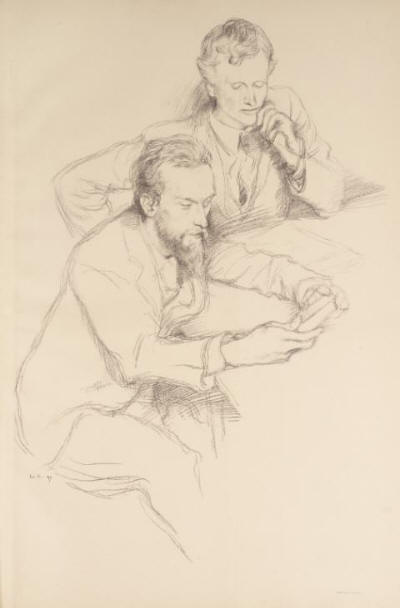 Mr Charles Ricketts and Mr Charles Hazelwood Shannon [Part IX], 1897, by Sir William Rothenstein, Tate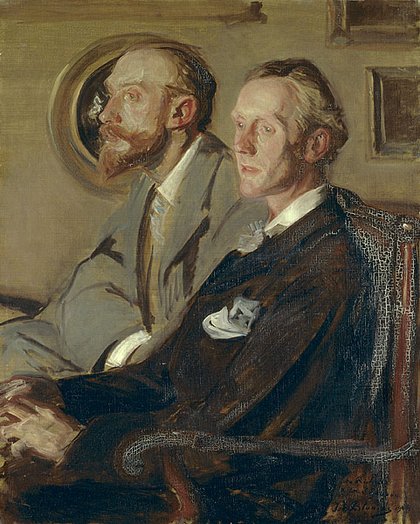 Portraits of Charles Shannon and Charles Ricketts, 1904, by Jacques-Emile Blanche, Tate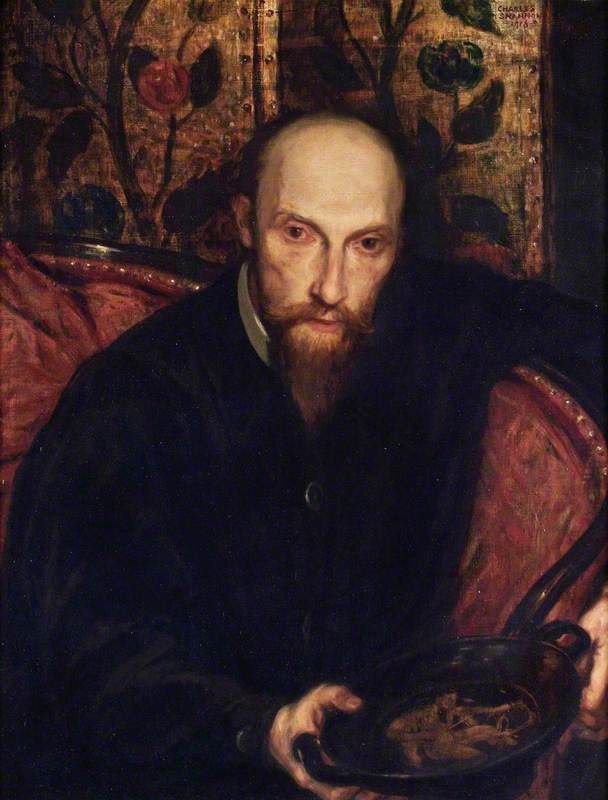 The Man with the Greek Vase (Charles Ricketts), by Charles Shannon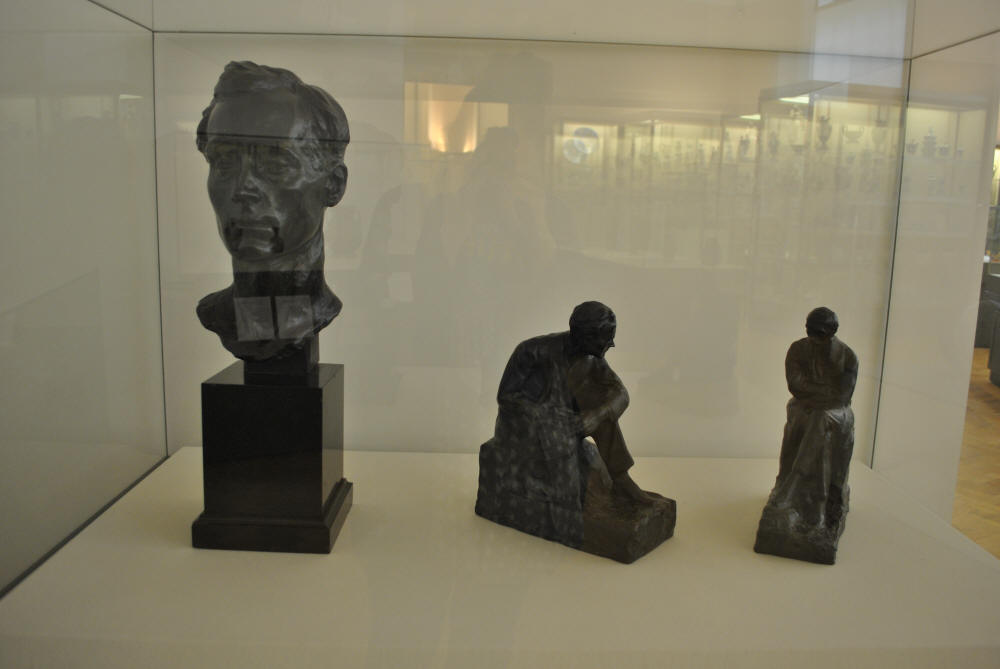 Head of Charles Shannon, 1906-07, Reginald Fairfax Wells, Charles Shannon, 1907-10, and Charles Ricketts, 1907-10, Kathleen Scott, Baroness Kennet
They founded The Dial, a magazine, which had five issues from 1889 to 1897, and the Vale Press, named after their house, The Vale, in Chelsea, London. "The portrait of Ricketts by Shannon was painted two years after Ricketts had founded the Vale Press. It is a record of their friendship, slightly tentative in its character, with Ricketts turning his head away so that he is seen in profile. He liked it precisely for this reason since it shows him 'turning away from the 20th century to think only of the 15th.' It is labelled on the back 'The Man in an Inverness Cloak'."[2]
Ricketts was one of two well-known illustrators of Oscar Wilde's work, the other being Aubrey Beardsley who worked on Salomé. He and Shannon were friends and supporters of Wilde, for whom Ricketts painted, in the style of Clouet, the hero of Wilde's short story, 'The Portrait of Mr. W. H.'"[3] Ricketts deferred his own deep-seeded feelings of remorse and alliance to Oscar Wilde when he published his memoirs of Oscar Wilde: Recollections (1932). Written with his alter ego, Jean Paul Raymond, the essay provides the conduit trough which Ricketts was able to defer his own feelings of remorse and shame. Ricketts, however, was one of the very few who dared visit Wilde in his jail cell.
It was in the work of the Vale Press that Ricketts would find his talents were best employed. The enterprise also involved Thomas Sturge Moore, and later William Llewellyn Hacon (1860–1910), a barrister. The actual printing was carried out by Ballantyne Press under the supervision of Charles McCall. A total of about 75 books were produced, including a complete Shakespeare in 39 volumes, before the special type fonts were destroyed. In parallel, Ricketts was involved with the Eragny Press, run by Lucien Pissarro and his wife Esther, from 1894 to 1914.
After 1902, he turned more to painting and sculpture. His principal pictures in public galleries are "The Death of Don Juan" (Tate Gallery), "The Plague" (Musée du Luxembourg, Paris) and "Montezuma" (Manchester Art Gallery).[4]
When Shannon entertained protracted relationships with women, such as with Hetty (Esther) Deacon in 1903, there were plans to marry, Ricketts forbade it solely on the premise it would be impossible to divide their collection. Ricketts, when on a trip to Naples with Robbie Ross, wrote from Rome to Shannon that: I had no scarlet adventures. Scarlet, an aesthetic metaphor to be sure, referred to the rough trade guardsmen provided homosexual patrons. In one letter from Rome, Ricketts not only refers to the pictures of phalluses he and Ross saw, but also made note of the good looking people in Naples, revealing a sexual as a much as playful side to his character.
When Ricketts himself was pressed about his sexuality by John Addington Symonds upon a visit to the couple home, But you are, aren't you? You do, don't you?, Ricketts defiantly refused to answer.
According to Oscar Wilde, who used the queer art of floriculture, Ricketts was an orchid whereas Shannon was a marigold. While Ricketts dominated their relationship, he always used we in his response to any question and when lending his opinion he invariably turned to the master painter Shannon as a reasonable wife. Fascinated and somewhat bemused by how Charles de Sousy Ricketts and Charles Haslewood Shannon shared their lives and held the collection in common, the painter Jacques-Émile Blanche once famously declared: "Mais c'est alors une existence idéale que vous menez tout pout l'Art" (But it is then an ideal existence that you lead all for Art).
Friend and art critic C. Lewis Hind also recognized the synergy between art and lifestyle and the symbiosis between the two artists when he noted: "They love together; they collect together; they work in adjoining studios, and in any account of the life, aims, and appreciations of Mr Shannon, the name of Mr Ricketts runs to the tongue as dutifully as that of Sullivan to Gilbert, or Fletcher to Beaumont. It is surprising, therefore, to find that the influence of one upon the creations of the others is almost imperceptible."
Writng about Ricketts, protégé and close friend Cecil Lewis best described the two key relationships in his life when he noted that: "Between Ricketts and Shannon existed the most marvellous human relationship that has ever come within my observation, and in their prime each was the other's complement, but neither easily indulged the other; their union was more bracing than comfortable. Emotion never eluded Ricketts, and I remember when he had given a really beautiful necklace to a lady and afterwards discovered that it was not appreciated, he said: "Hence forward I make a rule never to give away anything I really care for"."
Ricketts also wrote on art, was a collector, and was elected an Associate of the Royal Academy in 1922 and a full member in 1928.[5] In 1929 he was appointed a member of the Royal Fine Arts Commission.[4] He was also a member of the International Society of Sculptors, Painters and Gravers.[6]
Ricketts became a celebrated and sought-after designer for the stage. "Mr Ricketts is infallible in his ideas on costume" observed The Times.[7] Plays on which he worked included Oscar Wilde's Salome (1906), Laurence Binyon's Attila (1907), King Lear (1909), Bernard Shaw's The Dark Lady (1910), Arnold Bennett's Judith (1916), Shaw's Annajanska, the Bolshevik Empress (1918), Maurice Maeterlinck's The Betrothal (1920), Shaw's Saint Joan (1924), Macbeth (1926) and John Masefield's The Coming of Christ (1928).[8] Outside London he worked for the Abbey Theatre, Dublin on plays by W. B. Yeats and J.M. Synge.[9] Ricketts also designed much-publicised new productions of The Gondoliers and The Mikado for Rupert D'Oyly Carte in the 1920s.[10]
Michael MacLennan wrote "Last Romantics", a play based on the life of Ricketts, Shannon and their circle, including Oscar Wilde, Aubrey Beardsley and Michael Field (Katherine Harris Bradley and Edith Emma Cooper). The play premiered in 2003 and was a finalist for the Governor General's Literary Award that year.[11]
Through his friend, the Russian singer Vladimir Rosing, Cecil Arthur Lewis met Ricketts and Ricketts became Lewis' artistic mentor and sponsor. After Ricketts' death, Lewis edited his letters and journals for publication. Part of Ricketts' ashes are buried at Arolo, in the park of the villa that Ricketts donated to Lewis.[12][13]
---
My published books:


---
https://en.wikipedia.org/wiki/Charles_Ricketts
Bachelors of a Different Sort, Queer Aesthetics, Material Culture and the Modern Interior in Britain, by John Potvin
Homosexuals in History, A Study of Ambivalence in Society, Literature and the Arts, by A.L. Rowse, 1977
Hidden Histories, 20th Century Male Same Sex Lovers in the Visual Arts, by Michael Petry