Partner Charles Ricketts
Queer Places:
City and Guilds of London Art School, 124 Kennington Park Rd, London SE11 4DJ, UK
Royal Academy of Arts, Burlington House, Piccadilly, Mayfair, London W1J 0BD, UK
164 Kennington Park Rd, London SE11 4BT, UK
The Vale, Chelsea, London SW3 6AG, UK
31 Beaufort St, Chelsea, London SW3, UK
Chalon House, 8 Paradise Rd, Richmond TW9 1RX, UK
Lansdowne House, 80 Lansdowne Rd, London W11 2LS, UK
Townshend House, Albert St, London NW1 7LX, UK
21 Kew Gardens Rd, Richmond TW9, UK
12A Edith Terrace, Chelsea, London SW10 0TH, UK
Chilham Castle, Chilham, Canterbury CT4 8DB, UK
St Botolph, Quarrington, Sleaford NG34 8UL, UK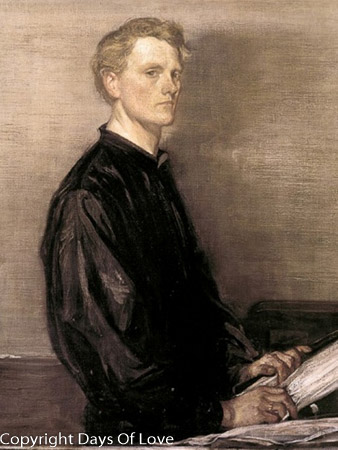 Charles Haslewood Shannon RA[2] (26 April 1863 – 18 March 1937) was an English artist. Oscar Wilde is believed to have based the character of Basil Hallward in The Picture of Dorian Gray (1891) on Shannon.
In 2003 Canadian playwright Michael Lewis MacLennan wrote, published and staged Last Romantics, a play devoted to the lives of the aesthetes Charles de Sousy Ricketts and Charles Hazelwood Shannon. To this day, the persona and character of Ricketts, with his pale and delicate features, fair hair and pointed gold-red beard... quick mind and... rapid speech, both eloquent and entertaining, overshadow Shannon. With his ruddy boysh face, like a countryman's, with blue eyes and fair lashes, Shannon was quiet, recessive and inarticulate.
Shannon was born in Sleaford, Lincolnshire, the son of the Rev. Frederick William Shannon, Rector of Quarrington (himself the son of a Royal Navy captain, Rodney Shannon and his wife Frances Nash), and Catherine Emma Manthorp, the daughter of a surgeon, Daniel Levett Manthorp (and his wife, Elizabeth Mason).[3]
Shannon attended the City and Guilds of London Art School (then known as South London School of Technical Art, formerly Lambeth School of Art), and was subsequently considerably influenced by his lifetime partner Charles de Sousy Ricketts[4] and by the example of the great Venetians. In his early work he was addicted to a heavy low tone, which he abandoned subsequently for clearer and more transparent colour. He achieved great success with his portraits and his Giorgionesque figure compositions, which are marked by a classic sense of style, and with his etchings and lithographic designs.[5]
Artist, critic and director of the National Portrait Gallery, London, Sir Charles John Holmes became a regular at Charles Ricketts and Charles Shannon's Friday night evenings. He recalled how: Ricketts and Shannon during the first few evenings at The Vale told me almost all about themselves which I was ever to know. Shannon, fresh, plump and curly-haired, was actually the senior of the two. At St. John's Leatherhead, he had some repute as a footballer; then he became a teacher at the Croydon Art School, with heaps of friends until Ricketts quarrelled with them... Of his early days, Ricketts said little, except that he had disappointed his father by not proving an athlete and a lover of field sports, and that much of his boyhood had been spent in France, his spiritual home. He and Shannon had become friends at Croydon, had started a life together in the Kennington Road, and were now settling down to an agreed programme, which had in it something of heroic.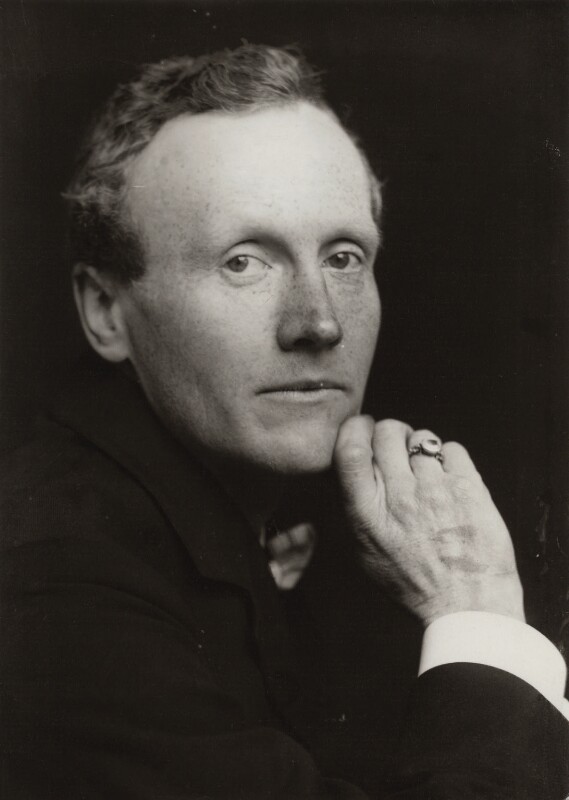 Charles Haslewood Shannon, 1903, by George Charles Beresford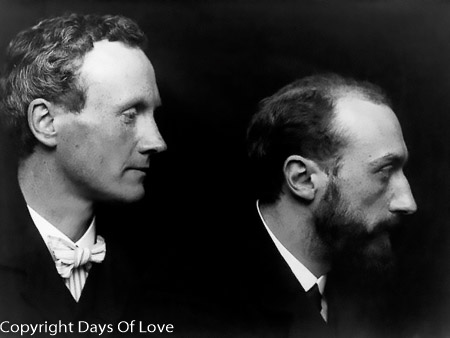 Charles Haslewood Shannon; Charles de Sousy Ricketts, 1903, by George Charles Beresford, National Portrait Gallery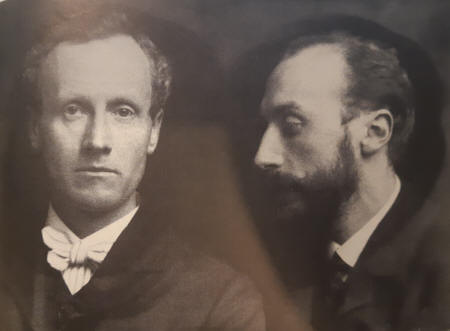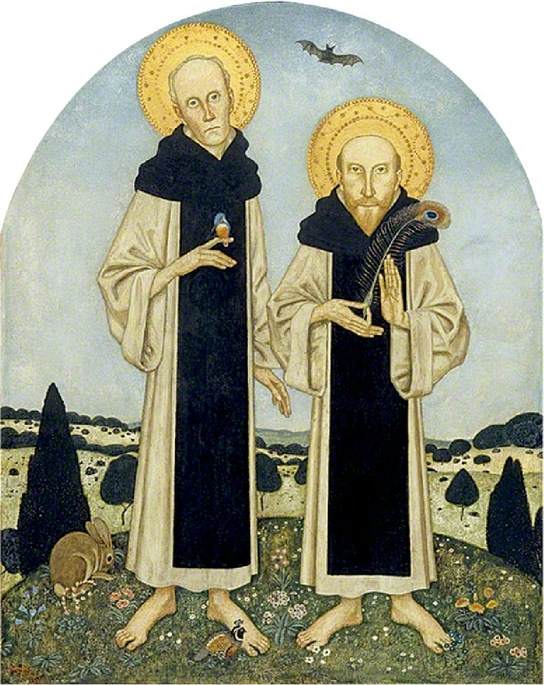 Charles Ricketts (1866–1931), and Charles Shannon (1863–1937), as Medieval Saints, by Edmund Dulac (1882–1953)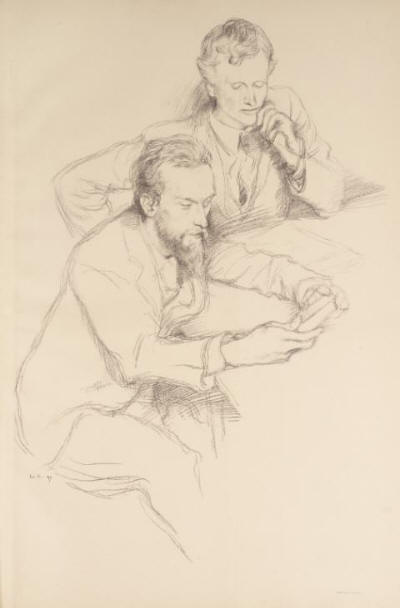 Mr Charles Ricketts and Mr Charles Hazelwood Shannon [Part IX], 1897, by Sir William Rothenstein, Tate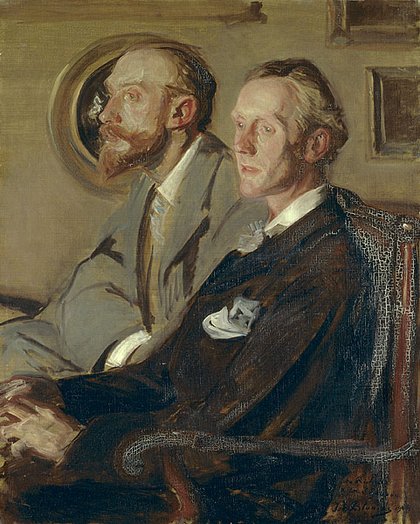 Portraits of Charles Shannon and Charles Ricketts, 1904, by Jacques-Emile Blanche, Tate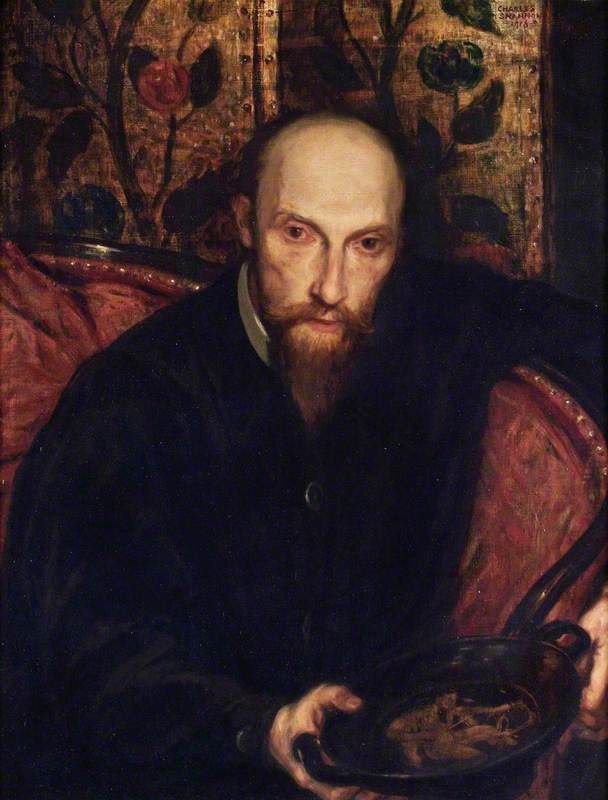 The Man with the Greek Vase (Charles Ricketts), by Charles Shannon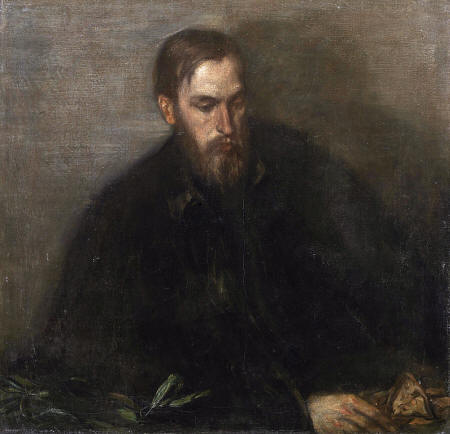 Thomas Sturge Moore, portrait by Charles Shannon, c. 1897, a.k.a. The Man with a Yellow Glove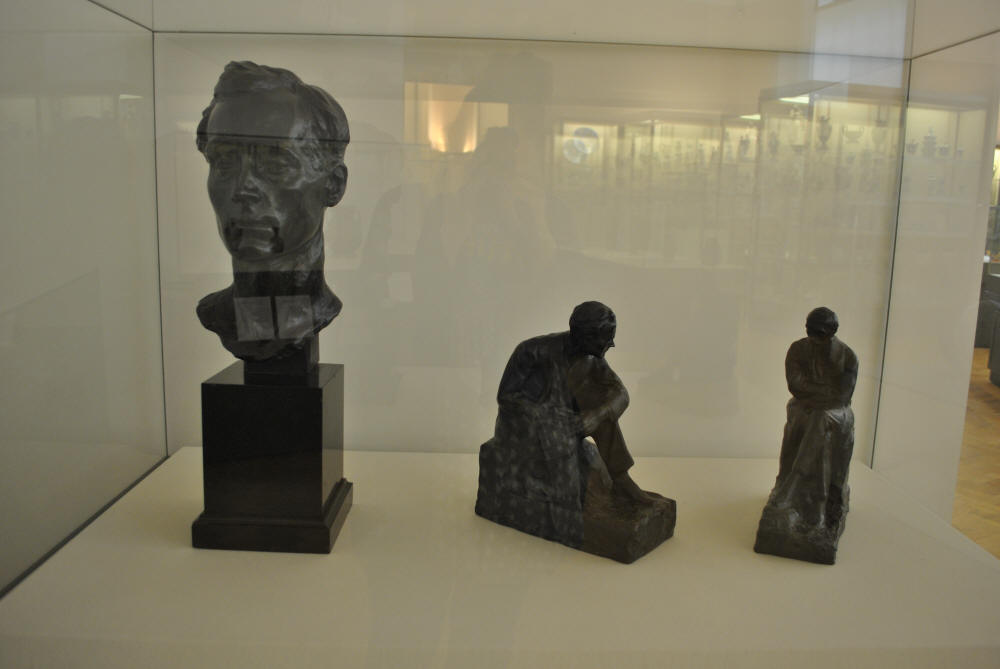 Head of Charles Shannon, 1906-07, Reginald Fairfax Wells, Charles Shannon, 1907-10, and Charles Ricketts, 1907-10, Kathleen Scott, Baroness Kennet
The Dublin Municipal Gallery owns his circular composition The Bunch of Grapes and The Lady with the Green Fan (portrait of Mrs Hacon). His Study in Grey is at the Munich Gallery, a Portrait of Mr Staats Forbes at Bremen, and Souvenir of Van Dyck at Melbourne. One of his most remarkable pictures is The Toilet of Venus in the collection of Lord Northcliffe. Several of his portrait works are on display in the National Portrait Gallery in London.[5]
Complete sets of his lithographs and etchings have been acquired by the British Museum and the Berlin and Dresden print rooms. He was awarded a first-class gold medal at Munich in 1895 and a first-class silver medal in Paris in 1900.[5] He was a member of the International Society of Sculptors, Painters and Gravers.[6]
When Shannon entertained protracted relationships with women, such as with Hetty (Esther) Deacon in 1903, there were plans to marry, Ricketts forbade it solely on the premise it would be impossible to divide their collection. Ricketts, when on a trip to Naples with Robbie Ross, wrote from Rome to Shannon that: I had no scarlet adventures. Scarlet, an aesthetic metaphor to be sure, referred to the rough trade guardsmen provided homosexual patrons. In one letter from Rome, Ricketts not only refers to the pictures of phalluses he and Ross saw, but also made note of the good looking people in Naples, revealing a sexual as a much as playful side to his character.
When Ricketts himself was pressed about his sexuality by John Addington Symonds upon a visit to the couple home, But you are, aren't you? You do, don't you?, Ricketts defiantly refused to answer.
According to Oscar Wilde, who used the queer art of floriculture, Ricketts was an orchid whereas Shannon was a marigold. While Ricketts dominated their relationship, he always used we in his response to any question and when lending his opinion he invariably turned to the master painter Shannon as a reasonable wife. Fascinated and somewhat bemused by how Charles de Sousy Ricketts and Charles Haslewood Shannon shared their lives and held the collection in common, the painter Jacques-Émile Blanche once famously declared: "Mais c'est alors une existence idéale que vous menez tout pout l'Art" (But it is then an ideal existence that you lead all for Art).
Friend and art critic C. Lewis Hind also recognized the synergy between art and lifestyle and the symbiosis between the two artists when he noted: "They love together; they collect together; they work in adjoining studios, and in any account of the life, aims, and appreciations of Mr Shannon, the name of Mr Ricketts runs to the tongue as dutifully as that of Sullivan to Gilbert, or Fletcher to Beaumont. It is surprising, therefore, to find that the influence of one upon the creations of the others is almost imperceptible."
Writng about Ricketts, protégé and close friend Cecil Lewis best described the two key relationships in his life when he noted that: "Between Ricketts and Shannon existed the most marvellous human relationship that has ever come within my observation, and in their prime each was the other's complement, but neither easily indulged the other; their union was more bracing than comfortable. Emotion never eluded Ricketts, and I remember when he had given a really beautiful necklace to a lady and afterwards discovered that it was not appreciated, he said: "Hence forward I make a rule never to give away anything I really care for"."
Shannon became disabled in 1928 after a fall while hanging a picture, and the neurological damage that resulted caused amnesia and ended his career.[7]
---
My published books:


---
https://en.wikipedia.org/wiki/Charles_Haslewood_Shannon
Bachelors of a Different Sort, Queer Aesthetics, Material Culture and the Modern Interior in Britain, by John Potvin
Homosexuals in History, A Study of Ambivalence in Society, Literature and the Arts, by A.L. Rowse, 1977
Hidden Histories, 20th Century Male Same Sex Lovers in the Visual Arts, by Michael Petry