Partner Richard Harteis
Queer Places:
Princeton University, Princeton, New Jersey 08544, Stati Uniti
West Laurel Hill Cemetery, 215 Belmont Avenue, Bala Cynwyd, PA 19004, Stati Uniti
William Morris Meredith Jr. (January 9, 1919 – May 30, 2007) was an American poet and educator. He was Poet Laureate Consultant in Poetry to the Library of Congress from 1978 to 1980.[1]
Meredith was born in New York City to William Morris Meredith Sr. and Nelley Keyser. He attended Lenox School in Massachusetts, graduating in 1936.[2] He began writing while a college student at Princeton University. He graduated magna cum laude from Princeton in 1940, having written a senior thesis on Robert Frost. His first volume of poetry, Love Letter from an Impossible Land, appeared in 1944. It was selected by Archibald MacLeish for publication as part of Yale Series of Younger Poets Competition.
He worked briefly for the New York Times as a copy boy and later as a reporter, before joining the United States Army Air Force in 1941. The following year, he transferred to the United States Navy as a carrier pilot. He served in the Aleutian Islands and Pacific Theater and reached the rank of lieutenant. He continued his service in the United States Navy Reserve until 1952, when he re-enlisted to serve in the Korean War. He ultimately achieved the rank of lieutenant commander and was awarded two Air Medals.[2]
In 1988, Meredith was awarded the Pulitzer Prize for Poetry[3] and a Los Angeles Times Book Award for Partial Accounts: New and Selected Poems and in 1997 he won the National Book Award for Poetry for Effort at Speech.[4][5] Meredith was also awarded a Guggenheim Foundation fellowship, the Harriet Monroe Memorial Prize, the Carl Sandburg Award, and the International Vaptsarov Prize in Poetry.
From 1964 to 1987, Meredith served as Chancellor of the Academy of American Poets.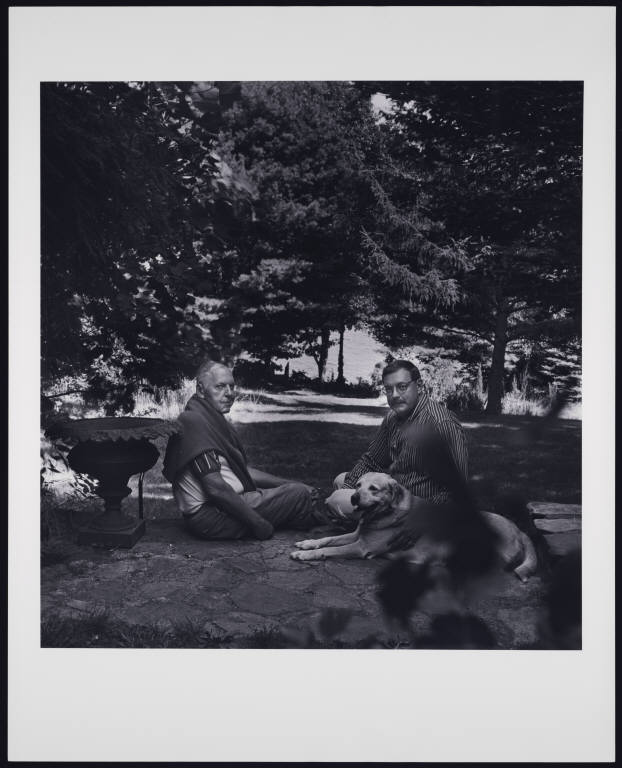 Featured in Particular Voices: Portraits of Gay and Lesbian Writers by Robert Giard [Rights Notice: Copyright Jonathan G. Silin (jsilin@optonline.net)]

Princeton University, NJ
From 1978 to 1980, Meredith was Consultant in Poetry to the Library of Congress, the position which in 1985 became the Poet Laureate Consultant in Poetry to the Library of Congress. He has the distinction of being the first gay poet to receive this honor.
From 1946 to 1950, Meredith had several teaching appointments at Princeton University: Instructor in English, Woodrow Wilson Fellow in Writing, and Resident Fellow in Creative Writing. This was followed by an appointment as associate professor at the University of Hawaii (1950–51). After the Korean War he was hired as an associate professor of English at Connecticut College, where he taught until 1983. He was promoted to professor in 1965. He settled on a farm in Uncasville, where he continued to write poetry and developed his talents as an arborist, planting and nurturing rare trees on the banks of the Thames. During this period, he also taught for several years in the summer graduate program at Bread Loaf School of English, Middlebury College. He was also an Instructor at the Bread Loaf Writer's Conference from 1964 to 1971.[2] In 1983, he suffered a stroke and was immobilized for two years. The stroke caused expressive aphasia, which affected his ability to produce language. Meredith ended his teaching career and could not write poetry during this period. He regained many of his language skills after intensive therapy and traveling to Britain for treatment.
A long-time admirer of the Irish poet W. B. Yeats, Meredith fulfilled a long-time ambition of visiting Yeats's spiritual homeplace of Sligo, Ireland, in the summer of 2006. While there he also attended the Yeats International Summer School, which attracts many academics and admirers of Yeats to Sligo every summer.
Meredith died in New London, Connecticut, near his home in Montville, where he lived with his partner of 36 years, the poet and fiction writer Richard Harteis.[6][7] A film about his life, Marathon, premiered on November 19, 2008 in Mystic, Connecticut.[8]
---
My published books:

---
https://en.wikipedia.org/wiki/William_Morris_Meredith_Jr.#References