Dame Elvira Sibyl Marie Laughton Mathews, DBE (née Laughton; 25 September 1888 — 25 September 1959)[1] was a British military officer and administrator. She was the second Director of the Women's Royal Naval Service (WRNS), serving from its reformation in 1939 until 1946. On November 3 1938, a large group of Neilans' feminist friends and colleagues wrote a letter to the editor of The Times requesting donations for a presentation of a gift to Alison Nielans. Among the women signatories of the "wide circle of friends" who wished "to pay a public tribute to the magnificent work" Nielans had accomplished were Nina Boyle, Nancy Astor, Margery Corbett Ashby, Marjorie Nunburnholme, Eva Harterr, Vera Laughton Matthews, Maude Royden, Jane Walker and Helen Wilson. Nina Boyle, Dr. Maude Royden and Nancy Astor were among the speakers. Nancy Astor "proposed Miss Nielans's health," and demonstrated the quick wit she was known for in claiming that Nielans' successful contribution to the raising of the age of consent bill "had changed the lives of thousands of men throughout the world". The Times did not report the content of Nina Boyle's and Maude Royden's speeches but quoted the Archbishop of York's admiration that Nielans "manfully stood for the fundamental unity of moral law and ideal for all persons, races and sexes". Several lesbians and spinsters in the international feminist sorority were attributed with masculine characteristics in association with their work. Nina Boyle was considered "mannish." Alison Neilans was seen as "manfully" carrying out her duties. Katharine Furse was remembered in obituaries, as much for her physical prowess as a champion skier, as for her role in international feminism.
Mathews was born in Hammersmith, London, on 25 September 1888 to Sir John Knox Laughton and María Josefa de Alberti of Cadiz, Spain. She had three brothers and one sister. Mathews was educated at the Convent of St. Andrew in Streatham, and Tournai, in Belgium.[1] Later, she attended King's College London.[2] Vera Laughton was married to Gordon Mathews from 10 June 1924 until his death in 1943; they had two sons and one daughter.[3]
Mathews joined the Women's Royal Naval Service (WRNS) on its establishment in 1918, and was appointed to the rank of principal officer (equivalent to a Royal Navy lieutenant commander). She was initially the Unit Officer of the WRNS Training Depot at The Crystal Palace in south London; the Depot was wound up immediately after the Armistice was signed in November 1918 as recruitment had ceased and she went on to serve in various posts on the east coast of Britain until demobilisation in 1919. She later served as Director of the re-founded Women's Royal Naval Service from 11 April 1939 until November 1946. The Vera Laughton Mathews' Award charity was created on 21 March 1969 with the aim of supporting the education and training of the daughters of former WRNS personnel. The charity was disbanded in 2012.[4]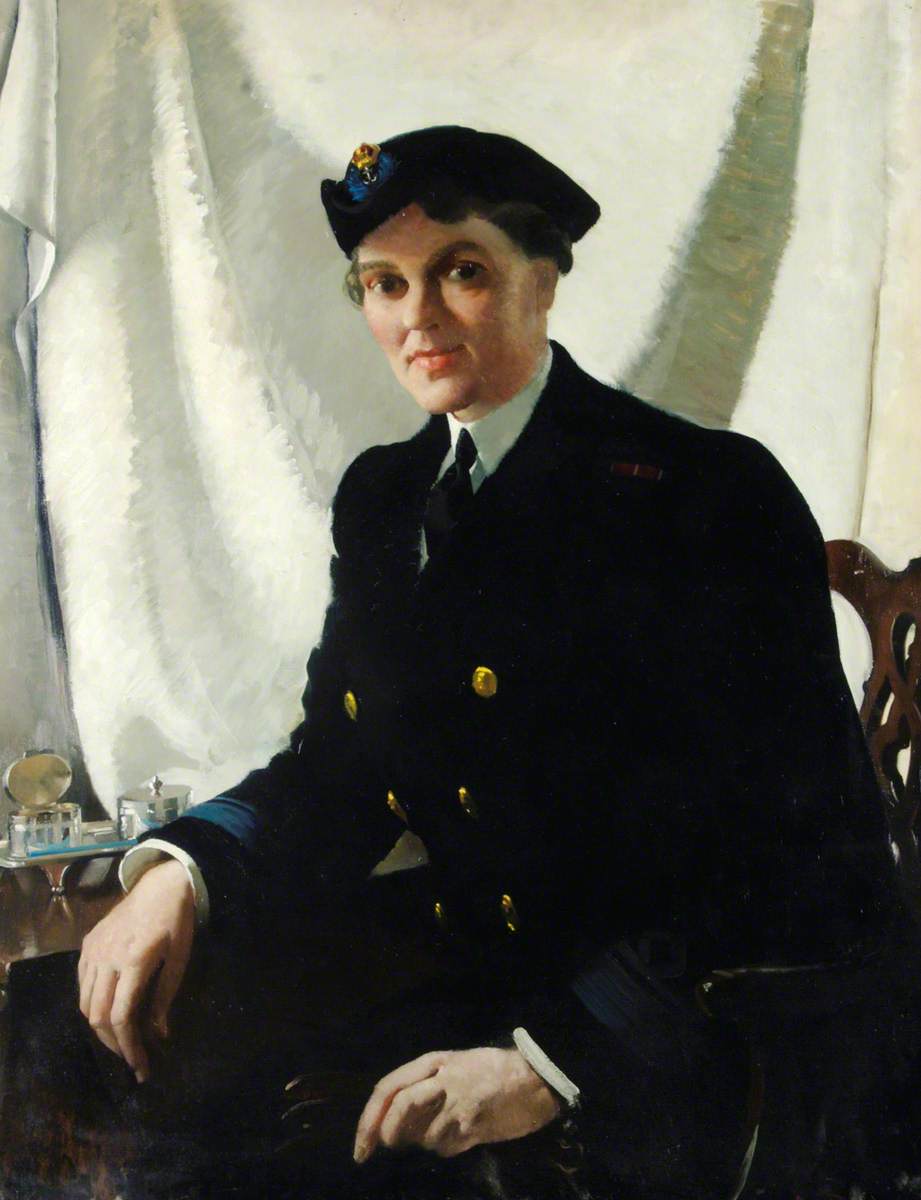 Dame Vera Laughton Mathews, by Doris Clare Zinkeisen (1898–1991), National Museum of the Royal Navy, Portsmouth
---
My published books:

---