Partner Margaret "Mom" Chung
Queer Places:
Chute's, 10th Ave & Fulton St, San Francisco, CA 94118
Emanuel Cemetery, Wethersfield, CT 06109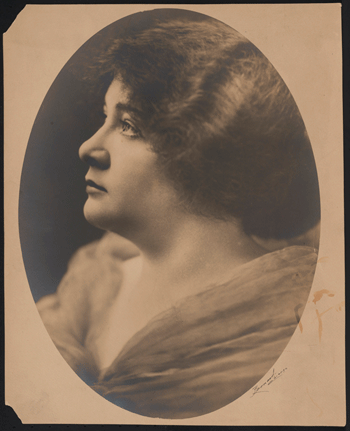 Sophie Tucker (January 13, 1886[4][5]– February 9, 1966) was a Ukrainian-born American singer, comedian, actress, and radio personality. Known for her powerful delivery of comical and risqué songs, she was one of the most popular entertainers in America during the first half of the 20th century. She was widely known by the nickname "The Last of the Red Hot Mamas".[4]
Researchers Susan and Lloyd Ecker and filmmaker William Gazecki produced the documentary, The Outrageous Sophie Tucker. In the latter half of the film, it is revealed that Tucker had many "female companions," including Chicago journalist Amy Leslie, royal Lady Edwina Mountbatten, her "traveling maid" Molly Elkins (or Mollie Elkins, and she had been a performer herself, for the Williams and Walker minstrel show on Broadway), and, most notably, Dr. Margaret "Mom" Chung. The Outrageous Sophie Tucker includes many tidbits from Sophie's romances, including sweet notes she kept from Margaret, such as "You are so wonderful to come home to" and "You're an old tyrant but I love you." Carol Channing shares a story about Sophie complaining that Margaret always ate her snacks. "They fought together like sisters," Carol said, but echoes a sentiment that most of Sophie's friends seem to share—she was widely loved and accepted, no matter who her "close friend" may be.
The film also touches on Sophie's friendship with J. Edgar Hoover, who was well known to be closed off and closeted from most people in his life. But the film says he was open with Sophie, asking to borrow her dresses and bringing his partner, Clyde Tolson, around to spend time with her. Sophie also took an interest in bisexual performer Josephine Baker, publicly voicing her support when racists threatened to bomb the Florida venue Josephine was set to play at the Copa City Nightclub in 1950. Sophie declared she would introduce Josephine the night of her show, saying, "Well, if they come to blow up the place, they'll blow me up." Thankfully, the night went off without a hitch.

Sophie Tucker, a singing comedienne, made her first appearance in San Francisco in 1910. Photo courtesy John T. Freeman.
Tucker was born Sofya Kalish in 1886 to a Jewish family[6][7] in Tulchyn, Podolia Governorate, Russian Empire, now Vinnytsia Oblast, Ukraine.[8] They arrived in Boston on September 26, 1887.[9] The family adopted the surname Abuza before immigrating, her father fearing repercussions for having deserted the Russian military. The family lived in Boston's North End for eight years before settling in Hartford, Connecticut, and opening a restaurant.[4]
At a young age, she began singing at her parents' restaurant for tips.[10][11] Between taking orders and serving customers, she "would stand up in the narrow space by the door and sing with all the drama I could put into it. At the end of the last chorus, between me and the onions there wasn't a dry eye in the place."
In 1903, around the age of 17, Tucker eloped with Louis Tuck, a beer cart driver, from whom she would later derive her professional surname. When she returned home, her parents arranged an Orthodox wedding for the couple. in 1905, she gave birth to a son, Albert.[4] However, shortly after Albert was born, the couple separated and Tucker left the baby with her family to move to New York.[2]
After she left her husband, Willie Howard gave Tucker a letter of recommendation to Harold Von Tilzer,[2] a composer and theatrical producer in New York.[12] When it failed to bring her work, Tucker found jobs in cafés and beer gardens, singing for food and tips from the customers. She sent most of what she made back home to Connecticut to support her son and family.[2]
In 1907, Tucker made her first theater appearance, singing at an amateur night in a vaudeville establishment.[2] It was here that she was first made to wear blackface during performance, as her producers thought that the crowd would tease her for being "so big and ugly." By 1908, she had joined a burlesque show in Pittsburgh but was ashamed to tell her family that she was performing in a deep southern accent wearing burnt cork on her face. While touring later that year, luggage including her makeup kit was lost, and Tucker was allowed to go on stage without the blackface.[3]
Tucker was married three times. Her first marriage was to Louis Tuck, a beer cart driver, with whom she eloped in 1903. The marriage produced Tucker's only child, Albert. In 1906 the couple separated, and Tucker left Albert with her family, supporting them with money from her singing jobs in New York.[2] They were divorced in May 1913. Albert was raised by his maternal aunt, Annie. Annie and Sophie had a close relationship and kept in touch with weekly letters.[19]
Her second marriage, to Frank Westphal (1917–20), her accompanist, and her third marriage, to Al Lackey (1928–34), her manager, both ended in divorce and produced no children.[3] She blamed the failure of her marriages on the fact that she had been too adjusted to economic independence, saying, "Once you start carrying your own suitcase, paying your own bills, running your own show, you've done something to yourself that makes you one of those women men like to call 'a pal' and 'a good sport,' the kind of woman they tell their troubles to. But you've cut yourself off from the orchids and the diamond bracelets, except those you buy yourself."[2]
In 1938–1939 she had her own radio show, The Roi Tan Program with Sophie Tucker, broadcast on CBS for 15 minutes on Monday, Wednesday and Friday. She made numerous guest appearances on such programs as The Andrews Sisters and The Radio Hall of Fame. In the 1950s and early 1960s Tucker, "The First Lady of Show Business", made frequent television appearances on many popular variety and talk shows of the day such as The Ed Sullivan Show and The Tonight Show. She remained popular abroad, performing for fanatical crowds in the music halls of London that were even attended by King George V. On April 13, 1963, a Broadway musical called "Sophie", based on her early life up until 1922, opened with Libi Staiger as the lead. It closed after eight performances.
During the Second World War, Margaret Chung, who had by then refashioned herself as both maternal and feminine, took up an intimate relationship with Sophie Tucker, a famous vaudeville performer. This time Chung seemed to mask whatever erotic attraction she may have felt and to take the role of "pal" or mother. Hanging around with Tucker during her stint in San Francisco, Chung asked, "Did you miss me, last night, Boss? . . . You are an angel to put up with all my shennanigans, . . . and dont [sic] think I dont appreciate it and love you for your own dear self." She signed letters "Your adoring Mom," saved a special bedroom for Tucker, left her romantic and silly good-night notes. When Tucker helped raise money to pay the mortgage on Chung's house, Chung wrote her: "Wish I could run and jump on your lap and put my arms around you and kiss your dear cheeks—or pinch them hard for you—wish you could look into my eyes and see the mute gratitude there . . . . I'm the luckiest person in the world, to have your friendship! I love you, for sure & for keeps."
Tucker continued to perform for the rest of her life. In 1962, she performed in the Royal Variety Performance, which was also broadcast on the BBC. She appeared on the Ed Sullivan Show on October 3, 1965. For the color broadcast, her last television appearance, she performed "Give My Regards to Broadway", "Louise", and her signature song, "Some Of These Days".
Tucker died of lung cancer and kidney failure on February 9, 1966, aged 80, in New York City. She had continued working until the months before her death, playing shows at the Latin Quarter just weeks before. She is buried in Emanuel Cemetery, in Wethersfield, Connecticut, her home state.[20]
---
My published books:

---
https://en.wikipedia.org/wiki/Sophie_Tucker
https://www.afterellen.com/movies/443839-outrageous-sophie-tucker-touches-queerness-famous-20th-century-performer
Rupp, Leila J.. A Desired Past (pp.154-155). University of Chicago Press. Edizione del Kindle.