Queer Places:
1407 Montgomery St, San Francisco, CA 94133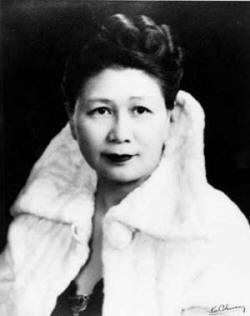 Margaret Jessie Chung (October 2, 1889 – January 5, 1959), born in Santa Barbara, California, was the first known American-born Chinese female physician. Based on personal correspondence, she had close and apparently intense relationships with at least two other women,[24] the writer Elsa Gidlow and entertainer Sophie Tucker, that some writers have speculated were romantic.[11] Although she was briefly engaged, she never did marry. Margaret Chung, the first American-born woman physician of Chinese descent, famous as "Mother Chung" to thousands of American servicemen during the Second World War, formed romantic attachments with at least two women in the 1930s and 1940s. She met Elsa Gidlow, an openly lesbian poet, in the late 1920s when Gidlow and her lover, Tommy, became Chung's patients. Chung at this time dressed in male clothing and used the name Mike. Gidlow described her attraction to this "striking woman in her late thirties, smartly dressed in a dark tailored suit with felt hat and flat-heeled shoes." Gidlow, in an open relationship with Tommy, courted Chung, who seemed to reciprocate her feelings but was unwilling to go any further. Gidlow's journal describes "a spontaneous kiss on the mouth" from Chung and Chung's positive response to Gidlow's insistent question, "Do you love me?" Yet Chung was cautious. After performing surgery on Gidlow, Chung told her in the recovery room, "You gave me hell this morning for operating on you; and then you asked me if I loved you. There were people around too," suggesting that her reticence came from fear of being labeled deviant. And in fact Bessie Jeong, another Chinese American physician trained in the 1930s, put it bluntly: Chung "was a homo, a lesbian." Chung broke from Gidlow after this incident and shortly afterward announced her engagement to a man she never married. Gidlow agonized: "Heavens! how I want to see her . . . . Sometimes I could strangle her for the way she torments me: but there is no use thinking of her . . . . but I would give a year—two years of my life to hold her in my arms for half an hour." During the Second World War, Chung, who had by then refashioned herself as both maternal and feminine, took up an intimate relationship with Sophie Tucker, a famous vaudeville performer. This time Chung seemed to mask whatever erotic attraction she may have felt and to take the role of "pal" or mother. Hanging around with Tucker during her stint in San Francisco, Chung asked, "Did you miss me, last night, Boss? . . . You are an angel to put up with all my shennanigans, . . . and dont [sic] think I dont appreciate it and love you for your own dear self." She signed letters "Your adoring Mom," saved a special bedroom for Tucker, left her romantic and silly good-night notes. When Tucker helped raise money to pay the mortgage on Chung's house, Chung wrote her: "Wish I could run and jump on your lap and put my arms around you and kiss your dear cheeks—or pinch them hard for you—wish you could look into my eyes and see the mute gratitude there . . . . I'm the luckiest person in the world, to have your friendship! I love you, for sure & for keeps."
Chung was born in Santa Barbara, the eldest of eleven children.[2][3] Her father was the foreman of the Rancho Guadalasca in Ventura County, but the family moved to Los Angeles by 1902.[2] Chung's parents became sick, and she supported the family and helped to raise her younger siblings from when she was ten.[4]
In 1906, Chung was noted in the Los Angeles Herald for a poem she wrote, entitled "Missionary Giving", and delivered at the eighteenth anniversary of the Los Angeles Congregational Chinese mission.[5] She would write and deliver a paper entitled "Comparisons of Chinese and American Costumes" at the first anniversary of the Pasadena Congregational mission in 1907.[6] By that fall, Chung had graduated from the eighth grade at the Seventh Street School[7] and enrolled in the preparatory school at USC, being hailed as a "bright particular star" of the women's gymnasium class.[8] In 1910, Chung won second place in a speech contest.[9]
Women of every nation, every country, should learn medicine, so that they can teach the women of their countries and their races how to care for themselves and their children—how to improve the coming generation.

— Margaret Chung,

Los Angeles Herald

profile, 1914

[10]
Chung won a Los Angeles Times scholarship to study at USC by selling newspaper subscriptions, and worked her way through college as a waitress, a seller of surgical instruments, and by winning cash prizes in several speech contests.[2] She enrolled in the medical school in 1911, according to a 1914 profile that noted her belief that she was "the first Chinese girl to enter a medical school in this state."[10]
After graduating with a medical degree in 1916, she was initially denied positions as either a medical missionary to China[11][12] or an internship and settled for work as a surgical nurse in Los Angeles, at the Santa Fe Railroad Hospital.[2] After several months, she left for Chicago, interning at the Mary Thompson Women's and Children's Hospital before serving her residency at the nearby Kankakee State Hospital.[2][13] Chung would serve as the resident assistant in psychiatry for the first Juvenile Psychopathic Institute of the State of Illinois at the Cook County Hospital in 1917;[14] she was later appointed state criminologist for Illinois.[12] After two years in Illinois, Chung resigned from her position with Cook County in November 1918[15] and returned to Los Angeles following her father's death, accepting a position as a surgeon at Santa Fe Railroad Hospital,[2][16] where she would go on to treat celebrities, including removing Mary Pickford's tonsils.[4]
Chung moved to San Francisco's Chinatown in 1922,[4] where she treated the local Chinese American population as well as celebrities such as Sophie Tucker, Helen Hayes, and Tallulah Bankhead.[2] She also treated seven Navy reserve pilots during this time; part of her care was making them meals, and they reportedly soon began calling themselves "Mom Chung's Fair-Haired Bastard Sons" as a tribute to her.[2] An alternative origin story for the "Mom Chung" nickname is that after eight pilots came to her in 1932, volunteering their services for China against Japan, she turned them down and fed them instead because "they looked starved". The pilots "ate everything she gave them, except eggs" because when they were destitute, the only vendor who would lend the pilots food on credit was an egg farmer.[17] Prior to the United States entry into World War II, Chung would give her "adopted son" pilots a jade Buddha to wear around their necks,[18] which would become a token by which the pilots would recognize each other throughout the world.[2] Non-aviation naval officers "adopted" by Chung were called "Golden Dolphins."[2]
When Japan invaded China in 1937, Chung volunteered as a front-line surgeon,[3][19] but she was secretly assigned instead to recruit pilots for the 1st American Volunteer Group, better known as the "Flying Tigers."[2] During the war, Chung would serve up to 175 people at Thanksgiving at her house and wrapped and addressed 4,000 gifts at Christmas.[20] Her houseguests included high ranking officers and US senators and congressmen; leaning on these connections, she helped establish the Women Accepted for Volunteer Emergency Service although she was not permitted to join them, as the government suspected that she was gay.[4] Mom Chung adopted the entire VF-2 squadron, nicknamed "The Rippers" for their logo, which showed a Chinese dragon ripping a flag.[21] VF-2 was assigned to USS Enterprise (CV-6)[22] and would set an American record by shooting down 67 Japanese planes in a single day during the Great Marianas Turkey Shoot in June 1944.[21]
In 1947, 90% of Chung's medical patients were white.[23] She retired from medical practice within ten years after the end of World War II, and her "adopted sons" purchased a house for her in Marin County.[2]
Chung died of cancer in January 1959 at Franklin Hospital in San Francisco.[20][17] Among her pallbearers was Admiral Chester W. Nimitz, one of her "Golden Dolphins."[2]
A pioneer in both professional and political realms, Chung led an unconventional personal life. As the only woman in her class,[2] she adopted masculine dress and called herself "Mike," but after having established a professional practice she reverted to conventional dress and her female name.
An advocate of strong Sino-American relations, Chung was a neighbor, friend and confidante of travel writer Richard Halliburton (1900–1939),[25] who died in an attempt to sail the junk Sea Dragon, as a symbol of the bond of East and West, from Hong Kong to the 1939 Golden Gate International Exposition in San Francisco.
---
My published books:


---
https://en.wikipedia.org/wiki/Margaret_Chung
Rupp, Leila J.. A Desired Past (pp.154-155). University of Chicago Press. Edizione del Kindle.