Queer Places:
Westwood Memorial Park Los Angeles, Los Angeles County, California, USA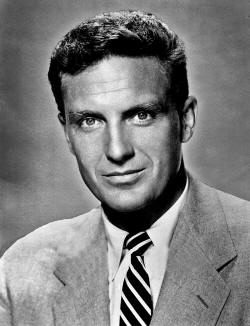 Robert Stack (born Charles Langford Modini Stack, January 13, 1919 – May 14, 2003) was an American actor, sportsman, and television host. Known for his deep voice and commanding presence, he appeared in over forty feature films. He starred in the ABC television series The Untouchables (1959–1963), for which he won the 1960 Primetime Emmy Award for Outstanding Performance by an Actor in a Series, and later hosted/narrated the true-crime series Unsolved Mysteries (1987–2002). He was also nominated for an Academy Award for Best Supporting Actor for his role in the film Written on the Wind (1956).
Gene Raymond, whose career peaked during the 1930s and 40s, was arrested three times for having sex with men, the last of which occurred in England during WWII. In 1938 Raymond began sharing a house with a 19-year-old actor and was arrested on a morals charge following a raid on a homosexual night club, requiring his wife, Jeannette MacDonald, to bribe police in order to obtain his release. An enraged Louis B. Mayer ordered the couple to resume the appearance of a happily married couple. Although he had arranged the marriage, Mayer had Raymond blacklisted following his 1938 arrest for homosexual activity; he made only 7 films from 1940-1948, whereas he had averaged four movies a year prior to the 1938 arrest. Raymond also had affairs with Rock Hudson, Cesar Romero and Robert Stack.
Stack was born Charles Langford Modini Stack in Los Angeles, California, but his first name, selected by his mother, was changed to Robert by his father. He spent his early childhood in Adria and Rome, becoming fluent in French and Italian at an early age, and did not learn English until returning to Los Angeles when he was seven.[1][2] His parents divorced when he was a year old, and he was raised by his mother, Mary Elizabeth Wood. His father, James Langford Stack, a wealthy advertising agency owner, later remarried his mother, but died when Stack was 10.[3] He always spoke of his mother with the greatest respect and love. When he collaborated with Mark Evans on his autobiography, Straight Shooting, he included a picture of himself and his mother that he captioned "Me and my best girl". His maternal grandfather, opera singer Charles Wood, studied voice in Italy and performed there under the name "Carlo Modini." On the paternal side of his family, Stack had another opera-singer relative: American baritone Richard Bonelli (born George Richard Bunn), who was his uncle. Stack took some drama courses at the University of Southern California, where he played on the polo team. Clark Gable was a family friend.[2] By the time he was 20, Stack had achieved minor fame as a sportsman. He was an avid polo player and shooter. Together with his brother they won the International Outboard Motor Championships, in Venice, Italy, and at age 16, he became a member of the All-American Skeet Team.[1] He set two world records in skeet shooting and became national champion. In 1971, he was inducted into the National Skeet Shooting Hall of Fame.[4][5] He was a Republican.[6] The Piikani Nation of the Blackfoot Confederacy, which was known as the Peigan Nation before the 1990s, honored him by inducting him into their chieftainship in 1953 (July 2, 1953 Newspaper) as Chief Crow Flag. In 1962, Stack received the Golden Plate Award of the American Academy of Achievement.[7]
Stack was married to actress Rosemarie Bowe from 1956 until his death. They had two children, a son, Charles, and a daughter, Elizabeth. He underwent radiation therapy for prostate cancer in October 2002, and died of heart failure on May 14, 2003, at the age of 84.[23][2]
---
My published books:


---