Queer Places:
Riverdale Country School, 5250 Fieldston Rd, Bronx, NY 10471, Stati Uniti
Inglewood Park Cemetery, 720 E Florence Ave, Inglewood, CA 90302, Stati Uniti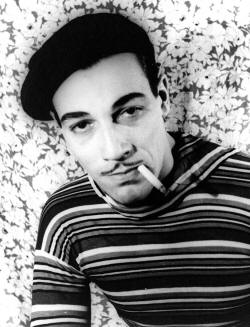 Cesar Julio Romero Jr.[1] (February 15, 1907 – January 1, 1994) was an American actor, singer, dancer and vocal artist. He was active in film, radio, and television for almost 60 years. His wide range of screen roles included Latin lovers, historical figures in costume dramas, characters in light domestic comedies, and the Joker on the ''Batman'' television series, who was included in ''TV Guide's ''2013 list of The 60 Nastiest Villains of All Time.[2]

Cesar Julio Romero Jr. was born in New York City on February 15, 1907, the son of Cesar Julio Romero Sr. and Maria Mantilla.[3] His mother was said to be the biological daughter of Cuban national hero José Martí. His father was born in Barcelona, Spain and immigrated to the United States in 1888, where he was an expert merchant in commercial business.[4] [5] His mother was a concert singer.

He grew up in Bradley Beach, New Jersey, and was educated at Bradley Beach Elementary School, Asbury Park High School,[6] the Collegiate School, and the Riverdale Country Day School. However, that lifestyle changed dramatically when his parents lost their sugar import business and suffered losses in the Stock Market Crash of 1929. Romero's Hollywood earnings allowed him to support his large family, all of whom followed him to the American West Coast years later. Romero lived on and off with various family members (especially his sister) for the rest of his life.

On October 12, 1942, he voluntarily enlisted in the United States Coast Guard as an apprentice seaman[7] and served in the Pacific Theater of Operations. According to a press release from the period, Romero saw action during the invasions of Tinian and Saipan. The same article mentioned that he preferred to be a regular part of the crew and was eventually promoted to the rating of Chief Boatswain's Mate.[8]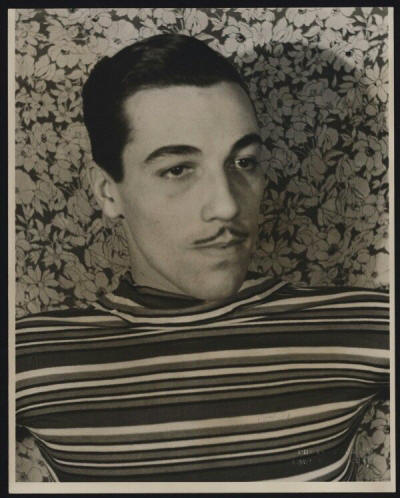 by Carl Van Vechten

At 6'3", Romero routinely played "Latin lovers" in films from the 1930s until the 1950s, usually in supporting roles. He starred as the Cisco Kid in six westerns made between 1939 and 1941. Romero danced and performed comedy in the 20th Century Fox films he starred in opposite Carmen Miranda and Betty Grable, such as ''Week-End in Havana'' and ''Springtime in the Rockies'', in the 1940s. He also played a minor role as Sinjin, a piano player in Glenn Miller's band, in the 1942 20th Century Fox musical ''Orchestra Wives''.

In ''The Thin Man'' (1934), Romero played a villainous supporting role opposite the film's main star William Powell. Many of Romero's films from this early period saw him cast in small character parts, such as Italian gangsters and East Indian princes. Romero had a lead role as the Pathan rebel leader, Khoda Khan, in John Ford's British Raj-era action film ''Wee Willie Winkie'' (1937) and ''The Little Princess'' (1939) alongside Shirley Temple. He also appeared in a comic turn as a foil for Frank Sinatra and his crew in ''Ocean's 11'' (1960).

Romero sometimes played the leading man, for example in Allan Dwan's ''15 Maiden Lane'' (1936) opposite Claire Trevor, as well as winning the key role of the Doc Holliday character (with name changed to "Doc Halliday") in Dwan's Wyatt Earp saga ''Frontier Marshal'' three years later. 20th Century Fox, along with mogul Darryl Zanuck, personally selected Romero to co-star with Tyrone Power in the Technicolor historical epic ''Captain from Castile'' (1947), directed by Henry King. While Power played a fictionalized character, Romero played Hernán Cortés, a historical conquistador in Spain's conquest of the Americas.
Many survivors of the era speak of the long relationship between Romero and fellow Fox actor Tyrone Power. Romero, howeveer, insisted that Power "loved the ladies... he couldn't help it, every place he went, boy, those women were there." True enough, Power's affairs with women are well documented, but the star was also, as documented by his biographer Hector Arce, involved with a number of men. A George Cukor's associate, Charles Williamson, recalled a friend of his who was procured by Cesar Romero as a trick for Power, who, unlike other stars, preferred middle-class boys over street kids. "He felt it was safer, that they were less likely to cause a scandal," said Williamson. "They understood the need for discretion."
Among many television credits, Romero appeared several times on ''The Martha Raye Show'' in the mid-1950s. He portrayed Don Diego de la Vega's uncle in a number of Season 2 ''Zorro'' episodes.[9]

In 1958, he guest-starred as Ramon Valdez, a South American businessman, who excels at dancing the Cha-Cha with Barbara Eden in her syndicated romantic comedy, ''How to Marry a Millionaire'' in the episode entitled "The Big Order". He performed the mambo with Gisele MacKenzie on her NBC variety show, ''The Gisele MacKenzie Show''. He guest-starred in 1957 on CBS's ''The Lucy–Desi Comedy Hour'' on the first episode of the seventh season ("Lucy Takes a Cruise to Havana"). He played "Don Carlos", a card shark on the episode, "The Honorable Don Charlie Story" of NBC's ''Wagon Train''. On January 16, 1958, he appeared on ''The Ford Show, Starring Tennessee Ernie Ford''. In 1959, Romero was cast as Joaquin in the episode "Caballero" from ''The Texan''.[10]

In 1960, he was cast as Ricky Valenti in "Crime of Passion" from ''Pete and Gladys''. In 1965, Romero played the head of THRUSH in France in "The Never Never Affair" from ''The Man from U.N.C.L.E.'' From 1966 to 1968, he portrayed the Joker on ''Batman''. He refused to shave his moustache for the role, and so the supervillain's white face makeup was simply smeared over it throughout the series' run and in the 1966 film.

His guest star work in the 1970s included was a recurring role on the western comedy ''Alias Smith and Jones'' as Señor Armendariz, a Mexican rancher feuding with Patrick McCreedy (Burl Ives), the owner of a ranch on the opposite side of the border. He appeared in three episodes. Romero later portrayed Peter Stavros on ''Falcon Crest'' (from 1985–1987). He also appeared in a sixth-season episode of ''The Golden Girls'', where he played a suitor named Tony Delvecchio for Sophia.[11] Apart from these television roles, Romero appeared as A.J. Arno, a small-time criminal who continually opposes Dexter Riley (played by Kurt Russell) and his schoolmates of Medfield College in a series of films by Walt Disney Productions in the 1970s.

Romero never married and had no children, but made frequent appearances at Hollywood events escorting actresses, such as Joan Crawford, Linda Darnell, Barbara Stanwyck, Lucille Ball, Ann Sheridan, Jane Wyman and Ginger Rogers; he was almost always described in interviews and articles as a "confirmed bachelor".[12] Romero talked with author Boze Hadleigh about his homosexuality in a series of interviews, which were published in 1996 - two years after Romeros death - in his book ''Hollywood Gays''.[13] [14]

A registered Republican, in October 1960, he appeared in the Nixon-Lodge Bumper Sticker Motorcade Campaign.[15]

On January 1, 1994, aged 86, Romero died from complications of a blood clot while being treated for bronchitis and pneumonia at Saint John's Health Center[16] in Santa Monica, California.

His body was cremated and the ashes were interred at Inglewood Park Cemetery, Inglewood, California.[17]
---
My published books:


---
^ Cesar Romero, From Wikipedia, the free encyclopedia
Behind the Screen: How Gays and Lesbians Shaped Hollywood, 1910-1969, William J. Mann, 2001